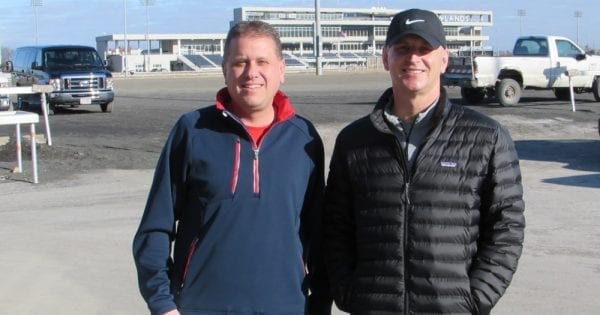 January Mixed Sale average tops $30,000 for first time in 10 years
Monday's sale in the paddock at the Meadowlands also produced the highest gross in eight years.
by Dave Briggs
Monday's Tattersalls January Select Mixed Sale in the paddock at the Meadowlands Racetrack in New Jersey confirmed what sale manager David Reid thought about the catalogue going into the sale — "Horse for horse, we thought it was the best book we've had."
The afternoon sale on the Martin Luther King, Jr. holiday saw 221 head / stallion shares gross $6,694,000, for an average of $30,290, which was up 12.2 per cent from the 2017 sale average of $26,989. The gross, which was the highest since the 2010 sale, was up 6.5 per cent compared to last year.
In 2017, 233 horses/stallion shares grossed $6,288,400.
"I'm really not into projecting, but looking back at it, the last time we averaged over $30,000 was back in '08. So, just from an average point of view, that was very good," Reid said.
"I think the thing that I was most impressed about was that we had participation from Western Canada, participation from Ontario, strong participation from Ohio, Indiana, strong participation from the Europeans and we had strong participation from the American-based trainers. So, I think it was very good trade today and I think it's important for the industry to have good trade and commerce like this."
In 2016, 258 horses/stallion shares grossed $5,849,400 for an average of $22,672.
In 2015, 269 horses/stallion shares and breedings grossed $6,265,200, for an average of $23,291.
In 2014, the gross of $5,971,500 for 234 horses/stallion shares produced an average of $25,519.
In 2013, 206 horses and stallion shares grossed $4,549,600, an average of $22,085.
"Quality holds up, simple as that," said Northwood Bloodstock's Bob Boni. "I know that's a profound statement… I thought it was a good sale, great crowd, good activity… horses got looked at."
The sale topper was hip #162, Miso Fast, an unaltered 4-year-old son of Roll With Joe out of Sakura Hanover that sold to Ohio's Ed Telle of Winchester Bay Acres Inc. for $250,000 out of the Preferred Equine consignment. Under the tutelage of Ron Burke, Miso Fast earned $394,484 in 2017 and has $647,939 in his bank account lifetime and a mark of 1:49.2 earned at Mohegan Sun at Pocono Downs.
Miso Fast's victories include five divisions of the New York Sire Stakes and an elimination of the Max C. Hempt Memorial. He was second in the '16 New York Sire Stakes championship as well as the '17 Empire Breeders Classic. He also was second in a division of the Tattersalls Pace last year.
"He's a gorgeous horse and he's going to make a nice racehorse for the next four or five years," Telle said. "I think I'm going to send him to Florida for a few months, get him ready, then bring him back up… and he'll go to Ohio and Pennsylvania and then he'll come out east.
"He's just so consistent, right at 1:50 and 1:50, at most of the tracks, will get him a check and, maybe as a four-year-old, he'll get a little stronger and be a little better."
Telle, who won the 2011 Little Brown Jug as the owner of Big Bad John, said he came to the Meadowlands specifically to buy Miso Fast.
The owner had success last year with pacing mare Safe From Terror. He purchased her for $210,000 during the mixed sale portion of the 2015 Standardbred Horse Sale Company's auction. She won 22 of 36 races in 2017 and earned $239,630. Her 22 victories tied for the most in North America.
"I bought Safe From Terror a couple of years ago for $210,000 and she's up to $900,000. I just figure if you buy good quality horses and give them to good trainers we do well," Telle said. "If you're going to be in this industry, why not buy the best if you can afford it? Luckily, for me, I've had a few good years."
The second highest horse sold was also a Burke trainee sold by Preferred. Hip #179 4-year-old Snowstorm Hanover, the 2017 Kentucky Futurity champ, sold to trainer Marcus Melander, agent, of New Egypt, NJ for $180,000.
"He's a nice horse. He won the Kentucky Futurity and was good as a two-year-old as well. We'll see what we can do with him," Melander said. "We'll bring him home and then see what's happening."
Snowstorm Hanover, a son of Muscle Massive out of Snow Angel Hanover, has earned $658,761 lifetime and sports a mark of 1:53.2 taken while winning the Futurity in the slop. In 2017, Snowstorm Hanover earned $318,612.
Melander declined to disclose which owner or owners purchased Snowstorm Hanover, saying the final group was not finalized, yet. But, racing Snowstorm Hanover in Sweden in 2018 — where Melander's uncle Stefan Melander is a top trainer — is not out of the question.
"They have a good program there for four-year-olds. It's not impossible, going to Sweden," Marcus said.
The third highest selling horse was hip 119 Inverse Hanover, a 4-year-old Somebeachsomewhere mare out of Ideal Newton that sold to Tom Pollack of Venetia, PA for $155,000 out of the Preferred consignment.
Pollack said the mare — a winner of $136,560 lifetime — would be trained by Jeff Cullipher.
"She's got a big motor and a high turn of speed. Looks like a big track horse," Pollack said. "I race a lot at Hoosier Park with Jeff Cullipher and I thought she'd be a good fit out there and maybe for some bigger stakes at other tracks throughout the year.
"I watched her race in the Sire Stakes in Pennsylvania and Pocono last year and she caught my eye in one of those starts. Certainly, at the end of the year at the Meadowlands, she went a big trip against older horses. I like to see that and she beat older horses the end of her three-year-old year. Then to freshen up with a good qualifier, is the kind that gets you able to hit the ground running. She's ready to go, which is nice."
Gilbert Garcia-Herrera of Columbus, NJ led all buyers in gross purchases. He bought 11 horses for a total of $436,000. He averaged $39,636 per purchase.
Rene Allard was the second leading buyer. He bought eight horses for a total of $421,000.
Preferred Equine was the leading consignor with $4,871,900 in gross sales for 162 head. Northwood Bloodstock led the consignors in average with $33,409 thanks to 54 head grossing $1,750,100.
"I thought the breeding end held up pretty well, which I thought was encouraging," Boni said.
"The half a dozen or so that were supposed to be the highlights, they all looked like they sold like they were."
Reid said the sale has a history of producing graduates that have gone on to big things.
"The graduates speak for themselves. You have Propulsion racing in France next week. You had Dr J Hanover go on to set a world record. You've got Easy Lover Hanover winning in Canada. You have numerous graduates come out and perform and that's very satisfying," Reid said.
Reid said the sale and the industry would be helped even more if winter stakes series returned to the Meadowlands.
"I know they are starting spring series, but I'd like to see it trickle back to the winter sale and coincide. I think that would bring back some energy as well, but overall I'm very satisfied," Reid said.
For now, he said he wishes everyone the best of luck with their purchases, "and we'll look forward to the spring sale, whenever we have it. We'll set a date for that sometime soon."