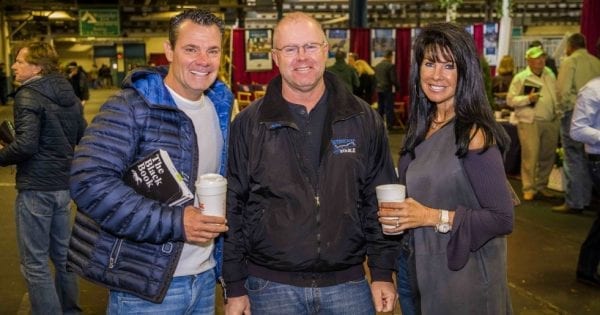 Drivers and trainers who experienced tremendous growth in 2017.
by Joe FitzGerald
These are the drivers and trainers who finished in the top 20 and showed exceptional growth in earnings/wins during the 2017 season:
Jason Bartlett, who finished second to Yannick Gingras with $11,751,964 in earnings and was number three in the dash race with 607 wins, saw his money grow by 22 per cent last year. He was the leading driver at Yonkers Raceway, where he made 89 per cent of his starts, and was also the top driver in the New York Sire Stakes, where his charges showed $1.3 million in earnings. He finished with a very good UDRS of 0.362, down slightly from 2016.
Jordan Stratton, who was number two at Yonkers, where he made more than 95 per cent of his starts, finished sixth overall on the money list, up from number 15 in 2016. He crossed the $9 million threshold in earnings and won 394 races; he showed increases of 33 per cent and 37 per cent in those two categories, respectively. Stratton stayed close to home and did not embrace the NYSS the way Bartlett did: he won just once in 43 starts, banking almost $295,000.
Aaron Merriman won the dash contest by an insane 474 wins. He made 4,692 starts, 1,784 more than the sport's second busiest driver, Corey Callahan. Merriman, who earned $8.7 million, stepped up two spots to number eight on the overall money list, showing an increase of 13 per cent. He won 206 more races than in 2016 when he was also the dash champ. That's an increase of 19 per cent. He was number one at Northfield and number two at The Meadows.
George Brennan, the 2011 and 2012 HTA Driver of the Year, moved up seven spots to number nine on the overall money list. The number three driver at Yonkers Raceway saw his earnings increase by $2 million, or more than 27 per cent. His win total was up by 13 per cent. He made more than 91 per cent of his starts at Yonkers. The purses are so rich at the Hilltop that Bartlett, Stratton and Brennan all made the top 10 while experiencing little or no success on the Grand Circuit, a situation that is not sustainable at any other track in North America.
Trace Tetrick, the sport's 2017 Rising Star Award winner, who just won the North America Drivers Championship, jumped seven spots on the overall earnings list to number 11. The leading driver at Hoosier Park and Miami Valley saw his money increase by almost 20 per cent and his wins by 16 per cent. His UDRS rose from 0.302 to 0.327. Trace drove two Breeders Crown winners, Blazin Britches and Fiftydallarbill.
Andy Miller jumped 14 spots to number 16 on the money list. His wife Julie is fifth on the trainers' list. Their sophomore trotter Devious Man, who banked a million dollars, was the fifth richest standardbred in North America. Andy, who was the top driver at Freehold and sixth at The Meadowlands, showed a 36 per cent increase in earnings and a 48 per cent jump in wins.
Brian Brown, who was voted Trainer of the Year, moved up 11 spots to number four. His big three — Downbytheseaside, Fear The Dragon and Blazin Britches — helped him increase his earnings by 49 per cent to $5.7 million. Brian's UTRS rose from 0.340 to 0.351. Seaside and FTD have both been retired to stud duty in Ohio.
Julie Miller moved up from number nine in 2016 to fifth in 2017. Her earnings increased by $1.3 million to $4.6 million; that represents a 29 per cent increase. Julie's UDRS rose from a very good 0.353 to an even better 0.377. All of this was accomplished on only five more wins. The aforementioned millionaire Devious Man certainly helped.
Rich Banca, the top trainer at Yonkers Raceway in 2017, moved up from number 13 to seven. He had three fewer wins, but his earnings increased by 34 per cent to $4.2 million. Banca made 88 per cent of his starts at Yonkers, where he banked $888,000 more than second place Rene Allard. Banca is an overnight kind of guy. He was no factor in the NYSS and the same can be said for the Grand Circuit. The 42-year-old New Jersey native, who was banned at The Meadowlands six years ago this month, was number 20 back in 2015, and has thrived as a low-key Yonkers regular.
Gilbert Garcia-Herrera, the number two driver at Philadelphia, number three at Pocono Downs and fifth at Yonkers, stepped up from 14 to nine. His earnings were up 27 per cent to $3.9 million while his win total increased by 29 per cent to 262. Gilbert's UDRS made a mighty leap from 0.255 to 0.327. His McArdle mare Lispatty earned $241,000 for him this year.
Scott Di Domenico jumped 15 spots to number 10 on the trainer's earnings list. His money was up 49 per cent to $3.5 million while his win total increased by 26 per cent. He was number three at Yonkers and four at Philadelphia. Scott's UTRS rose slightly to 0.298. He made 55 per cent of his starts at Yonkers. He was number 22 in 2015. Scott purchased the American Ideal gelding Missile J, who won the 2016 Art Rooney, for $115,000 at the January Mixed Sale and that one earned $321,000 and took a mark of 1:49.1 in 2017.
John Butenschoen, who was at 29 in 2015, continues to rise, as he jumped six more spots to 11. He only won a dozen more races but his money was up 34 per cent to $3.5 million. The Pennsylvania native, who is always busy on the sire stakes circuit, was fifth in the NYSS and number six at Pocono Downs. He's also no slouch on the Grand Circuit, where he started Dover Dan, Bill's Man and Giveitgasandgo in the Hambletonian and Fine Tuned Lady in the Oaks. The American Ideal gelding Funknwaffles earned $595,000.
Andrew Harris moved up 25 spots to 13. His earnings jumped 48 per cent to $3 million and his wins stepped up 39 per cent to 148. Oddly enough, his UTRS only moved from 0.286 to 0.292. Andrew was seventh at Yonkers and sixth at Philadelphia. His promising SBSW freshman Pedro Hanover won 5 of 8 starts and earned $317,000.
Richard "Nifty" Norman, who missed Bee A Magician terribly in 2016, as he dropped to number 48, moved up 31 spots to 17. His earnings jumped 44 per cent to $2.3 million, while he had 40 more wins — a 45 per cent increase. He was fifth at Philadelphia.
Anette Lorentzon moved up eight spots to number 18 on the 2017 money list. Her earnings stepped up 18 per cent to $2.1 million and she showed 34 more wins, a 25 per cent increase. Her UTRS rose from 0.285 to 0.320. She was 10th in the NYSS and won 31 races at Yonkers. The Chapter Seven gelding Eye Of A Tiger AS is hers. Lorentzon's Guardian Angel AS, from the first crop of Archangel, was the trotter What The Hill interfered with in the Hambletonian.