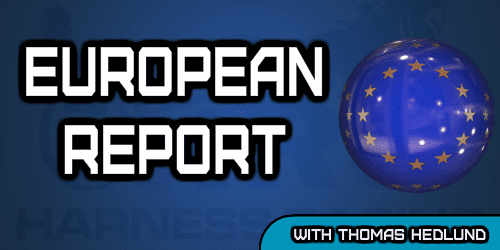 Propulsion wins Prix de Bourgogne, qualifies for Prix d'Amérique
by Thomas Hedlund
American-bred Propulsion has qualified for the Prix d'Amérique with a victory on New Year's Eve in the Prix de Bourgogne in Paris.
The 1.3-mile race featuring a starting gate suited the 6-year-old son of Muscle Hill perfectly and driver Örjan Kihlström was determined to hit the gas when the car left the field of 15 horses.
Propulsion was sent to the lead and despite the tough pace he was strong to the finish.
Bold Eagle was served a trip behind horses and Franck Nivard picked up the serious hunt for the leader with a little more than a quarter to go. But Propulsion had too big a lead and he sprinted to a comfortable win in a 1:53.2 (mile rate).
It was the first victory in Paris for Propulsion. The Daniel Redén trainee qualified for the 2017 Prix d'Amérique, but problems with sickness made the horse unable to reach the peak form a year ago.
"This was really nice, especially for the horse who has shown so many times that he is something extra," Redén said after the race. "I know that he's not in 100 per cent in shape for the moment, but now we can let him race the Prix de Belgique (two weeks before the Prix d'Amérique) without chasing the ticket for the big race."
Bold Eagle showed that he is in great shape when he took second place and last year's Prix d'Amérique contender Briac Dark saved his entry even this year as bronze medalist.
Bazire refuses to retreat
Jean-Michel Bazire has dominated the French harness racing circuit since the end of the last century and 2017 was no exception.
Bazire had 231 victories in the sulky for the year, 31 more than his next closest opponent, Franck Nivard, who was more active in the sulky.
In fact, Nivard's $9,992,995 in earnings was tops in both France and all of Europe in 2017.
Some drivers in France are even diligent jockeys in the monté discipline. Racing under saddle is a common element all over the country and when we take a look at the list of performers who appears in both disciplines, Eric Raffin is the most successful actor on the stage. His 189 sulky victories feature 47 earned under saddle, which made him winningest monté jockey in France in 2017.
The top 3 drivers in France 2017:
Driver | Starts | Wins | Earnings in dollars
Jean-Michel Bazire | 923 | 231 | $7,467,646
Franck Nivard | 1,337 | 200 | $9,922,995
Eric Raffin | 1,314 | 189 | $7,739,356
Driver champions in Europe 2017:
Country | Driver | Wins
Austria | Hubert Brandstätter Jr. | 73
Belgium | Rik Depuydt | 83
Denmark | Steen Juul | 147
France | Jean-Michel Bazire | 231
Finland | Mika Forss | 278
Germany | Michael Nimczyk | 178
Italy | Enrico Bellei | 343
Netherlands | Rick Ebbinge | 83
Norway | Eirik Höitomt | 249
Spain | Miguel Mestre | 121
Sweden | Ulf Ohlsson | 340
Switzerland | Marcel Humbert | 38