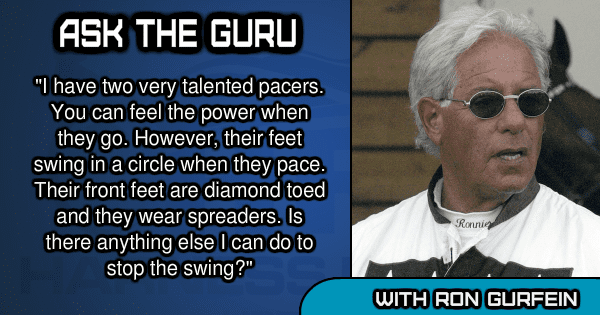 Thoughts on whether drivers make a difference, what to do about paddling and my all-time favorite restaurant
by Ron Gurfein
Murray Brown asks: If you could pick one restaurant in the world to have a meal, what restaurant would it be and what are you eating? What are you drinking?
I love to write about food, and sometimes I wonder if I think about it far more than I should. Of course I do. When this question came up I thought of so many great who places I have eaten, and before I give the FINAL ANSWER, I would like to share some of the wonderful places worldwide, where I think you would enjoy dining, whether you are going to the Prix d'Amerique or the Lotteria. I was lucky enough to race all over Europe and had some great culinary as well as people watching experiences. Here are a few: In Venice, Harry's Bar, Osteria Olivia Nera and lunch on the Gritti Terrace. In Paris, L'ami Louis, Chez Pauline and lunch at the Ritz. In Milan, Ribot and lunch at Bice.
Listings on our continent would include in Toronto, Noce and lunch at the Four Seasons. In New York, Harry Cipriani, Le Cirque, Balthazar and lunch at Nello. In Chicago, Gibsons and Rosebud on Rush. In Indianapolis, St Elmo Steak House, and Mikado Sushi Bar. In Herrin, IL, Mary's, In Palm Beach, Chez Jean-Pierre Bistro. In Boca Raton, Trotteria Romano, In Los Angeles, Cut and last but not least in Philadelphia, Vernik, Wm Mulherin and Sons, and Parc for lunch. Unfortunately I left out Montreal and Quebec City where the food is equal to anywhere and better than most, because my travel to those areas have lessened in recent years since the demise of Blue Bonnets. But in my past experience, French Canadian restaurants are a lot like Parisian establishments — it's very difficult to find a BAD one.
Now here is the shocker, which to people who know me may not be a big surprise. My one choice is Il Villaggio, a beautiful restaurant a stone's throw from the Meadowlands. I have been eating there on a more than regular basis for about 30 years. To give you an idea of how much not only myself but my entire family loved the place, when we were living in the city my wife and kid always wanted me to send a car for them to come to "Villaggio" for dinner. This happened quite often. Ralph and his daughter Angela are the driving force behind this amazing eatery and they will do any thing to make sure your experience is wonderful. The menu is extensive and they have specials every day. I will not go over menu items as I love so many dishes it would take forever. However here are my favorites for my one meal as requested by Mr Brown. Sorry Murray in the wine department there is no 1997 Screaming Eagle or 1994 Harlan Estate or for that matter any year of Petrus. You are stuck with very good Italian wine.
Tanqueray Martini (stirred not shaken no fruit)
Shrimp with Red Onion garlic and Oil
Cannelloni with a cheese bechamel sauce
Bistecca Rizzo (medium rare) with hot and sweet vinegar peppers and broccoli rabe
For wine with the first courses, 2012 Dreams by Jermannn a wonderful Italian Chardonnay a bit pricy. With the main course 1994 Bertani Amarone.
Double Espresso, and a bed. (I got tired just thinking about all that food)
If any of you has the opportunity to visit Il Villaggio, please send my best to Ralph and Angela, as living in Florida and Philadelphia I don't get to see them as much as I would like.
Joel Kravet asks: Since colts are so naturally gaited does the driver make a difference, do some get along better with a horse than your go-to top guy?
Gait has nothing to do with it. All top horses are good gaited enough that they can win races. I am certain there are times when a different pair of hands will help a horse more, but the top drivers are all very good at what they do. Sometimes a driving style will help a horse immensely. Years ago, Buddy Gilmour was driving Matts Scooter and just couldn't make him go. Michel Lachance jumped up and the rest is history.
There is no question that the driver is a prime ingredient in winning races. For example, recently the Dan Patch Award winners were announced. Surprise, surprise of the 12 awards nine went to trainers with huge stables that have first call on the best drivers. Takter, Burke and Brown use only the top drivers on the Grand Circuit. It's the next thing to impossible to get Yannick Gingras away from Takter or Burke. I know. I have tried unsuccessfully. You certainly can't blame the drivers, it is a choice between an arsenal and a water gun.
The good news is there are plenty of rising stars out there that can win major races and they will improve with every drive. Don't live with your head in the sand. Watch these kids perform. You may come up with a diamond in the rough.
Donna Temming asks: I have two very talented pacers. You can feel the power when they go. However, their feet swing in a circle when they pace. Their front feet are diamond toed and they wear spreaders. Is there anything else I can do to stop he swing? They wack their left knee when they go.
My question is how on earth did you get two of them? I hope they are homebreds because if you bought them it's not a good sign.
What you are describing is severe paddling that will not go away. The best you can do is cut their front feet down to the blood, and put on a victory plate lower to the outside with no rim pad or you could try racing barefoot. Both these options will help for sure but I am not confident it will cure the problem. I will tell you this problem can be 100% per cent rectified if you watch the horses in the field. One of the worst faults I find in the standardbred is paddling. If you stand in front of them when they come toward you or behind them you can easily see the swinging as you call it. So if they are homebred, next time you will have them in a sale and if you bought them you will know what to look for and never do it again.
By the way for my readers who do purchase yearlings at public auction, this fault is more than obvious when you look at videos. When you watch the video, a horse's foot should not waver from a front to back pattern when you see extra motion stay away as all that can do is slow the colt down as well as cause interference.
Joel Kravet asked another question and I like it so much I am giving him two spots this week. What is there such a rush qualifying 2 year olds by June 15? Years ago many good horses started later or at three. In Europe they hardly race two-year-olds and they race till 10.
I am not sure everyone rushes to race two-year-olds early. The power house stables have to because if they waited it would limit their overall ability to get money, and with so many horses they can keep some fresh for later races and win the classics with the early ones. Precocious horses get themselves ready, not the trainer.
I won the Merrie Annabelle five times with horses that trained with the rest of the pack in a relaxed fashion and never showed any amazing early speed until they went behind the gate. I trained Continentalvictory in 2:00 behind the gate before she raced. Mike (Lachance) trained Vernon Blue Chip in 1:56. I know Jimmy Takter trains his best sub-2:00 every year before they race.
When a stable pays $3 million and up for yearlings, they can't pass up money. If they don't dance every dance they can't win — although the odds are severely stacked against them anyway. You must remember this is a game not a business. The numbers don't work as a business unless you sell and make stallions.
Lindy Farms' training stable is a perfect example of the antithesis of this theory. They don't usually qualify till after the Fourth of July and look at the year they had.
About European racing, it is far different than ours. First of all, they race longer distances that would be very hard on a two-year-old. Secondly, they have very few two-year-old stakes races. My guess would be fewer than five per cent of ours. As far as racing to older ages, their style for racing and the type of horses are so different than ours. They rarely use their horse much with the exception of the start and the finish and the European breeds are much coarser and bulkier than the American or Canadian breeds. I think the mix of the two breeds is the future of our breeding industry. Two great examples of this were Delicious a Cantab Hall out of an Italian mare and International Moni a son of the fabulous Moni Maker sired by French stallion Love You.
Thank you all so much for the success of my column. I wish all of you a very Healthy Happy New Year.
Have a question for The Guru? Email him at GurfTrot@aol.com.