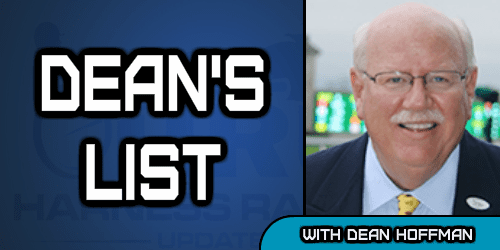 The sound of silence on Christmas morning
by Dean A. Hoffman
Christmas Day, 1968
The only thing I heard as I entered the stable on Christmas morning was the familiar, reassuring sound of horses peacefully munching their morning hay. Otherwise, there was only silence.
While the horses were enjoying a holiday, there was no holiday for their caretakers, and that was my role over my Christmas break from college.
My buddies from school thought it was preposterous that I had to work on Christmas morning, but that never fazed me. Horses needed to be fed. Stalls needed to be cleaned. That was true on Christmas Day as it was on any other day. And I loved being around horses.
I walked down that center aisle of the elegant old stable north of Cincinnati and savored that special fragrance of horseflesh and hay. All was calm. The horses seemed to sense it was a holiday, too. Gone was the normal bustle of grooms brushing straw out of tails, chattering to their horses, and tossing the harness on them.
I couldn't think of any place I'd rather be. I have many special memories of my family at home beside our Christmas tree, but I so often hark back to that Christmas morn in a stable almost a half-century ago.
Lyndon Johnson was in the White House, but was preparing to turn over the Oval Office to Richard Nixon. American troops were in Vietnam by the tens of thousands. Anti-war protestors were in the streets by the thousands.
That morning, I wasn't worried about America's woes as I was focused on the horses on either side of the aisle. Eight yearlings were getting their first lessons.
To the left there was a rock-solid Bullet Hanover colt out of Maggie Counsel, the dam of six in 2:00, a distinction that then marked her as one of the breed's foremost matrons.
Across the aisle was an overlooked youngster, a mere $1,500 yearling named Flower Child that would go on to trot the first 2:00 mile ever in Europe.
Further down was Ole Hanover, the bob-tailed Star's Pride lass that had been the champion freshman filly in 1967. She'd tried Nevele Pride in the Dexter Cup in the summer of '68 and again in the Kentucky Futurity that fall, but she couldn't beat him. That was okay; no one could beat Nevele Pride.
Finally, I came to the horse in the corner stall. His name was Best Of All and he was voted Pacer of The Year that season after retiring with more 2:00 race miles than any other harness horse in history. He'd won the Jug the previous year and he'd just returned to Ohio from Hollywood Park in route to a place in the stallion barn at Hanover Shoe Farms.
Another caretaker and I pulled open the door to Best Of All's stall and admired how he'd come through a long campaign with lots of shipping in such good flesh.
"He looks like a million bucks, doesn't he?" I said. The other caretaker chuckled. Best Of All had, in fact, been sold to Hanover for $1.25 million. (That's about $9 million today with inflation factored in).
I relished my connection, however tenuous, to both the proven and the unproven horses. But I had a job to do and it started with picking up a pitchfork.
Although I was in college, I was fortunate enough to get short-term work at the farm and training center owned by Samuel Huttenbauer, a Cincinnati meat packer who had played the Grand Circuit game since the early 1950s. His private trainer Jim Hackett was a close friend of my father, and Jim was kind enough to find work for me on college breaks at Thanksgiving and Christmas and even spring break. The money seems a pittance now — maybe $50 or $75 at most — but any college kid welcomes spending cash. And I welcomed the chance to be around the horses.
And the horsemen. There was a small apartment attached to the stable where a few grooms lived. It served as the gathering point on this cold Christmas morning. Cigarette smoke filled the air and hot coffee filled cups as several caretakers played cribbage and swapped lies. They, too, would soon have to pick up a pitchfork and clean stalls.
For those on the outside, it's all too easy to overlook the commitment that caretakers make to their calling. Days that others can enjoy without working are just another day to many in the pitchfork platoon. Work awaits. Every day. Every holiday.
Sure, few horses get jogged on Christmas Day, but their basic needs must be met. So caretakers still need to show up.
I look back on that Christmas Day in 1968 as if it were a vanished world. Five years later, the resplendent stable on Sam Huttenbauer's farm burned to the ground. The farm was later sold and the land is now filled with houses, not horses. (McMansions, no less!) There is no trace of the half-mile track where Best Of All and other Grand Circuit stars got their first lessons in harness and where I jogged countless horses countless miles.
A vanished world indeed, but the memory of that Christmas morning long ago still resonates in my heart as one that I never want to forget.
Christmas Day a work day? Yes, but it was a day spent with horses. And that was never really work to me.