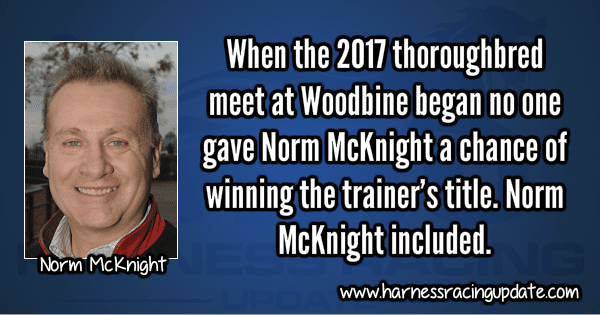 Former harness guy McKnight wins Woodbine thoroughbred title
Twenty-five years after he turned to thoroughbreds after his standardbred barn was wiped out in a fire, Norm McKnight upset perennial top trainer Mark Casse to win the Woodbine thoroughbred title.
by Bill Finley
When the 2017 thoroughbred meet at Woodbine began no one gave Norm McKnight a chance of winning the trainer's title. Norm McKnight included.
The problem wasn't that McKnight was a poor trainer or had a weak stable. It was that Mark Casse, who had won the 10 previous Woodbine titles, so dominated Ontario racing that it was almost unimaginable that anyone could take his crown.
"To be honest with you, no I didn't," McKnight said when asked if he thought he could beat Casse. "I was in the racing office at the beginning of season and Stuart Slage, the racing secretary asked me, 'Who do you think will be leading trainer at end of year, you or Casse?' I just laughed at him and said 'Casse, Casse, by far.' I thought it would be Casse, followed by Kevin Attard and then Nick Gonzalez. I thought I was going to be fourth. That's how I had my season pegged, that I'd be happy to be fourth."
It looks like McKnight is a better trainer than he is a prognosticator. Casse came into Dec. 10, the final day of thoroughbred racing at Woodbine, with a one-win lead over McKnight. McKnight responded by winning five of six races on the day, including with his first four starters. When he was done he had his first Woodbine title, beating Casse, 99-96.
"That was just incredible," he said of the five-for-six day. "The horses performed tremendously that day. I was awestruck at the end of it all. They all brought their A game and they raced beautifully."
That McKnight was even training thoroughbreds in 2017 is a remarkable story, as well. He was a fixture on the WEG circuit as a harness driver and trainer until the early 1990s. As a driver, he won 110 races in 1990 and 116 in 1991 and also had a handful of winners during those years as a trainer. Then in 1991, his stable was wiped out by a barn fire. McKnight was ready to regroup and stay in the standardbred game. Then he got a phone call.
"We had the barn fire and as fate happens there was a standardbred owner named Lou Donato that also had thoroughbreds and wanted to get more involved in the thoroughbred game," McKnight said. "After the fire he called me and asked if I had any interest in training thoroughbreds. I hadn't given it any thought. I said to him that all I know about thoroughbreds is watching the Kentucky Derby on television. But I told him, 'If you want to go that route I'll give it a try.'"
McKnight was honest with Donato, basically telling him that when it came to thoroughbreds he didn't know what he was doing.
"I didn't know that game and that's what I told him," he said. "I didn't know what horse to enter where, who goes long, who goes short, who goes on turf, who goes on dirt," he said. "There are so many variables. I had no clue what I was doing."
To help with the transition, McKnight joined forces with trainer Rita Schnitzler and they formed a partnership with the thoroughbreds originally running under Schnitzler's name. By 1999, McKnight had gone out on his own.
"Once I got comfortable I hung up my own shingle," he said.
But he still wasn't done with harness racing. McKnight was still driving a handful of horses up until 2006.
"With the thoroughbreds at that time we didn't take the stable away in the wintertime," he said. "We didn't have enough talent as far as horse flesh goes to ship somewhere. So I decided to go back to the harness in the winters. With some of thoroughbred clients, we invested in five or six standardbreds for me to train."
At the time, he had two sons working with him, one as an assistant with the thoroughbreds and one as an assistant with the standardbred operation. When one decided to change course and became an electrician, McKnight knew it was time to focus on only one breed – thoroughbreds.
Since, he has pretty much severed all ties with standardbred racing. He says he doesn't even have time to watch the big races like the Pepsi North America Cup, the Metro or the Maple Leaf Trot.
"Unfortunately, I've gotten totally away from the standardbred side of it and I don't keep contact with the people that I drove for," he said. "I am a hands-on guy so I do a lot of the work in the barns myself and I am particular about details. I just got wrapped up in it as the stable got bigger and bigger. I just had no time and lost interest. I wanted to focus on thoroughbreds and knew I couldn't do both (breeds)."
While McKnight topped Casse in wins, he has a long way to go before he can even think of challenging him in the money-earned category. Casse, a top trainer throughout North America, bankrolled $5.4 million at Woodbine, while McKnight's stable earned $2.1 million. Casse has top class stakes horses. McKnight relies almost exclusively on claimers.
McKnight said he's hoping to improve his stable and that perhaps he'll attract some new owners thanks to his 2017 Woodbine meet. He will race this winter at Oaklawn Park in Arkansas.
"We're still climbing that mountain," he said.