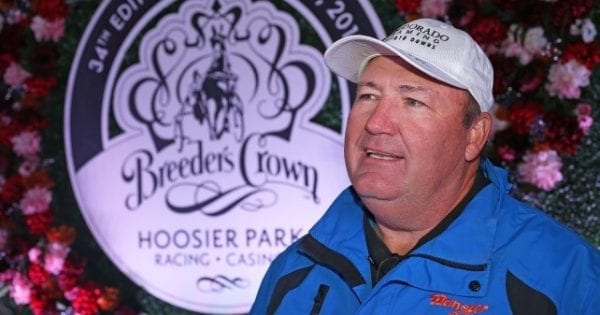 Diary of a Career Year, Part 2 of 2
Trainer Brian Brown recounts his fantastic – and sometimes trying – year campaigning top pacers Downbytheseaside, Fear The Dragon and Blazin Britches.
by Jay Wolf
This has been a year of dreams for Delaware, OH-based trainer Brian Brown. He was the conditioner of trio of top the sport's best pacers — Downbytheseaside (1:48.3f; $2,179,558), Fear The Dragon (1:48.4s; $1,578,547) and Blazin Britches (1:48.4; $540,424). Brown is a finalist for the Dan Patch Award for Trainer of the Year and should make the banquet stage with at least one divisional honoree.
The following is part two of a two-part look back at a memorable, yet rollercoaster year for Brown and his three top trainees. Part one was published on Friday, Dec. 15 (full story here).
Saturday, Aug. 12 – Northfield Park
The $300,000 Carl Milstein Memorial became a showdown between the two Brown trainees. Driver Brian Sears and Downbytheseaside scored a mild upset over his stablemate in 1:49.3.
"Brian Sears did a hell of a job with that horse since he took over. Seaside was a very tough horse to drive. You could sit with him for maybe to the 3/8s then he had to grab as he was wanting to roll. He did pull him at the 3/8s that day. He wasn't tough to drive that night. He eased himself up to Dragon. I thought both horses raced unbelievable. When you have the best horse on the front, the half is in :56 and they pace the back half in :53.4, you are not supposed to get beat on a half-mile track. Seaside was just unbelievable that day. He had a two-week period when he was really good. Dragon had trained great that week and I didn't think any horse could beat him."
Saturday, Sept. 2 – Yonkers Raceway
The second leg of pacing's Triple Crown, the $500,000 Messenger Stakes, was held at Yonkers Raceway. The "Hilltop" had become a playground for Downbytheseaside. Leaving from post #7 in the final, Seaside held on to win by a nose.
"That was a very nerve-wracking week. Going into the eliminations and coming off that start at Northfield, Seaside was having a lot of trouble with his feet. We even thought about scratching him. I have to once again give his blacksmith, Eric Thomas, the credit. We trained him on a Wednesday between Northfield and the Messenger, we had already entered, and he didn't train well, he came out of it bad, sore. We worked on his feet for two days. I jogged him on a Friday morning and he was really sore. We were going to throw our hands up and scratch him. Eric took the horse to the blacksmith shop and put the new flip-flops on him. As I starting walking him back to the barn, he didn't look quite right. They later took him on the blacktop road in front of the barn and ran him back and forth. He put his tail up over his back, was out their strutting. I told Toni (Dale Hollar) to throw the harness on him and we jogged him. His first two steps on the track he was kind of ginger, like he expected his feet to hurt. All of a sudden his feet were pretty good. He goes to the eliminations and he runs off in (1):51. We go to the final and he really didn't race that great. He won by a nose. Looking back on it, we found a liver problem in Lexington and I am not sure, but it could have started that week. We took his performance as being due to bad feet. He gutted it out. It was a half-million dollar race and we got to stay away from Dragon and Huntsville. That was our plan. We got to race at Yonkers four races, a $300,000 and a $500,000 race, we made a lot of money."
Sunday, Sept. 3 – Harrah's Philadelphia
Fear The Dragon was scratched sick after tying up following a training session while preparing for the $252,000 Pennsylvania Sire Stakes Final.
"He had a reaction to an immune stimulation shot. Something just happen there. I had a horrible week that week. We started to have horses getting sick. I asked the vet about giving him the immune stimulator and he thought it was a good idea. I had 11 horses racing at Scioto Downs' (Ohio Sire Stakes) finals night that weekend and only one horse raced well that night. It was very scary at the time. The horse had never tied up. We thought we had him in pretty good shape, he trained pretty decent. We didn't train him overly hard. When we took his blood it showed that he tied up again training that day. If we went to Chester, we would have probably made the horse look really bad and we would have probably set him back even farther. We had to bite the bullet and skip that race."
Saturday, Sept. 10 – Scioto Downs
The Jug Preview made a return appearance on the Scioto Downs stakes schedule after a 10-year hiatus. Brian Brown knew the importance of the event to the fans of the state and the management of the track and wanted to support the race. Downbytheseaside coasted to an easy win in 1:51.
"We thought we had Dragon ready to go for the Jug Preview. He would have to come back in six days and Ohio has a seven-day rule on scratching sick, so Dragon couldn't go to the Jug Preview. We decided to help Stacy (Cahill) and we wanted to support the race with one of the two horses. If Dragon was going to go, Seaside was not. It turned into a good race for Seaside. He got away with some cheap fractions and flew home. He didn't have to race overly hard that day. So it worked out."
Wednesday, Sept. 13 – Hoosier Park
One of the longest days for Brian Brown started with a qualifier for Fear The Dragon at 10:15 in the morning and ended with Blazin Britches' win in the $160,000 Nadia Lobell at 9:30 that evening.
"We were very disappointed in Dragon that day. David didn't think he finished as well as he should have. The track was really muddy that day. He actually beat a horse that was wining some opens at Hoosier earlier in the year. After, we raced Britches that night. Those were two great mares, her and Agent Q, and they went the mile in (1):52. The track was much better that night, so we thought that Dragon really didn't qualify that badly. Britches was actually beat, she was not 100 per cent. Agent Q made a break right before the wire. When we got home and took the blood, Britches was dehydrated. It wasn't a great day that day. We came out of there worried about both horses."
Tuesday, Sept. 19 – Delaware County Fair
Long-time friend, David Miller, was enshrined into Little Brown Jug Wall of Fame during a ceremony in the Log Cabin.
"To be associated with Dave all these years and for him to get into something like this. They let me get up and talk for a little bit. It was pretty cool to be involved in something like that. I have never been involved in anything like a of Hall of Fame thing. It was very nice of Chip Thomson and Tommy Wright to involve me with that."
Wednesday, Sept. 20 – Delaware County Fair
No owner had ever captured both the Little Brown Jug and the Jugette in the same year. Trogdon had the morning line favorite in both events. Blazin Britches won the first heat in 1:52.1, but was edged by Caviart Ally in the second.
"Sometimes you do get a little spoiled and you finish second in the Jugette and you walk away very disappointed. She came out of the Nadia Lobell dehydrated. It was really, really hot in Delaware that week. The mare dehydrated again. If she only had to race one race that day, I think she could have possibly won the Jugette. That is not to take anything away from Caviart Ally. She is a really good mare. She is in the top three of the top three-year-old fillies this year. So to get beat by her was not a slap in the face, but it was still disappointing because we went in thinking we would win. If she was as good as she was at the Meadowlands, we thought for sure that we would win. I was a little worried after the elimination because she wasn't as sharp as I she should be. Then we go into the final and she wasn't 100 per cent, but do take anything away from Caviart Ally. She beat us fair and square."
Thursday, Sept. 21 – Delaware County Fair
The two morning line favorites to win the 72nd Little Brown Jug were Fear The Dragon (post 3) and Downbytheseaside (post 5). In the first heat, Fear The Dragon survived a five-way photo for win. Downbytheseaside was fifth, just three quarters of length back. In the second heat, Yannick Gingras used a masterful drive to win the LBJ with Filibuster Hanover.
"I hope down the road I get another chance to win one. I hope I am like Gene Riegle and win it on my third try. Hopefully my time is coming, but to go into that race with those two horses, we thought we were in great shape. Coming out of the race, those two horses wasn't really as good going into the race as I thought they were. Neither one was very good. Dragon was pretty good the first heat. Seaside made a three-wide move into the last turn, he got a little crooked and made a step… Brian had to steady him and he lost a little ground. He got beat by a half a length, finished fifth. If he would have won the elimination and he draws the rail and gets to control the pace. I think he wins the final. Here nor there, it didn't work out for him. Dragon had his chance. He was following Seaside in the final. He ducked to the inside. Seaside lost a couple of lengths real quick. David had to make a judgment call to go inside or out. He goes inside to save ground and Seaside goes back and has him trapped. It was very disappointing to go into that race with the two favorites and come out with a fourth and fifth. It was a bad day."
Sunday, Sept. 8 – Red Mile
After skipping the first week of Lexington's Grand Circuit week, the Brown trio looked to take the Red Mile by storm during the second week. The remnants of Hurricane Nate caused the famed red clay surface to turn into a soupy mess. Blazin Britches broke stride and finished fourth in the Glen Garnsey Memorial. Fear The Dragon won his division of the Tattersalls Pace, Downbytheseaside was third.
"During the week before, we trained the three together. I told them to go a mile in :55 to :56. They went a mile in :53 off a half in a minute. Those two horses couldn't catch Britches that day. She beat them by two lengths. She was unbelievable. That Sunday was a terrible day, it rained all day. Dragon won, but was not very good. He pretty much gutted it out that day. Seaside raced terrible. After Lexington, we scooped the colts and we didn't find anything, but we did find a liver infection in Seaside. Britches runs at the start. I can't tell you how far back at the start she was. My cousin caught Britches' mile in (1):49.4. For a pacing mare to make a break, to be that far back, to come back and finish fourth, beaten only two lengths against those fillies was amazing. If she paces that day, she could have paced in :49, on that track. She got a little hot behind the gate and had to race hard. We think that mile that day sored her up (for the Breeders Crown elimination)."
Friday, Oct. 27 – Hoosier Park
On a wet, chilly night, "Team Brown" was warmed by the performance of Blazin Britches in the $500,000 Breeders Crown final. A complete team effort allowed "Britches" to find the winner's circle after a subpar elimination performance.
"In the elimination, she was fighting with Trace. She almost ran off the gate. He got her away fourth or fifth. He moved her before the quarter. Then he got parked. She really didn't have her speed… It was a very tough week with her. We knew she was no good in her elimination. You got to give credit to her groom, her blacksmith and her vet. It was right up to the days before the final, she was still no good. The day before the final she relaxed and she jogged really well. You could tell she was a different horse. We did make a bit change, put a tie down on so Trace would have more control. I knew she would race better. I didn't know if she would win. But for her to win that race, that was very rewarding because all those people had to work, the groom, the blacksmith and the vet, to get that horse back to herself. For her to go out and win was very exciting."
Saturday, Oct. 28 – Hoosier Park
Breeders Crown night got off to a rocky start when Fear The Dragon was scratched from a late closing event. Downbytheseaside finished second in the $527,500 three-year-old colt pace final.
"We had to enter Dragon on Monday morning after the eliminations. We pulled some blood and we couldn't get the results until Tuesday. So I entered him at the time because we didn't know what was wrong with him. We found out that he had signs of a virus. We treated him and drew blood again. We had improved, but his numbers were still low, so for the best interest of the horse we scratched. Going into the final with Seaside, Brian told me after the elimination that the horse was very good. He won the elim off a half in :57 and a mile in (1):51 and a piece and he had plenty of horse left that day. To get beat in the Breeders Crown final was very disappointing. Ricky (Macomber) got by us a good length. Seaside came back and got beat a neck. He basically got out brushed. Again, take nothing away from Ricky, Jamie and Beckham's Z Tam. They were the winner."
Tuesday, Nov. 7
Blazin Britches has surgery to remove a small chip from her left hock ending her season with 11 wins in 15 seasonal starts and $540,424 in earnings.
"We had found a small chip in a hock. We think it was probably leading her to getting sore in her stifles or hind ankles… We decided that was enough for her. She had done everything you could ask for. We wanted to bring her back and race her. She is going to be bred to Fear The Dragon through an embryo transfer."
Wednesday, Nov. 8
Co-owner Diamond Creek Farm announced that Downbytheseaside will stand stud at Sugar Valley Farm in Delaware, Ohio for a fee of $6,000 in 2018.
"I think it was a good time to do it. He turned out to have an unbelievable November… Financially to go to stud made a lot of sense."
Thursday, Nov. 9 – Dayton Raceway
After an 18-day lay-off, Fear The Dragon qualifies in 1:53 4 with Chris Page in the bike.
"He wasn't as good as we had hoped (at Dayton), even though the line was good. We decided to wait and train him one more time before we decided his future. He trained well and went a mile of 1:51.2. We didn't want to do anything to hurt his reputation. That horse was so good that day, it made (the decision to race in the Progress Pace) easy. How could you not race him?"
Thursday, Nov. 16 – Dover Downs
Chris Page gained some revenge for Downbytheseaside by winning the $210,000 Matron in 1:50.1 by a neck.
"Seaside was just unbelievable in November. He had learned to relax. In the Matron, he was in the two hole and sat trapped. He got loose in the passing lane and he got by a real good horse in Filibuster Hanover."
Thursday, Nov. 30 – Dover Downs
The $308,060 Hap Hansen Progress Pace would be the final career start of the season for both Fear The Dragon and Downbytheseaside. The Brown duo finished 1-2 for the third time this season, with Downbytheseaside establishing a new lifetime mark.
"I am sure Dragon was a little short. It had been over a month, with just one qualifier. We trained him hard, but he still needed races. We wanted to give Chris (Page) a chance to drive Seaside, for all the things he had done for us this year. Chris raced him the way the horse likes to race and I was shocked he went in (1):48.3 that night. That was unbelievable for November 30th. As I said in the post-race interview, 'time anymore doesn't mean a hell of a lot.' Sure it is nice to set world records, it's nice to go in :48. At the end of the day, it is how much money you make and who you beat. That horse made $1.6 million and beat some very good horses. It was a very rewarding year. For all three of those horses to be as good as they were at one time. To go through the adversity, to have everything thrown at them and for them to come out on the other side was great."