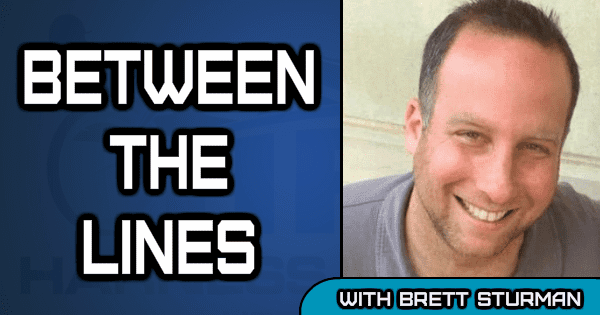 Yonkers does away with the passing lane
But is it the right move to drive handle?
by Brett Sturman
Cammie Haughton made news yesterday on the harness racing podcast Post Time with Mike and Mike, when he announced that that Yonkers will be doing away with its homestretch passing lane. Pending approval from the New York State Gaming Commission (NYSGC), the change is scheduled to take effect when Yonkers begins its 2018 racing season on Sunday, Jan. 7.
Haughton was recently appointed last month as the director of racing at Yonkers (full story here), and one of his primary responsibilities is to improve handle. Haughton said Thursday regarding the removal of the passing lane, "We're going back to basics… These guys (drivers) are going to pull. They're not going to sit in there and wait for the passing lane and go on through."
The decision to get rid of the passing lane at Yonkers seems to be more well received than not in the usual social media circles. But the question becomes, will doing away with the passing lane improve the Yonkers product and in turn, the tracks handle?
By any objective account, the style of racing at Yonkers leaves much to be desired. This, despite attracting the top overnight horses in the country and having a driver colony led by Brian Sears and George Brennan. In his comments, it is obvious Haughton believes that the merry-go-round style of racing that Yonkers has become accustomed to, will change with the passing lane no longer an option.
I'm admittedly going to be in the minority in this decision, but I don't believe removing the passing lane will have the effect its intended to. Coming from someone who consistently bets into the Yonkers product, I think it may actually make handle even worse.
Let's start by looking at what brought about the passing lane in harness racing to begin with. Bettors became tired of seeing their horses full of pace or trot not be able to go anywhere in the stretch because of being locked in with no chance of going anywhere.
To accommodate for this, tracks began adding passing lanes to give more horses chances at winning. Horses that would have been locked in through the stretch otherwise, some would now have openings and a chance to compete. Simply put, the passing lane was put into place to give as many horses as possible at least a fighting chance to win.
Those such as Haughton who believe removing the passing lane will help racing, insist that drivers will now become more aggressive. The thought process goes that without having the luxury to sit on the rail to wait for the passing lane to arrive, drivers will now need to make earlier decisions to pull their horses and race forward on the outside, instead of taking a wait and see approach on the inside.
It's not how I see it, however. While everyone laments the style of racing at Yonkers, just about the same people commend the aggressive and sometimes wild style of racing at Northfield Park – another half-mile harness track with a passing lane. Why the disparity in racing styles between tracks with similar make-ups?
The answer in my estimation is the inflated purses that drivers race for nightly at Yonkers (although Northfield now has slots, its purses are still dwarfed by that of Yonkers). Why would drivers possibly want to be extra aggressive at Yonkers if racing in a N/W4 condition for $14,000 when they can continue to collect checks for finishing second through fifth and then do the same thing week after week in the same class.
Would removing a passing lane and forcing a driver to go first-over more than usual change that motivation? The rich purses that can be attained with minimal effort is by far the larger reason for the type of racing that takes place at Yonkers compared to having a passing lane.
To me, the fundamental question is why shouldn't as many horses be given chances to win? If a horse is buried three or four deep on the rail but is overloaded, he should be given a chance to race somewhere in the stretch.
There seems to be this thought that there's no strategy in half-mile racing with a passing lane, or that the pocket-sitter wins every race. Both are far from true.
With the passing lane going away at Yonkers, what we're going to be left with is a year-round version of the Delaware County Fair. Racing will be dominated even more now by post draw, and the post position of a horse will be of greater value than the ability of the horse itself.
Some feel that by forcing drivers hands earlier with no passing lane, that races will become more unpredictable and will lead to larger payouts. Is creating unpredictability really something that is going to inspire handicappers to bet more? And even if that were the case, why are the payouts at the Delaware County Fair always miniscule? It's because those horses with inside posts are at an even more advantageous position, making things seem more predictable than ever. It all seems counter intuitive to me.
In terms of improving handle, are there some harness racing purists left who may come back and bet Yonkers because the removal of the passing lane? For arguments sake, let's say yes. But what about those "precious millennials" that everyone is trying to cater to these days. The first bet a new young 20-something person makes in the sport where they see their horse never had a chance will quickly be their last bet. Plus from a visual standpoint, it's more appealing to see horses coming through the inside of the passing lane than seeing a bunch of horses boxed and climbing on top of the horse in front of them.
The passing lane obviously isn't the only thing Yonkers management feels that can be changed, but that it's something that can at least help turn things around. I'll be the first to admit if I have it all wrong and the removal of the passing lane turns out to be a big hit, but I think bettors are going to want it re-instated eventually for the same reasons the passing lane came to exist in the first place.