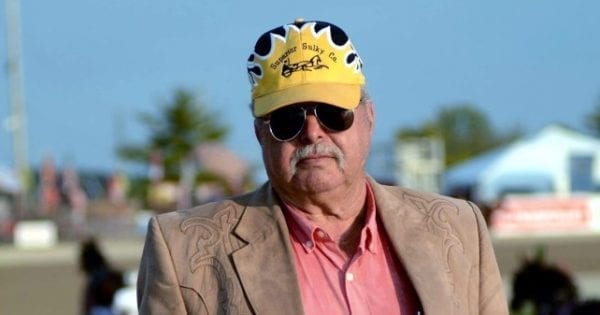 Mike Woebkenberg: A non-stop promotional idea machine
by Dean A. Hoffman
It's highly unlikely you'll ever see Mike Woebkenberg wearing an Armani suit, toting an attache by Hermes, and boasting about his MBA in marketing. Perhaps because he doesn't have any of those.
What Mike Woebkenberg has instead is an unrelenting love of harness racing and a passion for promoting and publicizing the sport to which he's devoted his life.
"Mike does more to promote harness racing than most of the people who are paid to promote harness racing," someone told me recently.
Woebkenberg — pronounced "WEB-ken-berg" — makes a living as a starter, in races such as the Little Brown Jug. He starts at Ohio mutuel tracks and many fairs. He also operates Superior Sulky Co. in western Ohio.
But Woebkenberg never loses sight of the fact that without fans, harness racing will wither and die.
Some people may think that promoting the sport isn't necessary with the abundant slots funds funneled into the purse accounts by the racinos. In those states with racinos, purse money is plentiful while actual bettors and fans are scarce.
It's no secret that many racinos not only don't want to promote harness racing, they want to get rid of it as soon as possible.
As my friend Jay Farrar, who's spent a lifetime in the sport, once told me, "The problem we have is that tracks are owned by people who hate harness racing."
(Not all of them, of course; Jeff Gural is a notable exception.)
So Mike Woebkenberg takes it upon himself to do whatever he can to entice and retain harness racing fans. Foremost among his efforts are inviting fans to ride along with him in the starting gate as he picks up the field and picks up speed before the start.
Anyone who has ridden in the starting car knows how it gives you an entirely new perspective on a race. You witness close up the tension and excitement of the start. I have watched Woebkenberg's passengers step out of the starting car after a race and their smiles are as wide as the prairie in Kansas. They are euphoric.
"They just can't wait to tell their friends about their experience," said Woebkenberg. "So I take their photo and post it on my Facebook page. They often share that photo on their Facebook pages, with comments like 'Boy, look what I did.' It's all about promoting harness racing."
Not only do these fans have an enhanced appreciation for the speed and strategy, but they automatically become Woebkenberg's promotional assistants by telling their friends, "You've just got to take a ride in the starting car. It's unbelievable!"
Woebkenberg is an overflowing fountain of ideas on how harness racing can promote its virtues and he said that horsepeople must become promoters since so few racinos will do so.
He knows that if just 10 per cent of the people who ride in the starting car return to the races and bring their friends, it's a net gain for the game he loves most.
"Harness racing has wheel-to-wheel action just like NASCAR," he said, "but you can't ride next to the drivers in NASCAR. There's no view quite like riding in the starting car at a harness track."
Woebkenberg often enlists the assistance of Brad Conrad, track photographer at several Ohio harness plants, to look for fans who may want a ride in the starting care.
"After the race is over," Woebkenberg said, "I take the fans down to the paddock and introduce them to a driver who was in that race. They feel like they're part of the action."
Woebkenberg knows it's essential for harness racing to educate new fans, and feels his efforts are the most memorable for newbies.
"No one takes people to the judges stand to entertain them," he said. "The start of a harness race is the modern version of a cavalry charge. It's exciting."
Woebkenberg's ideas for promotion don't require money but do require the same passion he has for the sport. He emphasized the importance of currying favor with politicians, local merchants, and youth groups.
He recalled one state representative in Ohio who rode in the starting car with him once. The politician shook Mike's hand, thanked him, and then asked, "Can I ride again? I learned more from you about the economic impact of racing in a few minutes than I've ever learned in Columbus."
"This is a way we can educate officeholders on the economic impact of horse racing," said Woebkenberg.
Ohio still has a strong network of county fairs with harness racing and yet Woebkenberg laments declining attendance there. Predictably, he has thoughts on how to promote it.
"Get a good-looking, good-mannered horse," he said. "Put it in a nice stall and decorate it a bit on the outside. Invite people of all ages to come and have their photo taken with that horse and provide copies of the photo for free. Put a little promotional message on the photo. Have a five-gallon bucket of old horseshoes and give those out for free.
"You ought to see the glow in a kid's eyes when he pets the warm nose of a horse."
He thinks tracks should have stick-horse races for kids between races to entertain their families and the public.
No idea is too big or too small for Woebkenberg. He dreams big.
Many Ohio fairs offer betting, but Woebkenberg noted often the mutuel sellers aren't easily accessible and Woebkenberg thinks they should be able to use a betting app on their phones.
"There is a lot of dead time between races," he said. "We need to fill that time to entertain and educate. We need a John Madden to explain what's happening on the track."
If the track announcer is the play-by-play guy, racing needs a "color guy or gal" to explain the nuances of racing to the fans so that they'll better understand and enjoy what they're watching.
Woebkenberg thinks that horsepeople should get magnetic vinyl signs to slap on the sides of their trucks and trailers to serve as traveling billboards as horse are shipped on highways.
Woebkenberg, 66, is proud of being a third-generation harness horseman, but he's hoping that racing has a future as well as a past.
"I hate to hear people say that if the slots last another 10 years, that's good enough for them," he said.
That's obviously not good enough for Woebkenberg. He loves harness racing and wants to keep it alive for future generations to enjoy.
Starting harness races is Mike Woebkenberg's profession; promoting harness racing is his passion.