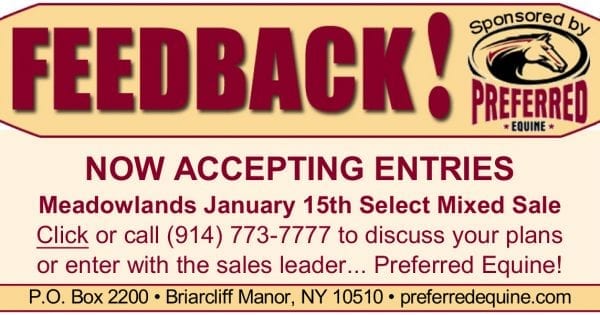 HRU Feedback (2017-11-19)
Faraldo calls Gural a punk
In the (Meadowlands) drivers' meeting (on Saturday, track owner Jeff Gural) said that any drivers that go to Yonkers when Gural's (tracks are) racing is not going to be allowed at Meadowlands for stakes races or anything else. My definition of a punk and a bully fits well here. Mr. Tim Rooney, by comparison, has too much class to get in the gutter with this punk. How about if you want to race where you want? Owners should be able to choose what is best for them. Drivers and trainers are not indentured servants to any lord or savior.
— Joe Faraldo / president Standardbred Owners Association (SOA) of New York
Gural says Faraldo got it wrong
What Faraldo said is not accurate. What I pointed out to the drivers was the fact that at the Meadowlands we feature stakes races. We have $12 million in purses for stakes and $10 million in purses for overnight races. If I wanted to compete with Yonkers in overnights, all I'd have to do is drop the stakes. I would have equal purses to Yonkers, but that wouldn't help the industry. It certainly would not help the breeders and it certainly would not help the drivers. So, I don't think it's fair that somebody decides that they're going to race for the $12 million in stakes and not the $10 million in overnights. I also made it clear that all I care about is that they race at the Meadowlands on Friday and Saturday and they're certainly free to race at Yonkers on the other three or four days a week that they race and they're free to race at Yonkers any time they have stakes races. When they have the Levy Series, they're free to race at Yonkers. All I felt was that it doesn't make sense to allow people to pick and choose and just come here and race in the stakes. It should also be noted that we invested about $120 million in this facility to help promote harness racing, while Mr. Rooney invested virtually nothing, which I don't fault him for, but facts are facts. That is why the handle at Yonkers is so low and the attendance is practically non-existent.
I don't care if drivers spend the winter in Florida. That's fine. I don't care if they spend the winter in North Carolina. I don't care if they choose to stay home, but if they're going to race in overnight races, then I felt that they should race in our overnight program in order to be eligible to race in our stakes program.
The fact is I'm going to lose $2 million this year keeping the Meadowlands open and Mr. Rooney is doing fine. The reality is, they get $50 million a year in subsidies from slots and my entire racing operation is paid for out of the handle from horse racing. I'm at a big disadvantage, but I could, overnight, change that and do what Yonkers does and feature overnight racing. Just think about it, if I took $5 million out of the stakes program, I would increase my purses by 50 per cent and everybody would race in the overnights, but there would be no stakes.
The quality of my driver colony is important to my product. When you consider my income is entirely derived from my product, I think that going forward there will be a continuing horse shortage and it's going to be harder and harder for me to compete. It's no fun losing $2 million. I would trade places with Mr. Rooney in a minute.
— Jeff Gural / owner Meadowlands Racetrack
Clay Horner: new staking conditions needed to increase accountability
Events of the past couple of months have reinforced the need to adopt new staking conditions based on increased trainer and owner accountability. Most who follow our top-level racing are aware of the epic double failure of Lady Shadow in the Milton elimination and final and the panicked effort to restore her lustre by immediately returning her to her prior trainer. That was followed by a similar failure to perform on the part of two high-profile and accomplished horses in the Breeders Crown following a necessitated trainer change. Of course, they immediately returned to their former trainer and won their next starts, one in a track record time. In a new twist, the trainer of a Breeders Crown winner had another stable star scratched due to a prerace test in a stakes race only a week later. That combination was a first! Last night, we saw two more trainer changes to new players to facilitate two more stakes aspirants. Lady Shadow went backward again. As Jeff Gural smartly decided, this is more than enough. It puts a sad light on too many owners and their trainer choices. Try explaining all of this to your friends or adult family and you will feel like a fool that it has taken this remarkable set of events to bring change. Fortunately, a better approach is coming.
— Clay Horner / Chairman of the Board, Woodbine Entertainment Group
RE: Gural vows "never again"
I find this entire topic to border on surreal (full story here).
Needing to address this situation says tons about the sport and it's participants.
The first thing that comes to my mind is if there are those trainers that cannot race at the Meadowlands for reasons of integrity(?), what's going on at Yonkers, or Pocono, or Harrah's Philly?
I understand how this sport operates, and once again, when perception becomes reality, you push the game that much closer to extinction.
Racing would have long since ceased at those tracks and others without the slot welfare. I don't think that's even debatable at this point.
Then you see that a business partner and buddy of the owner takes a horse from (presumably) a known bad actor and transfers the horse over for a minute to a "cleaner" trainer. Seriously?
Do the people in the upper echelon of this sport who can and do control the business really question the state of the sport and the lack of business growth on the betting side of the game? Talk about a "bad look."
I also find it hard to believe that blood samples need to be flown 8,000 miles to be tested.
There is not one lab, say in Kentucky (lots of horses there), that cannot perform that task quicker and for less money?
And the whole idea with all of this is to try and stop cheating.
And the betting public is expected to embrace this garbage?
They still have not instituted "One strike and you're out."
Second chances, third chances, legal "stays," "Groom pissed in the hay," and everything else. It goes on and on and never changes much.
I applaud Gural for his intent. I believe it's honest.
What I don't applaud is most of the rest of the industry looking the other way.
Let's try some lifetime bans with these guys. Maybe then these people will realize that they are being afforded very nice livings that they certainly would NOT duplicate outside of harness racing.
Hard to believe that this topic would even be something to discuss.
— Vic Dante / North Caldwell, NJ
Attract the lottery players
About 50 years ago, I recall going to Roosevelt Raceway on a Saturday night when the attendance was often over 30,000. I was away from harness racing for decades and when I first went to Pompano Park two years ago, I asked, "Where is everybody?" I know much has changed since online betting arrived and people can watch most races in the comfort of their own home. But I think something must be done to bring some people back to the track. My suggestion is to attract people from that huge pool of lottery ticket players. Install quick pick machines at the track where you can invest a dollar and get five 20-cent random combinations for the Super High Five. Clever TV ads could show how easy it is to insert a dollar and possibly win over $100,000. Some of these new players might just watch a race or two and get more involved in the future. Some might just spend some time in the casino while they wait. Harness racing needs new blood.
— Jerry White / Boynton Beach, FL