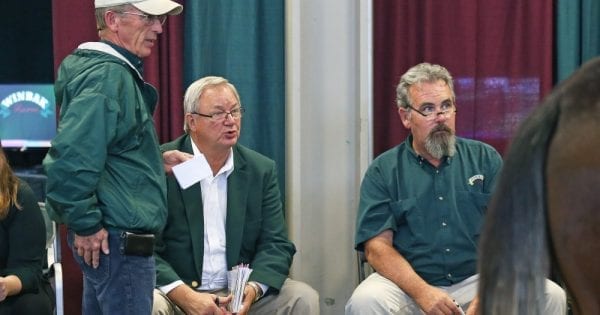 Solid, but lacking fireworks
As more people retain their talented horses, Thursday's opening day of the Standardbred Horse Sale Company's Mixed Sale proved to be a workmanlike session.
by Dave Briggs
The changing nature of the industry where fewer horses and slots-fueled purses make racehorses and mares worth retaining, not selling, meant there were no rock star broodmare prospects on offer Thursday during the opening Mixed session of the Standardbred Horse Sale at the Pennsylvania Farm Show Complex in Harrisburg.
Still, sale president and CEO Pete Spears said he was pleased with the results. On the day, some 266 broodmares, weanlings, yearlings and stallion shares were sold for a gross of $5,615,000, an average of $21,109.
"For the quality of the catalogue, I think we sold very well," Spears said. "I think the trotting mares kind of sold through the roof. The pacing mares, some of them were obviously on the light side (in the bidding), but the quality wasn't quite as good as some other years. I think people are keeping more of the better ones and racing them longer… you see more mares these days with first foals at age seven or eight and that's just the game now."
Seventy-two trotting fillies went through the ring and grossed $1,814,000 total for an average of $25,194. Eighty pacing mares grossed $1,545,000 total for an average of $19,313.
"Someone that has a good pacing filly or trotting filly isn't necessarily just going to put her in foal and try to sell her with the first foal inside," Spears said. "That just didn't seem to happen much this year, did it?
"There are not as many people that want to take the three-year-old filly that won $150,000 off the track and pop them in the sales, so… but the bottom line is, for the quality of the mares in the sale, I think they sold quite well, especially the trotting mares."
Trotting broodmare Dynamite Dame — a Muscle Yankee mare out of One Sharp Lady sold in foal to Muscle Hill to Bryan Montgomery of Cream Ridge, NJ out of the Northwood Bloodstock consignment for $135,000 — was the highest priced horse sold Thursday at the sale.
She was only topped by a stallion share to Muscle Hill that Ments Tore Moller of Norway purchased from Preferred Equine for $180,000.
"It's pretty amazing," Spears said of the Muscle Hill stallion share. "It will take someone a long time to get their money back. We hope for (Muscle Hill's) continued good health."
Though a stallion share to Chapter Seven that reached $90,000 in the ring was not sold, a second stallion share to Chapter Seven offered by Northwood Bloodstock was sold for $85,000 to All American Harnessbreds of Seaford, DE.
"It's an extremely good price, but, on the other hand, I think (Chapter Seven's) performance has warranted that increase in value," Sears said. "His stud fee is going up and I think the type of mare that's going to be bred to him next year is going to be far different than what he's seen so far. And look at what he's accomplished with a relatively modest group of broodmares… it's really quite phenomenal."
Winbak Farms led all buyers spending $241,000 during Thursday's session.
Preferred Equine led all consignors with $2,009,000 in sales for 80 horses / stallion shares. Northwood Bloodstock was second with $1,498,000 in sales for 62 horses / stallion shares. Concord Stud led all consigners in average with $32,500, followed by Hunterton Sales Agency with $31,400.
Pacing mare Sea Cruise Hanover, an 8-year-old daughter of Dragon Again out of the No Nukes mare Sami Cam, sold for $85,000 to Hickory Lane Horse Farm. Sea Cruise Hanover, who is in foal to Always B Miki, is a full sister to multiple stakes-winner Sutter Hanover.
Northwood Bloodstock Agency was the consignor.
Megaball Hanover, also in foal to Always B Miki, sold for $82,000 to Cornerstone Stock Farm. Megaball Hanover is a 4-year-old daughter of Western Terror out of the Matt's Scooter mare Mary Mattgalane. She is a half-sister to multiple stakes-winners Meirs Hanover and Lady Mattgalane.
Preferred Equine was the consignor.
Moonlight In Miami, a 6-year-old trotting mare in foal to Father Patrick, sold for $80,000 to Richard Arnold. Moonlight In Miami is a daughter of Muscles Yankee out of the Windsong's Legacy mare Bedtime Song. Her second dam is Bold Dreamer.
She was consigned by Concord Stud Farm.
Rounding out the top five were two mares tied at $77,000 — trotter Pleasing Lady and pacer Jiminey Three. Pleasing Lady sold to Steve Stewart while Jiminey Three went to Daryl Miller.
Pleasing Lady, in foal to Bar Hopping, is an 11-year-old daughter of Cantab Hall out of the Mr Vic mare Victory Please. Her previous foals include this season's New York Sire Stakes 2-year-old colt champion Six Pack (by Muscle Mass).
Preferred Equine was the consignor.
Jiminey Three, who is in foal to Betting Line, is a 4-year-old daughter of Mach Three out of the The Panderosa mare Disneypan. She is a half-sister to stakes-winner Frontierpan, whose first foal, Quatrain Blue Chip, sold for $180,000 on Tuesday. She also is a half-sister to stakes-winner Tomorrowpan and her family includes two-time Dan Patch Award-winner Mystical Maddy.
She was consigned by Preferred Equine.
The Standardbred Horse Sale concludes today with the final session beginning at 10 a.m.
— with files from Ken Weingartner / Harness Racing Communications