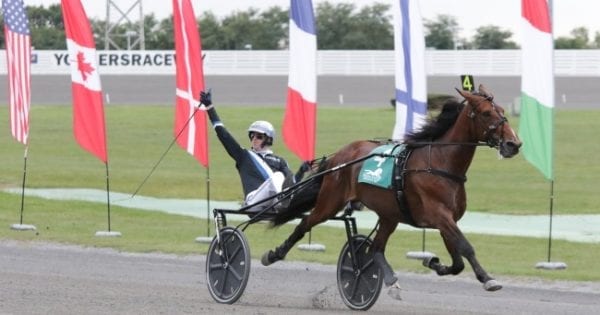 Twister Bi will be missed in Breeders Crown
by Brett Sturman
This time last week almost nobody that follows North American harness racing had ever heard of the 5-year-old horse Twister Bi (Varenne—Lorraine Bi), and just a short number of days later the lack of his presence in next week's Breeders Crown open trot final will be sorely missed.
How impressive was Twister Bi's performance in the Yonkers International Trot? We can look at it from many ways, but the fact that he had never set foot on U.S. soil prior to last week and now lands on the Hambletonian Society/Breeders Crown Top 10 poll speaks for itself. Not only that, but he garnered three 1st place votes in the process! Had Twister Bi elected to stay in the U.S. for a couple more weeks and won the Breeders Crown, who knows how close to #1 he may have come.
You have to give Hambletonian Society president John Campbell credit for trying. Immediately following Twister Bi's win, Campbell extended the offer to trainer Jerry Riordan and noted that if the connections accepted, that they would be able to skip eliminations and move directly to the Crown final.
It makes sense to me to stick around for two weeks that in all likelihood would result in a winning Breeders Crown check, but the Crown was never a consideration for Twister Bi. Riordan stated following the race that he'd be taking his star pupil back to Europe to prepare for the upcoming meet in Paris, and that he tries not to over-do things with the horse.
Similar to his father Varenne, it will be one and done for Twister Bi in the U.S. (although Varenne did make one more start in the Trot Mondial in Montreal) prior to heading back to Italy. But while Varenne's 2001 win in the Breeders Crown open trot is still talked about to this day, Twister Bi's race in the International was even better.
In the race, Twister Bi was parked for the first three-quarters of the mile through a time of 1:26:1 by Resolve, who is regarded as one of the best – if not the best – trotters in North America over the past two years. Following that marker, Twister Bi had seen enough of Resolve and somehow sprinted away with an impossible fourth-quarter fraction time of :27.1. With the race in hand at this point, Twister Bi closed out the final quarter in :28.4 for a final win time of 2:22.1 over a mile and quarter. For comparison, last year's International went in 2:23.4 and the year before that it went in 2:26. Imagine what Twister Bi would have done if not parked for the first three quarters of a mile.
In last week's column, I thought that the Euro racing style of controlled first over racing at extended distances would help Twister Bi as well as the other invaders, but that they would be hurt by Yonkers configuration where too much ground would be lost when racing on the outside. I guess when your 20 lengths the best you can race any way you want and it won't matter.
As for the Breeders Crown, there's no question that a matchup between Twister Bi and the champion trotting mare Hannelore Hanover would have been something to look forward to. In Hannelore Hanover, the open trot still has the girl vs. boy's angle but we've seen that a ton this year. From a betting standpoint, how would the public have viewed Hannelore's chances? She's only two races removed from that 1:49.2 mile at Lexington, but her try last week at this track against ISS competition wasn't nearly as good.
I'm guessing that Twister Bi would have been 1-5 while Hannelore Hanover would have been at least 3-1. From a wagering standpoint, the race wouldn't have much to offer, but from the standpoint of witnessing potentially one of the great trotters of all-time would have something special to showcase on one of the sport's biggest nights. Additionally, could Sebastian K's all-time mark of 1:49 have been in jeopardy with Twister Bi now racing a big track? We'll obviously never know, but that's another factor that would have added to the mystique around the horse heading into the Crown finals.
I have no idea how feasible this is, but one thing that the Hambletonian Society and Breeders Crown along with Yonkers should consider is putting in place a plan that incentivizes future winners of the International Trot to remain in the U.S. and race through the Breeders Crown. In the case of Twister Bi, it doesn't seem like additional bonus money would have made a difference, but offering $25,000 to each the owner and trainer of the winner of the International to simply show up and race in the Breeders Crown could help in some cases.
All isn't lost as there's still plenty of solid racing to look forward to over the next couple of weeks, but as for me, it would have been nice to get one more look at the Italian super trotter here in the U.S.
Breeders Crown elimination play againsts
Betting on eliminations is always a tricky proposition to begin with and tonight's card is compounded with all but two races containing seven or fewer horses. Treading lightly, here are some morning line favorites that may be worth taking a stand against in search of value elsewhere:
Race 4: Hannelore Hanover (7-5) was humbled last Saturday in Indiana Sire Stakes action in 1:53:3 at odds of 1-9, just six days removed from her 1:49:2 win at the Red Mile. Call it a bounce or something else, but she's now just one for her last four and an outside case can be made for almost every other horse in here.
Race 6: Sintra (5-2) was a supplement to the Breeders Crown and while the Canadian Pacing Derby winner has thrived at Mohawk, he's struggled in recent starts outside of those confines in races at Yonkers and Scioto. You could basically throw darts in this elimination for the open pacers; it's tough to take Sintra or anyone else for that matter at a short price.
Race 8: International Moni (5-2) is one that I can safely say I have not guessed correctly on all year long. When he's good, he's very good, but the son of Moni Maker does come up flat every once and again. There's only five other horses in addition to himself, but he'll likely have to sweep from last in order to win.
Race 9: Snowstorm Hanover (2-1) came from out of nowhere to win the Kentucky Futurity and I can't wait to see what he does now. He looked defeated by Devious Man coming through the stretch but somehow fought on; it wasn't too long ago this horse was nowhere to be found in late-closers at Chester. He catches a very soft field too, but I'd look to Lindy The Great as the primary alternative.
Race 13: Miso Fast (5-2) and Downbytheseaside (3-1) each have reasons to play against, with Downbytheseaside being the easiest. From the outside post it's doubtful that he'll be used too hard early and it seems obvious that he's not in his best form at the moment; I'd be surprised. Miso Fast has been on the doorstep of late but hasn't been able to break through with that elusive win against this type of company. Boogie Shuffle remains in good form for Harder and Photobombr Hanover nearly got to Bushwhaker at Pocono last out in 1:49:2.