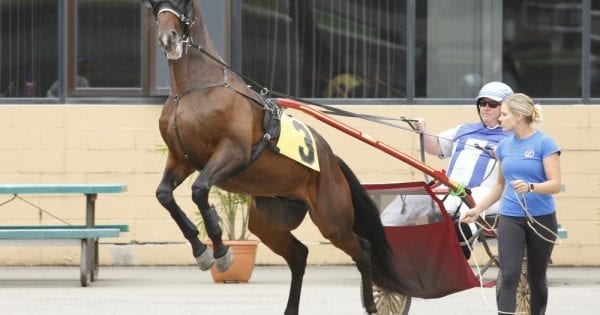 Marion Marauder's team relishing exceptional opportunity
The 2016 trotting Triple Crown winner was headed to the breeding shed at the end of last year, but a change of plans has led the trotter to a shot at this afternoon's $1 million Yonkers International Trot.
by Tom Pedulla
In harness racing, plans are often made to be changed.
After Marion Marauder emerged as trotting's ninth Triple Crown champion last season, his connections had every intention of retiring him at the end of the campaign to allow him to begin his breeding career.
He is trained by the husband and wife team of Mike Keeling and Paula Wellwood. The $37,000 purchase at the Lexington Select Sale is owned by their son, Devin, a student-athlete at McMaster University in Hamilton, ON who is a linebacker for the Marauders football team, and Paula's mother, Marion Jean Wellwood, the widow of Hall of Famer Bill Wellwood.
Families may not agree on everything, but this one concurred that they could not wait to see Marion Marauder's sons and daughters and then to develop and race them. However, fertility tests last year showed that the 3-year-old could not be bred to a full book of mares at that time.
That led the Wellwood/Keelings to a very different agreement, that Marion Marauder should compete for at least two more years with the hope that time and maturation would eliminate his fertility issues.
"We have no regrets whatsoever," Keeling said.
Why would they?
The son of Muscle Hill, out of the mare Spellbound Hanover, has already banked almost half a million dollars this year to boost his lifetime bankroll to $2,222,615 and is viewed as a prime contender in the $1 million Yonkers International this afternoon at Empire City Casino as Canada's representative.
Marion Marauder will have his regular driver, Scott Zeron, in the sulky. He is listed at 5-1 in the morning line after drawing the rail. When Keeling was asked if he views his horse as the one to beat, his answer exuded confidence.
"I always think he is," he said. "He's a very good horse, so I have a strong opinion of him. He always competes. That's the major thing, he always gives a great effort. Definitely he belongs. He's one of the players."
Marion Marauder was expected to be one of the players in the Maple Leaf Trot at Mohawk Racetrack on Sept. 8. But he was not at all himself and finished eighth. An endoscopic exam after the race indicated evidence of a significant infection.
"They found he was as sick as he has been since he started racing," Zeron said.
Marion Marauder gradually recovered and allayed concerns about his preparedness for the International due to the layoff with the way he tore through a qualifier on Oct. 3 at Mohawk.
"He cut the mile out in 1:53.4 and came a really strong last quarter. It was very nice to see," Zeron said. "You need miles like that heading into a race like this."
Keeling has been careful in his handling of Marion Marauder. They declined an invitation to the International last year, believing the youngster was not quite ready for that stiff a challenge.
"Being a 3-year-old racing against older horses is generally not a great idea," the trainer said.
He has been careful not to put too much pressure on trotting's first Triple Crown winner since Glidemaster in '06.
"This year was more to let him mature, let him get stronger and, hopefully, next year he gets even better," Zeron said.
As it is, Marion Marauder possesses the demeanor of a proud heavyweight fighter. When an opponent tests his mettle, he tends to respond with a fury that will not be denied. In his historic Triple Crown sweep, he willed himself to the front by a nose in the Hambletonian and by a head in the Yonkers Trot and Kentucky Futurity.
That makeup is allowing Keeling to think big.
"We want to take a shot and race him in Europe next year if he belongs," he said. "That's our goal. That's our dream."
In the meantime, they are enjoying one heck of a ride. As part of the festivities leading to the International, Tim Rooney, owner of Yonkers Raceway, treated participants to dinner and a Broadway play on one night, and to a cruise around Manhattan on another.
Keeling said he never loses sight of the gritty horse he owes it all to.
"I wish all horsemen could have a horse like him," he said, "and experience the things we're experiencing."