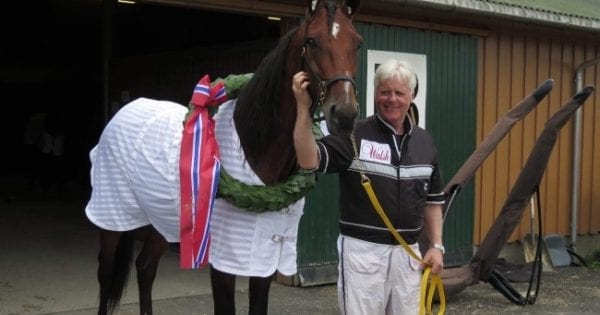 U.S.-born Riordan hoping to score with Italy's Twister Bi
Swedish-based American ex-pat trainer Jerry Riordan is hoping Twister Bi can be the first International Trot winner for Italy since 1977.
by Tom Pedulla
Italy has not fared well in the International Trot, producing one winner in the race's 38-year history when Delfo, driven by Sergio Breghenti, prevailed in 1977.
Trainer Jerry Riordan is rather outspoken in his optimism that Twister Bi (Varenne—Lorraine Bi) can end Italy's drought on Saturday at Yonkers Raceway.
Riordan said of the chances of toppling defending champion Resolve of the United States, "He's got home-field advantage, that's for sure. It's a big home-field advantage. He's in his paddock every day. His routine is the same as always. He's an exceptional horse. But I think on our best day we can beat him."
According to Riordan, Twister Bi is accustomed to shipping and handled the journey well.
"He's traveled, he knows his work," said Riordan, an expatriate from Rhode Island. "He's going to be really good, I think."
Although Resolve set the world record in last year's event, he is rated only slightly ahead in the morning line as the 3-1 favorite from post six. Twister Bi, from post four, is the second choice at 4-1. He is followed by another Italian starter, Oasis Bi, and Marion Marauder of Canada, both at 5-1.
Oasis Bi, from post two, placed second to Resolve last year. Marion Marauder, the rail horse, swept trotting's Triple Crown last year and showed the ability to handle the testing turns on Yonkers's half-mile oval in winning the Yonkers Trot.
Twister Bi has been extremely consistent this season, cracking the top three in 9 of 11 races with four victories in banking $528,768 for owner Pasquale Ciccarelli. His wins include the Ulf Thoresen Grand International, the Oslo Grand Prix and the Prix De La Mayenne. He comes into the Yonkers International off a third-place finish on Sept. 9 in the UET Trotting Masters championship.
Although the 5-year-old was aggressive to a fault earlier in his career and still has some temperament issues, he boasts 20 victories in 49 lifetime starts and has earnings of $708,328.
Riordan is confident his horse will adapt well to Yonkers. "I raced him one time on a half and he just flew around the turns," he said. "He's a lefty."
Christoffer Eriksson will drive.