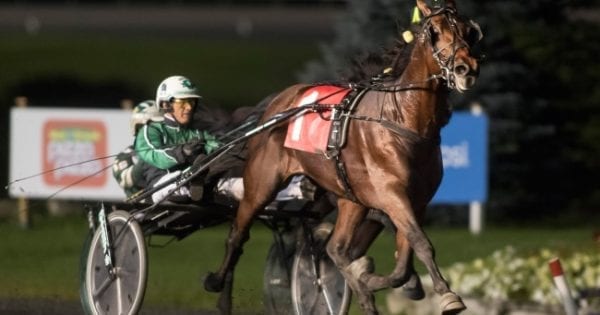 Resolve continues to enrich the life of veteran owner Hans Enggren
The Ake Svanstedt trainee will carry the U.S. flag into Saturday Yonkers International Trot hoping to be the first repeat winner of the race since 1973-74.
by Tom Pedulla
Defending Yonkers International Trot champion Resolve provides what owner Hans Enggren needs most these days – good medicine.
Enggren, 88, remains mentally sharp but life has been somewhat of a struggle physically. He has relied on a pacemaker for the last 18 years. He continues to treasure every day, each immeasurably brightened by the addition of Resolve, the horse of a lifetime.
Enggren spotted Resolve in November of 2013 when the horse was being bathed outside the barn of his then trainer Roman Lopez at the South Florida Training Center. Enggren was able to purchase him privately after months of determined pursuit.
"He makes life exciting for you," said Enggren. "I never get bored because people call, and that's nice."
Family members and friends all want to know how Resolve is doing and whether he can give the United States its first repeat winner in the International since Delmonica Hanover in 1973-74. The son of Muscle Hill—Anikawiesahalee provided an extraordinary performance last year when he led at every call and tore through the mile-and-a-quarter contest in a world record 2:23.4.
Enggren was thrilled to be part of the crowd at Yonkers Raceway last year. "It was something that would be very hard to forget," he said of the exhilarating experience that came after more than 50 years as an owner and breeder. He also bred and owned Prakas, the 1985 Hambletonian champion.
Recent health issues will make it wiser for him to watch the International with loved ones at his home in Abbottstown, PA. He and his wife, Christina, have five children. Resolve will start from post six as part of a 10-horse field. The 3-1 favorite is trained and driven by Ake Svanstedt.
Svanstedt had hoped to draw one of the five inside positions. "The post is okay, but I'm not satisfied with having the horses to beat on the inside," he said. "We'll see what happens."
Oasis Bi of Italy, who finished a length and a half behind in second last year, drew post two. Twister Bi, another highly-regarded opponent from Italy, has post four. Marion Marauder of Canada, trotting's Triple Crown champion in 2016, enjoys the benefit of the rail.
Resolve continues to compete at a high level. The 6-year-old was third behind Timoko and Propulsion in the Elitloppet earlier this year. He counts wins in the Cashman Memorial, Crawford Farms Open Trot and Cutler Memorial among his four victories in 10 starts this year with earnings of $485,149.
There may be some question about his readiness for the stiff test the International represents. He comes off an uncharacteristically poor effort when he struggled home seventh in an elimination of the Maple Leaf Trot at Mohawk Racetrack on Sept. 8 and spiked a high fever after the race.
A veterinarian discovered evidence of either a snake or tick bite, leading Resolve to be treated with strong antibiotics. He remained in Canada for five days before he was well enough to return to Svanstedt's farm in Wrightstown, NJ.
"We started jogging him already the first day he came home, so he just missed one week," Svanstedt said. "He is good now."
Svanstedt is confident recent circumstances will not adversely affect Resolve. "I think it is better for him to have the time off," he said. "When he races too often, he is a little bit lazy. When it is a longer time between races, he is more excited when he comes to the race and really wants to race."
Enggren is not sure what the future holds for Resolve beyond the International and the Breeders Crown on Oct. 27 and 28 at Hoosier Park. He is considering having Resolve continue to race while beginning his breeding career.
"All options are open," he said.
Although Enggren sold his farm five years ago, he retained four mares and intends to breed all of them to Resolve. When asked if he hopes to see Resolve's progeny race, he noted how long a process that is.
"That would be a dream," he said.
— with files from Ken Weingartner / Harness Racing Communications