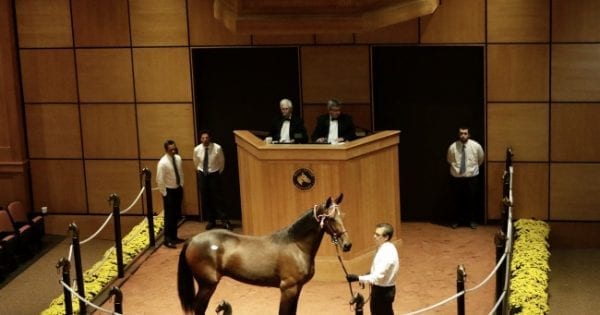 Gural sells $480,000 session topper to Lindstrom
The owner of the Meadowlands Racetrack said he was in shock after selling the sale-topper, so far, during the second session of the Lexington Selected Yearling Sale on Wednesday at Fasig-Tipton.
by Dave Briggs
Randy Manges said it's "pretty unusual" for the Lexington Selected Yearling Sale to produce the sale-topper on day two of the sale, but a bid of $480,000 may just hold up through all five sessions of the sale being held through Saturday (Oct. 7) at the Fasig-Tipton Pavilion in Lexington, KY.
"That's a big number," said Manges, who manages the sale with David Reid.
Swedish agent Robert Lindstrom paid that price for hip #239, a Muscle Hill filly out of Sina named Beautiful Sin bred by Meadowlands owner Jeff Gural, his wife Paula Gural and Monica Reschke, the wife of trainer Bob Bencal. The trotter was sold out of Bob Boni's Northwood Bloodstock consignment.
Gural was ecstatic that Beautiful Sin brought just shy of half-a-million dollars.
"Well, I'm in shock, but I've been doing this a long time and I deserve it. My wife and Monica Bencal own 45 per cent," Gural said. "I've been down here with all my horses other years and they didn't sell for $480,000 (combined)."
It was the highest-priced yearling both Gural and Boni have ever sold.
"It's great because of the people involved," Boni said. "That makes it so nice. The buyers are happy. I've just come back from showing (him/her) to the buyers again. They are happy as can be."
Lindstrom, who bought Beautiful Sin for an undisclosed client, said he didn't expect to have to pay $480,000 to get her, but couldn't be more excited.
"Without a doubt, she was the most outstanding filly in the sale," Lindstrom said.
When the hammer fell, the sales facility burst into applause.
Gural said he bred Beautiful Sin's dam, Sina and was planning to sell her as a yearling, but had to take her out of the sale. He then gave half of the horse to his wife and Reschke.
"I figured, 'Here, you go have fun with the horse'. So they won $150,000 and then I made a deal with them. I said, 'Okay, I'll pay all the bills and use my Muscle Hill breeding and I get 50 per cent and you get 50 per cent'. I ended up with an extra five per cent somehow, but… this is ridiculous."
Reid said it wasn't the only exciting moment of the night.
"I watched Midland Acres sell their horse tonight, a brother to Pinkman. They only had one horse selling tonight and, after the horse sold, the groom, the owner, the caretaker were out there and emotionally excited that they had such great success. That's the key to having a great sale – the people who sell one yearling a night or 10 yearlings a night, they are all important and all have good horses. I was happy to see that," Reid said.
In all, 158 yearlings went through the ring Wednesday. The session gross was $12,146,000 and the average was $76,873, which is up 8.43 per cent from the $70,897 fetched on day two in 2016.
"The gross, I think, it's up about 18 per cent," Reid said. "The median is up about five per cent. Cumulatively, last year we were at $21.6 million and this year we're at $22.7 million gross. And we've sold 10 more horses this year."
Through two sessions, the 2017 sale has grossed $22,780,000 for 251 yearlings sold and produced an average of $90,757 that is down 2.1 per cent from the two-day average of the record 2016 sale of $92,717. The two-day average in 2015 was $76,845, meaning the average jumped 18.1 per cent from 2015 to 2017.
"The depth of the catalogue was factual and I think it held up," Reid said. "I thought the pacers held up very strongly. I don't know about the comparisons from year to year, but I thought there was great energy the whole night and I thought the sale had good pace."
"And then we sold, I think, seven more $100,000 horses than we did last year," Manges said. "So, overall, we sold around 20 more $100,000 horses this year (than last through two sessions)… It's getting spread out. There are a lot of horses selling for good prices."
That includes hip #130, a colt by A Rocknroll Dance out of Somwherovrarainbow named Spectrum fetched $330,000 from Diamond Creek Racing of Wellsville, PA. The price equalled the sale topper from Tuesday's opening session — the Father Patrick colt out of Designed To Be named Rifleman purchased by Courant Inc. of Delray Beach, FL.
Spectrum was bred by Diamond Creek Farm and Ted Gewertz.
Gewertz said the purchase was not a buy-back. He sold his interest in Spectrum.
"I was always selling," Gewertz said. "I heard he was nice and everything and he certainly looked nice."
Diamond Creek's Adam Bowden said he simply loved the colt — the first foal out of a Somebeachsomewhere mare that earned over $1.3 million and had a mark of 1:48f — and wanted to keep him.
"I called (Gewertz) in March and said, 'We have a pretty nice colt.' If it were totally up to me we would have kept him to race him, but I think the right thing to do for Ted (and his wife) Claire and us was to put him through the ring and may the best man win," Bowden said. "We liked (Spectrum) from Day One. We knew all of his idiosyncrasies and everything about him, so if I owned him 100 per cent, he wouldn't have been here. He was that nice of a horse for me.
"It was the right thing to do, to put him in here. For the sire, it was the right thing to do, too. He's coming off a win by Lost In Time in the Metro and to have that kind of number… Somebody might say that we were running it up, but there was a live bid at $320,000."
Gewertz said he was happy with the sale price.
"I was hoping for in the $200,000s or more," Gewertz said. "(Bowden) must have loved the horse."
Bowden said Spectrum is, "like the mare and he's a little bit like the stallion, and that's the right combination. We'll find out next year, but so far so good.
"I'm kind of interested in who has interest in training the horse. I don't have a plan yet."
Jimmy Takter bought six yearlings during the second session to top all buyers, so far, for the sale with $1,097,000 spent on eight horses. Ron Burke purchased eight yearlings on Wednesday and has now bought 12 for $925,000 combined, followed by Ake Svanstedt ($882,000), Lindstrom ($710,000), Determination Stable ($705,000), Norwegian Reijo Liljendahl ($660,000), Team Allard ($586,000) and Crawford Farms ($580,000).
Through two days, A Rocknroll Dance leads all sires with a $151,250 average for four yearlings sold. Forty Muscle Hill offspring have averaged $124,700 and Somebeachsomewhere is third with an average of $117,130 for 23 yearlings sold.
Preferred Equine leads all consignors with $5,098,000 in sales, followed by Kentuckiana ($2,825,000), Hunterton ($2,182,000) Northwood ($1,775,000) and Diamond Creek ($1,620,000).
Manges said it's only the beginning.
"I think we still have a lot of depth in the sale," Manges said. "I think (Thursday) night, it's a good session and, going forward, it's a strong sale. Certainly, that part of the sale is as strong as last year.
"A lot of guys are still searching and looking, so I'm hoping (tonight) is equally as good."