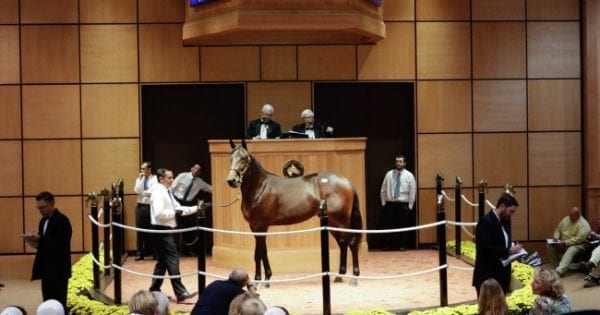 Considering 2016 was a record auction, management of the Lexington Selected Yearling Sale were pleased with the Tuesday's opening night session in which 58 per cent of the horses sold for $100,000 or more and the median rose 10 per cent.
by Dave Briggs
Pouring over the initial statistics from Tuesday's opening session of the Lexington Selected Yearling Sale at the Fasig-Tipton Pavilion in Lexington, KY, director of operations and co-sales manager David Reid liked what he was seeing despite the sale being down in average.
The opening night average of $114,344 was down 11.6 per cent compared to the record 2016 sale, which produced an opening session of $129,333. Last year, the top three yearlings sold for $800,00, $550,000 and $450,000, respectively.
This year's session topper, the Father Patrick colt out of Designed To Be named Rifleman, sold for $330,000 to Courant Inc. of Delray Beach, FL. The colt, along with the third-highest priced yearling — the Muscle Hill colt out of To Dream On named The Dream Lives On that sold for $265,000 to Jimmy Takter — was consigned by Kentuckiana Farms and bred by Canadians Marvin Katz and Al Libfeld (with Sam Goldband in on breeding The Dream Lives On).
"It was a historic year," Reid said of 2016. "It was an unprecedented sale that averaged $56,000 overall last year and averaged $129,000 opening night. So it was a very tough feat to repeat, if you don't sell one for $800,000 or $550,000.
"But the overall numbers this year are very solid. We sold 54 yearlings for more than $100,000 compared to 41 last year. So I think that's a good sign and a very good result for the first night… and all categories averaged over $100,000."
The trotting colts averaged $123,273, the trotting fillies averaged $116,409, the pacing colts averaged $110,733 and the pacing fillies averaged $107,316.
Reid said the median was up over 10 per cent from 2016 and he was impressed that 54 of the 93 horses (58 per cent) sold went for $100,000 or more.
Co-sale manager Randy Manges said he made all of his comparisons to two years ago, "because of the high-priced horses that sold last year. It was unrealistic to compare to because we had those three real big horses. I wasn't sure that we had ones that would bring in that price range, but $100,000 to $200,000 range was very strong, I thought, and there are still a lot of people here that aren't on the sheets so hopefully they will be buying (Wednesday)."
In all, 93 yearlings went through the ring Tuesday producing a gross of $10,634,000.
Compared to 2015, when five more horses were sold, this year's average was up 4.4 per cent.
"Just looking at the names of horses that sold for over $100,000, I do see a good diversity," Reid said. "I see Rene Allard, bought one for $205,000 and another one for $100,000. You have the normal guys active, but I was happy to see Dana Parham and Odds On, Paul Kelley and Ken Jacobs in there today. Jennifer Dalton (formerly on The Real Housewives of New Jersey) bought a trotting colt (for $120,000)."
Manges said the introduction of several first-crop sires to the market might have helped spread out the money.
"Sweet Lou sold great. Captaintreacherous sold great. Father Patrick topped the sale. Trixton held up very well," Manges said. "And Somebeach and Muscle Hill hung in there, as usual.
"There was a lot of chatter about the new stallions, which was nice. Diversity."
Katz said Rifleman is the product of two horses in which he and Libfeld shared ownership.
"We were part of the ownership group that owned Father Patrick. And Designed To Be, multiple world champion, made $650,000 and broke two or three different world records, was second in the Oaks in her year," Katz said. "She was one of the best of her generation, no question. This is her first foal and typically the market really receives those foals exceedingly well and he was well-received. He's a great colt.
"He was a superior individual. There were a lot of people who liked him a lot. There was a lot of interest in him and he was outstanding from the time he was small. He exhibited great athletic ability. There were people who saw him in the spring that came over from Europe. There was already a buzz about him at that time. He's out of a great mare and he's a great individual from a young stallion, who has every chance to be one of the great, dominant stallions in the business. I think it made a lot of sense."
Libfeld said he named Rifleman after the TV show The Rifleman that aired on ABC from 1958 to 1963.
"When I was a kid, I used to watch it and I thought it was a great name and a great show. He's a great horse, according to the buyers here," Libfeld said, adding it's exciting to sell a horse for over $300,000. "We love the mare, she was great to us. She was unbelievably fast. And we love the sire. We raced them both. The mating produced a great individual and we couldn't be happier."
The second highest priced yearling sold was Seaside Bliss, a Cantab Hall filly out of You Want Me that sold for $300,000 to trainer Paul Kelley, agent, of Gansevoort, NY.
"First off, I had the dam, You Want Me. I bought her for Bill Weaver and we were partners on her," Kelley said. "She was a really nice filly and had a great two-year-old year. Unfortunately, she got sick just before she came back at three and she just couldn't race at three. I really liked the colt that Jimmy had, that he bought last year, the Muscle Hill colt, You Know I Do. I watched him race all year. When I got to Lexington, I saw this filly and I just saw how special she was and I just thought she was probably the nicest filly in the sale tonight. I'm real happy to get her."
Kelley said he can'g wait to get to work with the filly.
"She's the number one draft choice, for sure," Kelley said.
Takter said The Dream Lives On was something of an emotional purchase for him.
"I trained the mother. I trained the first colt. She was three months behind where she should be. I like this one much better and I had to go for it," he said. "He was not the top, top, but the one we wanted. The mother was a fantastic horse."
Meanwhile, owner Ken Jacobs went all in to try to win the Hambletonian by paying $215,000 for King Hill, a Muscle Hill colt out of Lifetime Pursuit.
Jacobs owns Walner, the pre-season favorite to win this year's Hambletonian before being scratched due to injury.
"That's what I want," he said, referring to winning the 
Hambletonian. "
Walner's trainer, Linda Toscano, said Jacobs is "shifting gears. He's won a lot in New York. He's won a lot of Grand Circuit races with the pacers and he shifting gears to the trotters right now."
Now the Hambletonian is the main mission.
"I am never surprised with how quickly Ken moves," Toscano said. "Never. Once he makes up his mind that he wants to do something he gets it done… It's pressure for me, but the right kind of pressure."
Toscano said King Hill is, "the whole package. I like a tidy horse that stands really well and the cross is a good cross. Any time you've got a top mare like that and a Muscle Hill, the whole package works for us."
While the opening night was generally terrific, Reid said the strength of the five-day sale — which runs consecutive nights through Saturday, with each session starting at 7 p.m. — likely is its depth.
"I think the overall catalogue coming into this sale is deeper, maybe, than in years past," Reid said. "I think the second, third, fourth, and maybe even the fifth night the quality is deeper than in years past, so we'll see if that comes to fruition. I'm looking forward to (Wednesday) night, no doubt about that."