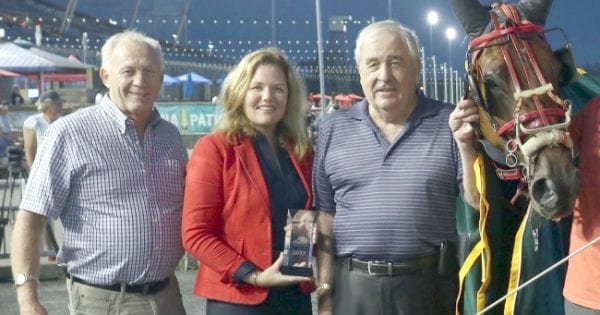 Jessica Buckley, the new president of Mohawk Racetrack, grew up on a thoroughbred breeding farm and developed a passion for racehorses of both breeds that resulted in more than two decades worth of experience in racing boardrooms.
by Dave Briggs
On a sweltering August Saturday 10 summers ago, Jessica Buckley was determined not to let her brother and father have all the fun racing Pampered Princess against the boys in the Hambletonian. At the last minute, Buckley and her mother cooked up a plan to jump on a plane from Ontario to New Jersey.
"We didn't tell my brother or my dad that we were coming," Buckley said, laughing at the memory. "We spent the whole day sneaking around The Meadowlands, having the best time. We saw them a few times and were sort of jumping behind pillars and laughing hysterically that we were there and they didn't know it. The plan was that we were going to meet them in the winner's circle after she won. Unfortunately, she didn't have a great race that day. Donato Hanover was the big winner that day, but it was just a really exciting day to be down there and take in the Hambletonian."
Pampered Princess — owned then by Buckley's brother, David Anderson, and her father, Bob Anderson — was sitting third at the top of the stretch when she made a break and finished seventh-placed-sixth a week after winning her Hambletonian elimination.
"I remember there were a bunch of young girls at the rail that were holding up signs saying, 'Princess Power' and 'Girl Power,'" Buckley said.
She shares the story not only to illustrate her lifelong passion for horse racing, but as something of an introduction to the standardbred community she will be working with as the new president of Mohawk Racetrack.
Girl power, indeed.
Buckley grew up at Anderson Farms, a thoroughbred nursery in St. Thomas, ON, but wants the harness racing industry to know she has respect and appreciation for standardbreds, a breed that also became her brother and father's passion for a time.
"We want to make Woodbine at Mohawk Park, which it will soon be called, the number one harness track in North America," she said. "That's our goal and we've got tremendous opportunity there because our racing is so strong and we have such committed horsepeople."
David Anderson may be biased, but he is certain his sister is up to the challenge.
"The horses are in her pedigree and she's more than capable of doing the work and I think she's a much-needed addition to that racetrack," Anderson said. "She's very bright and she's tough… she will be very tough, and take a tough stance on integrity, which is much-needed in the game. I think her leadership skills are second to none and she's going to do a great job."
Buckley began working in the horse racing industry fresh out of university 23 years ago. In 1994, she was hired at the Woodbine Entertainment Group (WEG) — which was still called the Ontario Jockey Club in those days.
"I was here at a time when there were a lot of new things happening, there was technology coming into play and I was part of the team that launched Horseplayer Interactive," Buckley said, adding that she was also involved with the launch of the complimentary racing television service. "That was an exciting time, the first account wagering service to be launched (in Canada).
"I then had an opportunity to go to the U.S. with Magna Entertainment and help launch account wagering in California, which they were legalizing account wagering in the 2001 and 2002 timeframe. I was there for the launching of Xpressbet… I was also involved with Horse Racing Television, which was Magna Entertainment's cable TV channel. I was part of the launch of that service and the development of that cable network to over 20 million subscribers and then it was bought out by TVG."
She remained with Magna for nine years before returning to WEG. The last two years, prior to taking on the role as president of Mohawk beginning Sept. 5, Buckley was WEG's vice-president of community relations and corporate affairs.
"Having an understanding of the game, whether it's thoroughbred or standardbred, she's going to be able to talk at the same level as the horsemen and I think that's really needed in our sport," Anderson said. "I think we've gotten away from that a bit with some executives and she's got both – the horse background and she's got the boardroom skills."
The president of Mohawk position is a new one created after WEG opted to move toward year-round standardbred racing at the Milton, ON plant, leaving Woodbine Racetrack to the thoroughbreds.
"I think with having Mohawk be a 12-month-a-year operation, we wanted to have some leadership in Milton and that was really the genesis of the change," Buckley said. "We've got an amazing opportunity to be out there 12 months a year and grow the fan base and get more people interested in horse ownership and all the rest."
She said her first priority is to work with a new gaming operator expected to be announced this month and then prepare the Mohawk plant for year-round racing.
"I think the priority is going to be the winterization initiatives to get the facility ready for year-round racing and ready to re-open in the spring of 2018. So, I'll be focused on that," she said. "I'll also be focused on pulling the team together and getting everyone ready. Working with the gaming partner, most definitely, will be a big piece of what's happening. We expect in the next couple of weeks to know who that gaming partner is and they'll be doing some likely interim expansion in the building and then leading to something larger.
"We're also working closely with the town of Milton because the town has been a great supporter of Mohawk and standardbred racing. They are extremely excited about having more of an entertainment destination on our site.
"Also, I'm looking forward to working with the horsepeople. I certainly need to make it a priority to get to know them and earn their trust and I look forward to that."
Buckley said plans for potential development of the 440-acre Mohawk property into an entertainment district are in the early stages.
"We plan to have other uses on the site, which will help drive more people and we would like to get those people interested in racing," she said.
Asked to project what Mohawk could look like in 10 years, Buckley dreamed big.
"If things go well, I would love to see a full-blown entertainment destination for the region, which includes great attendance at our live racing, five nights a week. A very vibrant site that offers amenities for families and something for everyone. I think we've got that potential there for sure," she said.
Growing up watching young horses romp through the paddocks, as the daughter of a man who is enshrined in the Canadian Horse Racing Hall of Fame as a builder, Buckley is familiar with dreams without limits — some that turn to fruition. Just this week, her brother David sold a thoroughbred yearling in Kentucky for $1.1 million.
"My parents bought the farm in St. Thomas and I moved there when I was two years old, so I was lucky enough to grow up on a breeding farm. Certainly, that experience influenced my life greatly. I fell in love with horses," she said. "I really enjoyed being out with the mares and foals and just the excitement in the spring when the foals would come along. It was a wonderful, wonderful life as a child, to be around that all the time."