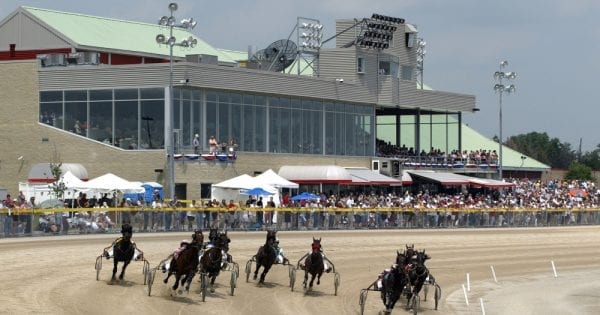 Job at Grand River falls neatly into place for Martin
Jamie Martin, the long-time executive vice-president of racing at the Woodbine Entertainment Group, will leave the Toronto company at the end of the year to take over from retiring Dr. Ted Clarke at Grand River Raceway.
by Dave Briggs
It's not a huge surprise that Jamie Martin will become the next director of operations of Grand River Raceway in Elora, ON. When he announced in April that he was stepping down from his position as executive vice-president of racing at the Woodbine Entertainment Group (WEG) at the end of 2017, he told HRU the decision was more about retiring from the hectic schedule overseeing two racing breeds in Toronto than about retiring from the game. At 57, Martin isn't at retirement age just yet.
The Grand River job became available when long-time general manager and Hall of Fame builder Dr. Ted Clarke announced in June that he would retire at the end of the track's live racing season. Martin said Wednesday the job fell into place as a fortuitous next step in a long career of racetrack management that began at Western Fair Raceway in London, ON.
Martin said he had already announced his departure from WEG — after 17 years with the company — when the Grand River Raceway position became available.
"Without thinking there would be an opportunity at Grand River, I made the decision (to leave WEG) in the winter," Martin said. "I've been thinking about it for a while. It wasn't a snap decision. I live up that way (near Grand River Raceway). It's way more convenient for me and that's appealing. It's about 15 minutes away and Woodbine is an hour and 15 minutes, if there's no traffic — and, you know, that doesn't ever happen. That was a factor.
"Maybe it's my own fault in the way I operate things, but I'm present for a lot of the (WEG) cards and we have 350 of them a year, between the two breeds and the two tracks, so I'm just looking to back off a bit."
Yet, Martin said he wanted to stay involved in the game, "specifically the standardbred side of the business. I thought maybe there would be some opportunities and, if not a racetrack than maybe an industry association or consulting. I was just going to see where it went, because I gave quite a bit of notice," Martin said. "But I've always thought of myself as a racetrack operator and when Ted announced his retirement and they started a search process, I put my name in the hat and it worked out.
"The bigger factor is that I enjoy working at racetracks, as opposed to some other jobs in the industry. I'm sure (Grand River) had many good candidates, so I feel pretty fortunate that they decided to give me the opportunity and I'm pretty excited about it."
Clarke officially retires at the end of September, but Martin isn't scheduled to leave his position at the Woodbine Entertainment Group until the end of the thoroughbred meet in December.
"(The Grand River Agricultural Society) certainly knew my timing, but there are some things I can help them with, between now and then, but I think operationally they are in pretty good shape," Martin said.
In that vein, Martin said he's not interested in changing Grand River Raceway's profile as a fun, family-friendly venue guided by the spirit of Kelly Spencer, the track's celebrated manager of marketing and communications.
"I think they do a great job," Martin said with considerable admiration. "Whatever I can do to help them do the great job they do is what I'm going to focus on. They are already well recognized as a leader in what they do, so I'm not going into it thinking there has to be changes.
"I'm going to work with the team there and help them build on what has already been successful."
He said he would draw on his experience both as a small track operator in London and as the man in charge of racing for the country's top circuit, adding he still expects to work regularly with Mohawk, not only as part of the Standardbred Alliance, but also because the two tracks will share a gaming operator.
"Grand River is actually in the same (gaming) cluster as Mohawk, and the operator is going to be announced soon," Martin said of a casino company that will be named to take over management f the slot hall from the Ontario Lottery and Gaming corporation. "So that's going to be, I think, an opportunity for Grand River for work with a new partner that's going to be operating the gaming there. There's potential for expansion (at Grand River), perhaps. That's exciting and there's going to be some new things happening."