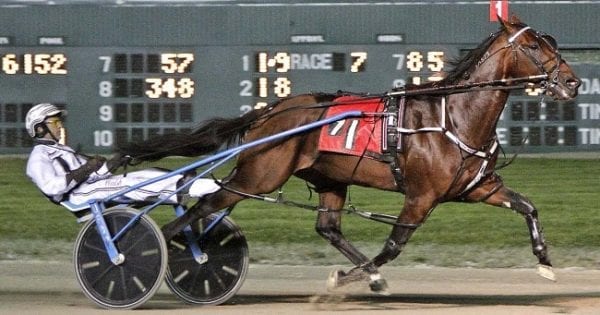 The driver won the $125,000 Jug Preview with Downbytheseaside and followed that up two races later with a victory with McWicked in the $225,000 Jim Ewart Memorial at Scioto Downs.
by Jay Wolf
The connections of Downbytheseaside are hoping this truly was a preview of the Little Brown Jug after their charge cruised to a 1:51 win Saturday in the $125,000 Jug Preview at Scioto Downs.
When the starting gate wings folded, the two Ohio-bred entries, Drunk On Your Love (Dan Noble) and Scotch Mcewan (Josh Sutton) grabbed the early lead, putting the eventual winner in third past the quarter in a pedestrian :28.2.
Brian Sears didn't want to allow the slow fractions and sent Downbytheseaside to challenge Drunk On Your Love and cleared the field of seven before the half in :56.2.
Downbytheseaside was pressured by Sports Column (Andrew McCarthy) down the backstretch and to the three-quarter pole in 1:24.1.
Using a :26.4 last quarter, Downbytheseaside sprinted clear of the closing Filibuster Hanover (Matt Kakaley) to score the 1 1/2 length win. Sports Column and Drunk On Your Love held on for third and fourth respectively.
The son of Somebeachsomewhere—Sprig Hanover is owned by Country Club Acres, Joe Sbrocco, Richard Lombardo and Diamond Creek Racing and trained by Delaware, Ohio based Brian Brown.
"It's great to win at home," said Brown. "I'm a little more relieved. He wasn't his best last week."
When asked what his plans were for the Little Brown Jug (September 21), Brown's comments were brief, "We plan on winning."
Sears was back in the Scioto Downs winner's circle a couple of races later when McWicked used a wicked late kick to nail Rockin Ron (Matt Kakaley) in the $225,000 Jim Ewart Memorial Pace in 1:49.3.
Luck Be With You (Aaron Merriman) led the field of 10 past the quarter in :26.1.
Dave Palone sent the favorite Mel Mara to the lead as they came in front of the stands the first time and led past the :54.2 half.
Rockin Ron moved to the lead as Mel Mara tired badly and retreated through the field at the three-quarter pole in 1:21.3. Rockin Ron was clear by three lengths as they turned for home, but McWicked unleashed a furious move in the passing lane to secure the neck win in 1:49.3. Rockin Ron held on for second and Boston Red Rocks (Josh Sutton) and Check Six (Chris Page) dead-heated for the show spot.
McWicked, the six-year-old son of Mcardle, is owned by Edward D. James and trained by Casie Coleman.
"I thought the fractions was little slow. I thought I might need to see a half in :53 or even better to have a shot," said Sears. "My horse has a really good move, too. I've had the opportunity to drive him quite of few times… He fires home for you, if you don't overuse him.
"I thought I had second locked up. My horse kept digging. He's a little lazy at times, but once I got into him, he responded and really fired."