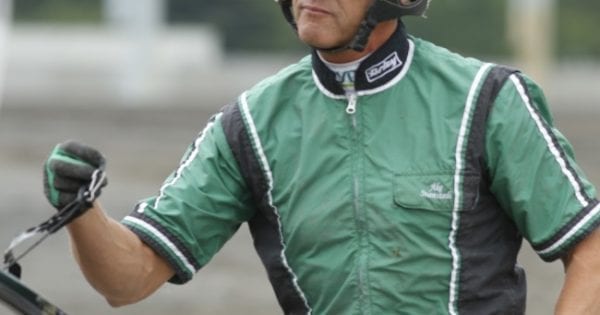 A look at how some of the sport's top trainers are fairing compared to a year ago.
by Joe FitzGerald
Here is a look at how some of the top trainers fared by earnings through Sept. 4 of this year compared with their performance during the same period in 2016.
Trending Up
Rene Allard flipped spots with Jimmy Takter. Allard is number two this year. His starts are down by 8 per cent, but his money is up by 18 per cent. He's light years behind Ron Burke, but ahead of everyone else. Levy and Franklin winner Keystone Velocity is the richest aged pacer in North America. Allard is number one at Pocono Downs and number two at Yonkers.
Brian Brown jumped from #14 in September of last year to number four. Fear The Dragon and Downbytheseaside are already responsible for $1.9 million. Brown's starts are down five per cent, his wins up 14 per cent and his money up that same $1.9 million—or 47 per cent. Brown is sporting an impressive 0.413 UTRS.
Richard Banca, the leading trainer at Yonkers Raceway, moved up from 13 to number 5. His starts and wins were about the same, but his earnings were up $1.5 million.
Gilbert Garcia-Herrera moved up four spots to number eight. The #2 at Harrah's, #3 at Pocono and #5 at Yonkers saw his money jump by 27 per cent.
Scott DiDomenico went from number 31 last year to number nine. His horses made almost 25 per cent more starts and won 29 per cent more races. DiDomenico's earnings were up more than 52 per cent. He's third at Yonkers and fifth at Harrah's. His RWJ filly Angel's Pride finished second in the Lady Maud on Saturday.
Andrew Harris made a giant leap from 41 to 10. He made twice as many starts, won 53 per cent more races and upped his money by more than 27 per cent. His precocious SBSW freshman Pedro Hanover just won the PASS final, while the Muscle Massive colt Lawmaker was second in his.
John Butenschoen is also having a terrific year, moving up 15 spots to number 11. He made 13 per cent more starts and saw his money grow by 43 per cent. Dover Dan is the PASS champion; Funknwaffles is a NYSS hotshot; Giveitgasandgo, Fine Tuned Lady and Scirocco Rob are also players.
Chris Beaver, who is all in on the Ohio Sire Stakes, moved up four spots to 14. He made 43 per cent more starts, logged 28 per cent more wins and upped his earning by more than $321,000 (17 per cent). Fraser Ridge just won a SS final. Gabbysloosechange, Sesame and Red Storm are just three of his many OHSS regulars. Beaver's UTRS went from 0.399 last September to 0.408 this year.
Ray Schnittker stepped up 17 spots to 15 on the strength of the $916,000 banked by Huntsville in 2017. The journeyman trotter Deweycolorintheline is also closing in on millionaire status.
Rob Harmon comes in at 19 after not making the top 50 last September. He had 79 wins good for $1.4 million. Kwik Talkin and Taco Tuesday are two of his.
Nifty Norman, who misses Bee A Magician, is at number 20, after failing to make the list in September, 2016.
Matias Ruiz moved up five spots to 22. His earnings were up by seven per cent.
Noel Daley went from off to 26. His Caviart Ally won a PASS Championship, while Cool Cates came in second among the 3YO filly trotters.
Julie Miller remains at six, but her money is up by 24 per cent. Miller won the lucrative Yonkers Trot with Topflight Angel. Devious Man, who won the Beal and the EBC, is the richest trotter in North America at $800,000. Met's Hall and Overdraft Volo are also on her powerful roster. Her UTRS is 0.385.
Ake Svanstedt dropped two spots to five, despite winning 16 per cent more races and upping his money by 18 per cent. He won the Hambletonian on a disqualification with Perfect Spirit, and recently took the Zweig with Yes Mickey. The latter finished second in the Yonkers Trot. Fury Road, Lucky Ava and Natalie Hanover are a few other good ones.
Holding Steady
Ron Burke is on top again. He is the leading trainer at The Meadows, Harrah's, Northfield and The Meadowlands; and he's number two at Pocono Downs and fourth at Yonkers. Burke made five per cent fewer starts, won four per cent fewer races and was short more than $2 million — or 15 per cent. In mid-September of last year, he was down $2 million from September of 2015. Between his record-breaking year in 2014 and the end of 2016 his money was down 25 per cent. His freshman Dragon Again gelding, Seeing Eye Single, won the Ohio SS final the other night. Miso Fast, Double A Mint and Filibuster Hanover are other solid younger horses. What The Hill lost the Hambletonian on a disqualification. Hannelore Hanover is number 14 on the all trotter money list, not as high as many expected. Crazy Wow has been good, as has Caviart Luca, but Rockin Ron, All Bets Off and Check Six haven't done enough to erase that $2 million gap. There isn't a Mission Brief or Southwind Frank on this year's roster. Burke's UTRS was 0.324 last September and it's 0.325 this year.
Trending Down
Jimmy Takter talked about cutting back last year and he wasn't as active at the sales as he generally is. His starts are down 20 per cent. His wins are off by 17 per cent and he's short more than $1.5 million — an eye-popping 26.6 per cent. Takter stepped up $7.8 million (41.5 per cent) between 2013 and 2014. That's when Trixton, Father Patrick and Shake It Cerry were all two-year-olds. However, in 2015 and 2016 he fell short of that by $3 million (23 per cent). His barn is still loaded with stars. His freshman filly Manchego is the richest 2YO trotter; You Know You Do won the Champlain the other night; Ariana G is a beast; Idyllic Beach and Sunfire Blue Chip are no slouches. Takter's UTRS rose from 0.357 to 0.375.
Erv Miller dropped five spots to number 12. His money was down 12 per cent from what it was last year. Supergirl Riley, Chip Walter and Geez Joe are a few of his better ones.
Richard Moreau, the leading trainer in Canada, fell three slots to 13. His earnings are off by 12 per cent.
Linda Toscano, who has only had presumptive Trotter of the Year Walner for two starts, fell eight spots to 16. She made 41 more starts but her earnings are off by 20 per cent. Her filly World Apart just won the Lady Maud, and she has plenty of promising youngsters. Come See The Show, Lima Novelty and Casual Cool are three of them.
Tony Alagna is having an off year: his number of starts is about the same, but his money is short by more than half. Racing Hill and Caprice Hill have left the building. The promising SBSW colt Stay Hungry won a split of the Champlain and the American Ideal colt Art Scene was second in the Messenger. Tony's UTRS dropped from 0.374 to 0.288.
Jeff Bamond dropped nine spots to 18. Anndrovette was retired; Venus Delight was sold; and Krispy Apple is getting older. Mach It So, who won the Haughton, is fourth on his division earnings list. Bamond's starts are down by 43 per cent; his wins are off by 51 per cent; and his bankroll is less than half of what it was this time last year. He was number five at the close of 2015, the year he took over from PJ Fraley
Anette Lorentzon, the trainer of the promising Archangel colt Guardian Angel AS, dropped from 27 to 21 with 96 wins for $1.3 million.
Jim Daley, the number four trainer at Scioto Downs, fell back 10 to number 25. His money was down by 26 per cent. Daley's Bad Girls Rule won an Ohio SS final the other night.
Chris Oakes dropped 27 spots to number 38. The trainer of the undefeated freshman Hitman Hill made 56 per cent fewer starts, won 62 per cent fewer races and is short 48 per cent in the earnings column.
Greg McNair dropped from 29 to 41. His money was off more than 12 per cent.
Rick Zeron was at 44 in 2016 when Shamballa had $400,000 in the bank by September. This year, not so much. He fell off the top 50.
Steve Elliott fell 19 places to 43. He made 25 per cent fewer starts, won 36 per cent fewer races and was $403,000 (30 per cent) short money wise. Rockeyed Optimist has fallen off, although Boston Red Rocks is an oddity, earning more than $300,000 but having no wins.
Casie Coleman, who was at 17 last Sept. 4, is off the top 50 this year. Betting Line, who earned $1.4 million in 2016, has been retired. Reclamation project McWicked has experienced setbacks and been slow to return to his 2014 form. Also, Coleman's promising Western Ideal colt Summer Travel just scratched out of the Nassagaweya and Champlain in successive weeks.
Some others in the top 50 the first week of September, 2016, but not there this year: Tom Milici, Tony O'Sullivan, Clyde Francis, Pat Lachance, Richard Johnson, Paula Wellwood, Benoit Baillargeon, Jim Arledge, Nancy Johansson, Paul Kelley, Randy Bendis, Rich Gillock and Les Givens.
Newcomers to the top 50 not already mentioned: Heidi Rohr, Jamie Macomber, Travis Cullen, Jim Jing Jr, Norm Parker, Nick Surick, Jenny Melander, Luc Blais and Tom Fanning.