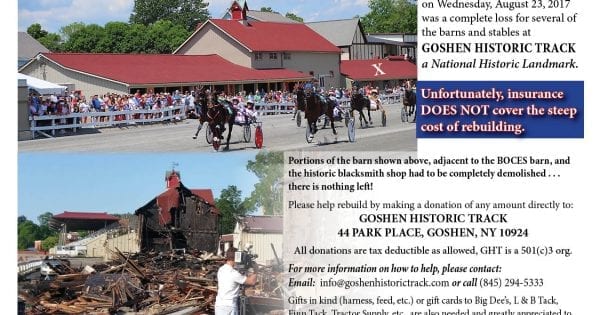 Fire at Goshen Historic Track destroys barn
Fortunately, no people or horses were hurt in Wednesday's blaze fought by 75 firefighters from 16 companies.
The Middletown (NY) Times Herald-Record is reporting that a fire that broke out in a sprawling barn near the grandstand at the Goshen Historic Track (GHT) on Wednesday evening (Aug. 23) around 6:15 pm drew 75 firefighters from 16 companies, and workers at the track led 10 horses to safety as the flames spread.
Tim Masters, facilities manager at the Historic Track, who personally led some of the horses away from the flames, said none of the horses were injured.
Fire officials said no humans were hurt either in the three-alarm fire, a smoky blaze that could be seen for miles around Goshen (full Times Herald-Record story here).
Video footage and a news report can be seen on the Westchester News 12 website.
The blacksmith shop, a row of stalls and most of the BOCES barn were destroyed at the site, which is a National Historic Landmark. The barn sits next to the track behind the Harness Racing Museum and Hall of Fame. Firefighters told The Times Herald-Record, the museum "was never in danger, and firefighters managed to limit damage to an office building directly behind the barn to minor exterior damage."
"We should all have tremendous appreciation and praise for Tim Masters organizing and executing the evacuation of all horses on the grandstand side to the safety of the Parkway barn in about 20 minutes," said Janet Terhune, executive director of the Harness Racing Museum & Hall of Fame. "Tim continued the following day overseeing the cleanup of the aftermath. This fire could have been horrific had it not been for Tim's quick action."
"Flames were coming out all over the place," trainer Ian Kaufman told CBS2's Janelle Burrell. (full CBS story here) "I couldn't believe what I was seeing."
Kaufman said there were just seconds to react to get one horse, named Caviar Hall, out.
"Caviar Hall was in a burning stall after the fire erupted and it was thanks to one of the horse trainers that he was able to make it out safely," he said. "The whole stall was full of flames and the horse wasn't moving. I was yelling at the guy, 'please kick him — get him out of the stall."
Charles Peralo was driving by the track when he saw the flames and raced over to help.
"The horses were absolutely freaking out," he said. "A bunch of people just started rushing over and we just started grabbing the horses, we didn't even have the rope to do it."
One spooked horse, a 3-year-old filly named Claire, made a run for it and was seen galloping away in the village before eventually being rescued.
It took firefighters three hours to get the flames under control. The cause of the fire is under investigation, but Masters says it appears to be electrical.
"We are grateful for the quick and effective job performed by our local fire departments, which came to our rescue and prevented tremendous tragedy for both GHT and our community at large. Their response saved numerous other structures," said Steve Jones, president of the Goshen Historic Track board of directors in a statement released Thursday. "We would like to express our gratitude to everyone who helped remove the horses from the stalls and ensured their safety, specifically Candyce Conroy, Kristy Nehrkorn and Tim Masters, just to name a few.
"We will be working with fire officials regarding the cause and carefully reviewing all of our structures to ensure their safety… Our goal is to improve and maintain this historic facility for our community and the horsemen who support GHT."
Please help GHT to rebuild by making a donation of any amount directly to: Goshen Historic Track, 44 Park Place, Goshen, NY 10924. PayPal address is info@goshenhistorictrack.com. All donations are tax deductible as allowed, GHT is a 501(c)3 org.
For more information on how to help, please contact info@goshenhistorictrack.com or call (845) 294-5333.
Gifts in kind (harness, feed, etc.) or gift cards to Big Dee's, L & B Tack, Finn Tack, Tractor Supply, etc., are also needed and greatly appreciated to help the horses and horsemen and women devastated by this tragic event.
— with files from USTA communications