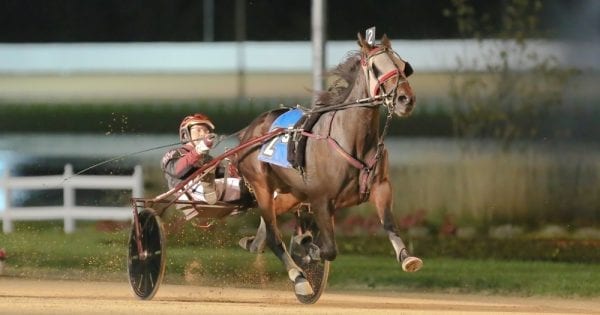 Hooley loving every minute of campaigning Satin Dancer
The sophomore trotter is starring in the Indiana Sires Stakes for the 67-year-old Fort Wayne, IN resident.
by James Platz
It was a Sunday in mid-July and Byron Hooley was on his way to the Franklin County Fair in Hilliard, OH. With his $300,000 winner Satin Dancer in tow, the owner and trainer headed to the venue outside Columbus to meet up with friends and a fun day of racing. The sophomore trotter, competing against older horses for the first time in the $1,000 Old Hilliard Open, raced second that evening.
"I think a lot of people thought I was pretty stupid doing it," Hooley said of the excursion. "It was a Florida reunion. All of the guys that trained down in Sarasota during the winter went over there and we had a cookout and supper deal. It was just a fun Sunday evening. I guess I like to build relationships, it's not all about the money."
Most trainers wouldn't dream of dropping their prized trotter into a fair race, particularly in the midst of the lucrative stakes season. Hooley's approach to racing may appear contrarian, but the conditioner is just enjoying the ride with his star filly. And at 67 years of age, he's earned that right.
Purchasing Satin Dancer out of the 2015 Hoosier Classic sale, Hooley was hoping for success on par with what he had enjoyed with the filly's full sister, Serena's Serenade. That filly banked $120,000 in two seasons for the Fort Wayne, IN resident, winning a fair final at two and capturing multiple Indiana Sires Stakes consolations. Hooley spent $40,000 on Satin Dancer, at the time named Topville Silknsatn, and brought her home to prepare for the 2016 campaign.
"She was very average in the spring of her two-year-old year. I raced her at Converse and she won her first two starts," Hooley said. "She just kind of came alive. I don't know of anything that was done, per se, but I think she just had it in her to be a good filly. I don't take much credit for it."
Matt Rheinheimer was in the bike for those first two Converse victories. The fellow horseman had advice for Hooley: the filly belonged on the big track. In her Hoosier Park Racing & Casino debut, Satin Dancer and driver LeWayne Miller won by six and one-half lengths in 1:57.4. She followed that with a runner-up performance in an Indiana Sires Stakes elimination and the $75,000 final one week later.
By season's end, the Big Stick Lindy—Shaken Not Stirred freshman had collected nine wins in 16 starts, including the $220,000 Super Final. The filly was paired with Ronnie Wrenn Jr. at Delaware, winning their division of The Standardbred by six and one-quarter lengths. Together, Wrenn and the filly teamed for four wins, capped by the Super Final score. Satin Dancer was named Indiana divisional champion and finished the year with $265,433 on her card.
Despite the success of 2016, Hooley wasn't sure his charge would return to form in 2017. Not knowing how the competition had fared over the winter, the owner prepared for a reality where Satin Dancer would not be the top trotter in her division. After all, she was just an average filly entering her freshman campaign.
"I kept thinking there are a lot of nice two year olds that don't come back as three year olds. I just kind of had that in the back of my mind that she could be pretty average," he said. "There wasn't any pressure, but you don't know how these other fillies are going to come back."
After recording a win and second-place finish in her first two races with Miller at the controls, Satin Dancer lined up behind the starting gate in the first ISS elim of the season. Wrenn would steer the sophomore to a 1:56 triumph in her division. Since then, the trotter has won two of three Indiana Sires Stakes finals while adding another $128,885. She also collected a Grand Circuit win in The Horseman Stake at the Indiana State Fair. Since the excursion to Hilliard, Satin Dancer has accumulated $73,010.
"She's got her issues. She likes to be tough sometimes, but she likes to work. When it's time to jog, she's all business," Hooley said. "She's on Lasix, so usually I give her a couple of days off after a race. I turn her out a lot in the mornings. She's out with ponies and donkeys for about an hour and it seems like it keeps her happy."
In her latest start, a $20,000 Indiana Sires Stakes elimination held Aug. 16, Satin Dancer trotted to a five-length victory, stopping the clock in 1:56.2. She is the 3-2 morning-line favorite in next Wednesday's $75,000 final. The filly has drawn post three.
Including the final, Satin Dancer's sophomore schedule includes seven more trips behind the gate should all go according to plan. Hooley hopes to try her in the Buckette at Delaware and a couple of open stakes at Hoosier Park following the conclusion of Indiana Sires Stakes. With just shy of $400,000 on her card, the sophomore is already the top earner for the owner. By season's end, she could tack on considerably more should racing luck be on their side.
"I just hope to keep her good, sound and fresh for seven more races," the trainer said. "It's been a nice ride with her."