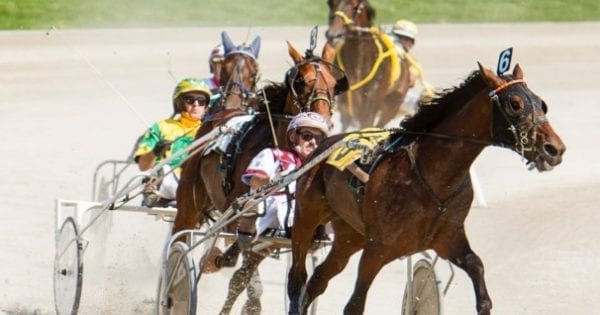 Campbell on coming full circle, closing out career in Clinton
One week from today, the most successful driver in harness racing history will close out his career with a drive in the $15,000 Legends Day Trot at Clinton Raceway close to where it all started… and he couldn't be happier.
by Dave Briggs
John Campbell made his mark over the last 40 years on a big-city New Jersey track in the shadow of New York City, but he said he couldn't pick a better ending to his Hall of Fame driving career than to do it one week from today (July 30) at Legends Day in Clinton, Ontario (pop. 3,200).
"It just feels good to me to end up in Ontario, not far from where I started and in front of a number of people who were there when I started driving back in the spring of 1972," Campbell said Thursday. "It feels like full circle for me and kind of apropos."
On July 1, Campbell, 62, became president and CEO of the Hambletonian Society that owns and operates a number of major stakes races including the Hambletonian and the Breeders Crown series. He said ending his driving career close to where it started wasn't orchestrated, it just happened organically.
"It just worked out. When I started talking to the (Hambletonian Society) executive committee and (former president) Tom Charters, I wasn't long into it when I thought to myself, 'Clinton is going to be my last drive.' So I knew in the back of my mind, from the very early conversations with the Hambletonian Society, that it was going to work out that way. I was quite happy about that."
Campbell, the most successful driver in the sport's history by most measures, grew up near Ailsa Craig, ON in the farming community of Nairn west of the city of London that is home to The Raceway at The Western Fair District. Three generations of his family have raced horses in rural Ontario for nearly 100 years.
Though Campbell never raced at Clinton Raceway as a younger man, he did often race horses in nearby Goderich and earned his first career driving victory at Western Fair in 1972. But his roots in the area go much deeper through his father, Jack, and his grandfather, Dunc Campbell, who is also a member of the Canadian Horse Racing Hall of Fame.
In 1923, just 30 kilometres southeast of Clinton on Highway 8, Dunc, raced his first horse at the Mitchell Fair and won. Teddy Mac, a five-year-old pacer Dunc purchased for $55, made a break in the second heat that afternoon and was disqualified, but Dunc sold him the next day for $400 and soon acquired Teddy Mac's sister, Hazel Mac, who produced the family's great foundation mare, Babe Grattan.
Dunc's son, Jack, made an equally impressive debut with horses 21 years later just 20 minutes further down Highway 8. That day in 1944, as war consumed much of the world, 13-year-old Jack Campbell hitched a ride 60 kilometers from the Campbell family farm near Ailsa Craig to Stratford to prep Babe Grattans Boy to race. Jack returned home triumphantly that night with a pocket full of cash for his father.
John said he knows the old stories well. "It was just part of our fabric, to talk about the horses and the ones we had," he said. "It was a neighbor that lived over on another block that got my grandfather interested in the horses. He told me lots of stories about how he started and figuring it out as he went, racing all afternoon to win three heats to win," John said. "He raced five heats one day and the money he made just meant the world to him at that time.
"My dad and my grandfather were basically farmers, who fooled with horses. When I came along, I wanted nothing to do with the farming and all I wanted to do is be around the horses from the time I could walk. That was the difference in them and myself. I just thought (farming) was such hard work — not that the horses weren't hard — but I basically just fell in love with horses… and wanted to be around them."
It was at the Campbell homestead on Argyle Road that John and his younger brother, Jim, learned not just horsemanship from Jack and Dunc, but lessons on life, hard work and, above all, family.
In those early years on that farm, young John Campbell would often play out his greatest racing fantasies from the seat of a broken sulky he tied to a pump with binder twine. When John was six, his mom, Florence, made him a set of his own colours to wear while riding on Jack's lap when Babe Grattan, then 31, led the post parade at Western Fair.
Though John got his start racing in London, Windsor and Toronto, he truly made his mark on the sport when he moved to the Meadowlands Racetrack in New Jersey in the late 1970s, shortly after the mega-track opened. From his base in the state, where he still lives with his wife Paula, John piled up unprecedented results. He has recorded 234 major stakes victories, his 10,668 victories currently ranks ninth all-time, and some $300 million in purses is not only tops in the sport by a wide margin, it is $84 million more than the next closest man — fellow Legends Day attendee David Miller. As a point of reference, when compared with thoroughbred racing, John has earned more than every jockey in history except all-time leader John Velazquez.
Among numerous career honours, John has been inducted in Canada's Sports Hall of Fame, the Canadian Horse Racing Hall of Fame, the U.S. Harness Racing Hall of Fame, the London Sports Hall of Fame and has received special awards from both the government of Canada and the state of New Jersey. He will be inducted into the Ontario Sports Hall of Fame this fall.
Before hanging up his famous white, maroon and blue racing colours for a final time, Campbell wanted to honour a commitment he made long ago to drive at Legends Day, a biennial event started in 2001 that features a group of the sport's biggest stars racing against each other, signing autographs for fans and joining in on a popular banquet that in 2015 fed more than 1,000 people in a trackside tent.
Clinton Raceway general manager Ian Fleming said he is deeply honoured John's last drive will come at Clinton Raceway with all proceeds from the day being donated to the Clinton Public Hospital Foundation.
"It's great," Fleming said. "Legends Day has always been our biggest day since we started it. So, it was a big day for us to start with and now with it being the last drive for John, it makes it even more exciting. We're honoured he's decided to make Clinton his last stop."
John's final drive will come in the $15,000 Legends Day Trot against Miller and fellow superstars Bill O'Donnell — who is also retiring that day — Mike Lachance, Ron Waples, Doug Brown, Steve Condren and Dave Wall. Combined, the eight legends have earned over $1.15 billion and won nearly 69,000 races.
It wasn't until the inaugural Legends Day in 2001 that John drove for the first time at Clinton Raceway. He said he was instantly hooked and has been back every two years since.
"It's been a privilege to be a part of every Legends Day since they started it and it's the fans," John said. "Ian (Fleming) does a tremendous job of putting it on. He's evolved with Legends Day, but it all comes back to the reaction that all of us get from the fans. It's really special… You get a variety of people and a variety of reasons for why they are there, but it's all positive."
As a man that places family above all else, John said he's looking forward to his entire family being at Clinton on July 30 — his mother, his wife, their three daughters and their families, his sister Jo-Ann McLinchey and her family and their brother, Jim, a successful horse trainer in his own right.
"My whole family is coming up from New Jersey to go to Clinton. It's going to be a great family gathering for us, as well," John said, adding that his late father loved Legends Day and would have beamed to know it would be the site of John's last drive.
"He'd say, 'Well, that's just great,'" John said.
As for the end of his driving career, John said he's not looking back with any melancholy.
I'm very content in my decision," he said, adding — as one might expect from a man that topped them all — that he would love to go out a winner — as he did with wins in his final two drives at the Meadowlands on June 30 and his final drive in the United States on July 2 in the Hall of Fame Trot at Goshen Historic Track in New York. Can he make it four straight wins to close out his career? It's wise not to bet against him.
"I've raced against all of these guys before and if they give me anything, it'll be the first time and I'm not expecting it," John said, "(but) I'm going up to (Clinton to) win."