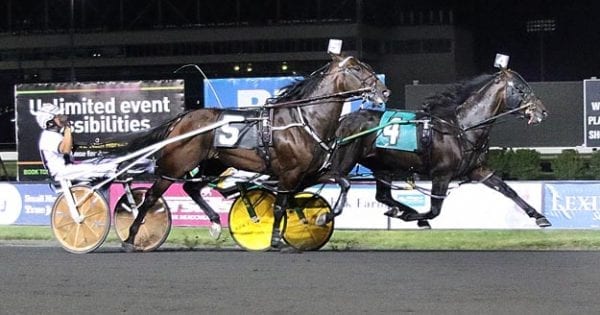 Huntsville hangs on in a stirring Meadowlands Pace
The colt defeated his surging rival Downbytheseaside by a head in 1:47.4 on Saturday at the Meadowlands to give Tim Tetrick his fifth title and trainer Ray Schnittker his second — all in tribute to late co-owner and co-breeder Charles Ianazzo.
by Brett Sturman
Saturday's edition of the $738,550 Crawford Farms Meadowlands Pace had a different feel to it from the onset.
The Pace went on without two individuals who had featured prominently in the race through the years. Sam McKee, the voice of the Meadowlands Pace, passed away earlier this year in March and the all-time Meadowlands great John Campbell just retired at the end of June. In their absence, Huntsville delivered what will be one of the more memorable races in Meadowlands Pace history.
Huntsville (Somebeachsomewhere—Wild West Show) had to dig deep for all he was worth in fending off a game Downbytheseaside to win the Pace by a diminishing head in a clocking of 1:47:4 with driver Tim Tetrick earning his fifth Meadowlands Pace title. Trained by Ray Schnittker, who shares ownership with Ted Gewertz and Steven Arnold, the connections of Huntsville were elated, but the win presented a poignant moment, as well.
Earlier this month, Huntsville's co-owner, and Gewertz's longtime friend, Charles Ianazzo passed away. Gewertz was emotional in the winner's circle. "The first thing I was feeling that brought me to tears was when they had Charlie's picture up on the Meadowlands board prior to the race and spoke about him for a little bit. He was a really dear friend and was one of the four original owners with us on Deweycheatumnhowe."
Along with Ray Schnittker, Ianazzo was also the breeder of Huntsville.
"When Huntsville was getting good as a 2-year-old before he first raced, Charlie sold me a piece and was very happy for that," Gewertz said. "I had known him for 10 years and we had got very close, so this win means everything to me. Over the years, I was winning a lot of the big trotting races and hadn't won this race until now. This is means an awful lot."
Despite the stature of Huntsville, Gewertz didn't think a win in the Pace was going to come easy. "I was concerned about Downbytheseaside. He's a very good horse, very versatile and good gaited. I knew Huntsville would need to be on or near his best to win. I didn't think he was at his best in Canada and that was a big disappointment up there because (the North America Cup is) a nice trophy," Gewertz said with a grin.
The race began with a scramble for the early lead as the big longshot Classic Pro blasted from post 9 with Trevor Henry. After letting the dust settle through a :26:4 opening quarter, Tetrick moved the prohibitive favorite Huntsville to the top ahead of Blood Line who briefly led in between calls after re-taking from the pocket.
Huntsville was motoring through fast middle fractions of :53:3 and 1:20:3 while his nemesis Downbytheseaside came calling first over. In the stretch, Huntsville was able to open a lead of at least two lengths, but Downbytheseaside was relentless with Brian Sears. With Tetrick all over Huntsville urging him on, they were able to gut it out as they hit the wire. Finishing third, a little over four lengths behind, was Classic Pro.
Tetrick wasn't surprised at all with the thrilling stretch duel that emerged. "I mean that's a good horse (Downbytheseaside). He's beaten me before and I've beaten him and I had luck with the post draw being inside of him. That horse raced super. I kept looking over and he kept coming and coming and I was telling my horse to fight him off, which he did."
Although there was no post-race inquiry, there was an anxious moment at the top of the stretch when Huntsville went inside a pylon.
"He dove in and I got real close to that pylon," Tetrick said. "He actually looked over it and put in a real long step there and I almost lost him. But he got himself back up and got the job done."
It was the second Meadowlands Pace title for Ray Schnittker, who teamed up with Tetrick to win in 2010 with One More Laugh.
"The last one, I thought he had a shot, but here I thought we had a real good shot if things went our way," Schnittker said. Echoing Gewertz's comments, Schnittker added "It's great because my one partner Charlie owned the horse and bred him with me and he was a very good guy, a gentlemen. I'm very happy. This feels great."
As long as Huntsville comes out of his Meadowlands Pace victory in good order, he'll be right back at it next week at The Meadows in eliminations for the Adios. Awaiting him there will be the top ranked horse in North America, Fear The Dragon, stablemate to Downbytheseaside in trainer Brian Brown's barn.
Both Tetrick and Schittker said they forward to a rematch. "There's three very nice horses right there (Huntsville, Fear The Dragon and Downbytheseaside)," said Schnittker. "It's going to be a battle through and through and I don't know which ones are better, but I got the cash tonight."