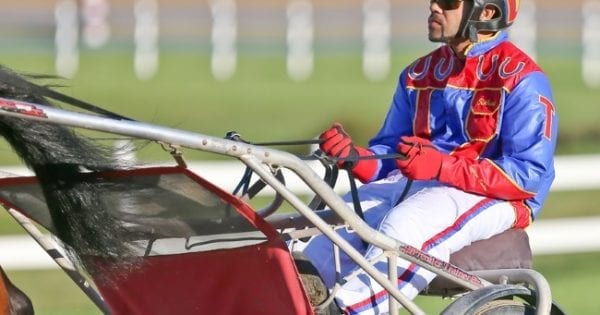 From Tennessee to Indiana by way of Illinois
Trainer and Tennessee native Robert Taylor made his mark campaigning Southern Rocketop against the likes of Muscle Hill and has continued to build a solid Indiana stable ever since.
by James Platz
When prohibitive favorite Satin Dancer was scratched from the Indiana Sires Stakes final for sophomore filly pacers Wednesday, July 5, it opened the door for the rest of the field. Trainer Robert Taylor and his charge, Donnas Dream capitalized, winning the $79,000 contest in fine fashion. The victory was one more in a growing resume the Tennessee native and 34-year-old conditioner is putting together in the Hoosier State.
Taylor's biggest claim to fame to date is his association with the talented Illinois trotter Southern Rocketop. The Psychic Spirit gelding was added to Taylor's barn after a freshman campaign where he won nine of 14 starts and banked just over $150,000 for fellow Tennessean Claude Powers. During the 2009 season, Southern Rocketop would compete on the Grand Circuit, collecting 11 wins in 17 starts including the Cardinal, Circle City and Galt Trot. The talented trotter finished second to eventual Horse of the Year Muscle Hill in the World Trotting Derby and was third to the champion in the American National and Canadian Trotting Classic. Southern Rocketop finished the campaign with $478,000 in seasonal earnings.
"It was a great experience. To be able to race against Muscle Hill was an incredible opportunity," Taylor said. "I met a lot of new people and made some new connections."
Southern Rocketop took Taylor to places he couldn't have expected when he first began training horses in 2001. The son of a farrier, Taylor got his first glimpse of racing in his youth. His father raced in the early 1980s, shipping to Louisville Downs and also competing in Illinois. Before Taylo graduated from high school he was at the racetrack, and when he turned 18 he acquired his license.
The young horseman found a home racing in Illinois. He conditioned trotting fillies Miss Vickie and Fox Valley Shannon to divisional honors in the Land of Lincoln in 2008. In recent years, however, he has spent a majority of his time in Indiana, and he has found success racing at the top levels.
My Sweet Shiela was one of the first Indiana Sires Stakes starters to break through with a victory for Taylor. As a freshman in 2011, the Southwind Elian filly won two ISS legs and banked nearly $60,000. She would go on to win over $100,000 in her career. In 2015, Dontgetinmyway colt Downthehighwy hit the board in 10 of 14 freshman starts. Taylor's pupil collected a pair of $75,000 sires stakes finals and the $76,700 Madison County to finish the year with $174,575 in earnings. Last year, the colt added multiple ISS eliminations and consolation scores to push his career tally to over $300,000.
Taylor's latest Indiana-sired success is the sophomore trotting filly Donnas Dream. A $5,500 purchase as a yearling, this trotter from the first crop of Power Play, out of the 100-per cent producing mare Donna Do You Wanna, is putting things together of late. She is co-owned by Taylor with Kent Schenk.
"I liked her dam side. She's off of a Donerail mare. I've had a few horses that are off of Donerail mares that are real nice," he said. "I liked the way she was built. She's a nice, kind of a square-built mare. She's not a real big filly, but she's built real strong."
As a freshman, Donnas Dream only produced one trip to the winner's circle. She qualified for five of six $75,000 Indiana Sires Stakes finals, trotting third in two of them. The filly accumulated enough points to compete in the $220,000 Super Final, but made two breaks in the event for Taylor and was charted last in the field of 10. Still, the trotter paid her way, accumulating $38,040.
"She showed some speed here and there. She just didn't really put it all together last year, but showed that she had ability," he said. "She was just kind of an up and down filly."
Throughout the season, Taylor tinkered with the filly's equipment. Through trial and error he learned that his charge does not like dirt hitting her in the face, and he's tried to compensate for that. Those challenges are offset by her will to battle.
"She's learned to kind of overcome that stuff now. She tries hard. She's got a lot of heart," Taylor said. "She's got a quick start off the gate, which helps her a lot. When the gate folds, if she's right, she can step right out of there in 27 and change and get position real handy."
Donnas Dream started her three-year-old campaign with a win in her second seasonal start. But sickness hindered her efforts throughout the month of May and into June. While the trotter missed the opening round of ISS eliminations, when the second round kicked off June 28, Donnas Dream was back to her early-season form. Grabbing the lead early from post four, Taylor and his pupil were shuffled to third before retaking command in the stretch and drawing away by more than three lengths in 1:57.1.
Despite the victory, and the scratch of favorite Satin Dancer, Donnas Dream was still overlooked by bettors in the July 5 final. Sent off at 14-1 odds, the trainer used a strategy similar to the elimination. Firing from post six, the filly reached the quarter in 28 seconds before catching a two-hole trip behind post time favorite Ajessia. They would hold that position until the lane, overtaking the leader and trotting home a length and a half in front, establishing a new lifetime best with the 1:55.2 clocking. The victory raised the filly's career bankroll to $92,848.
"Here in the last few starts she's really coming back around and put it all together now," Taylor said. "Any three-year-old trotting filly, that's a good mile in my opinion. I thought we could get a check, I really didn't believe we could win the race. She really kind of shocked me; she surprised me. These horses, when they get their confidence built up and they're healthy and sound, they can really go forward."
With a finals win to her credit, Donnas Dream has earned a return trip to this fall's Super Final. If she continues to improve, the sophomore can make up for lost opportunities last season.