Detractors have to offer solutions or they will continue to lose support from both bettors and rank and file horsepeople.
by Dean Towers
This week there's been quite a bit of chatter about Bruce Trogdon's letter explaining his decision not to supplement Fear the Dragon to the Meadowlands Pace.
"I had a private conversation with Jeff Gural, owner of the Meadowlands, a week earlier and told him I would be willing to supplement if it looked like there might be 13 or less entries so Dragon could get a bye and have a week off. But I told Jeff that I thought his 150-mile two-week stabling rule was totally unfair to somebody from Ohio and there was no way I would do that to my horse. It would have forced Dragon to go straight from Pocono and spend two weeks there, while the New Jersey horses all get to sit at home."
Gural, as he usually does, responded:
"While we can appreciate Mr. Trogdon's position, everyone else has accepted the terms of our out-of-competition testing program and is ready to race. We host nearly $12 million in stakes races at the Meadowlands and no other harness track produces nightly wagering handle at our level. We achieve all of this without purses that are inflated by money from alternative gaming. Most importantly, we care about the integrity of our races, especially our signature events."
While there are legitimate gripes towards a policy such as the one Gural has implemented – new policy is never without kinks – the negative reaction to it has been relatively predictable.
"He's a tyrant."
 "I hate the way he banned Brian Sears."
 "It's like he takes his cue from Castro."
 "He lets [trainer X] race at his tracks and I think [trainer X] is a crook. Hypocrisy!"
 "I remember one time he did this…"
With many of Gural's critics, it is rarely about the policy at hand. It tends to be about something he's done in the past to someone, his personality, or the power he has as an independent track operator. It's usually all about him.
On the flipside, the fans, the customers, the mom and pop stables, those who used to have big stables but got out of the game, well, they have a different take.
For them it's all about the message.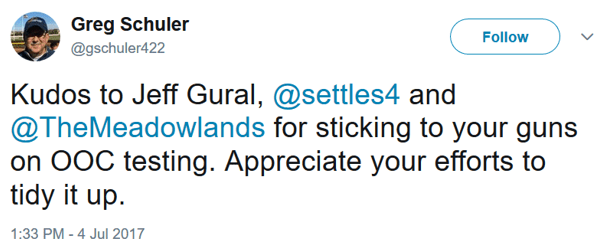 They believe, almost unequivocally, that such policy encourages good behavior, in an industry that rewards the bad. They firmly believe that if they had a horse ready to drop in the box they'd jump at the chance to race with this rule, because their horse is clean, and the rule helps ensure others are, too. They see a track in the Meadowlands where they believe it's worth investing (and wagering) on harness horses again, and since they love the sport and want to see it grow, it's a net positive.
For them it has nothing to do with the messenger; in fact, they likely have little in common with a super-rich New York City real estate mogul. For them it's about a message, and they see someone offering a viable solution to their problems. That creates a very powerful bond.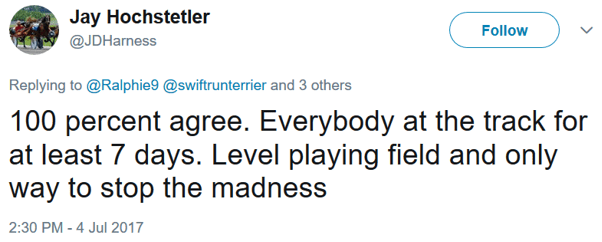 In my view, Gural's critics should take heed to the words of Teddy Roosevelt:
"It is not the critic who counts; where the doer of deeds could have done them better. The credit belongs to the man who is actually in the arena, who errs and comes short again and again; because there is not effort without error and shortcomings; [the man] who spends himself in a worthy cause, who at the best knows in the end the triumph of high achievement and who at the worst, if he fails, at least he fails while daring greatly."
If you're in the arena and only offer criticism without solutions, the rank and file in the sport of harness racing is telling you it's not enough. Detractors have to step up their game and drive support for a message that addresses problems, rather than tear down those who are trying to fix them.