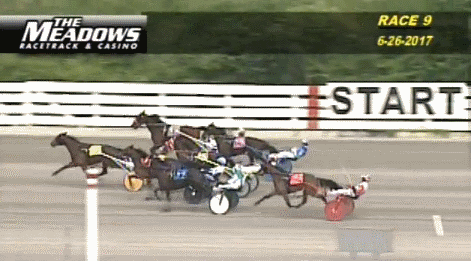 Buzzworthy: You make the call on Merriman's disqualification
by Garnet Barnsdale
The ninth race at The Meadows on Monday caused quite a buzz when the winner, Bad Medicine, was disqualified following an incident on the first turn.
Bad Medicine (#5) was racing fifth early and shot up the inside to stay clear of two breakers on the outside on the first turn, when the pace appeared to slow abruptly as the leader perhaps was keeping an eye on the breakers who were galloping two and three-deep to his outside.
At that point, Bad Medicine, with Aaron Merriman driving, appeared to run up into the back of #2 U Turn Hanover, then got briefly tangled up with the already off stride #1 Snappy Time. Both Bad Medicine and Snappy Time then both dropped back, seemingly out of contention. Meanwhile, the trailing horses, likely from being taken up abruptly by their drivers seeing the field scattering in front of them, also broke stride.
Bad Medicine was at least 15 lengths back as they came off the first turn, but Merriman deftly got the sophomore Yankee Cruiser—Modern Medicine filly back into contention by the time the field reached the half.
Merriman – who as the runaway winning dash leader in North America with 553 as of Wednesday night and held a 253-win bulge on his nearest rival – managed to coax a :57.3 back half out of a game and determined Bad Medicine, who bravely got up to win. Her gutsy effort appeared to save the chalk bettors, who made her the 4-5 public choice.
But it was all for naught. Following a lengthy inquiry, Bad Medicine was disqualified, with Merriman apparently being told by the judges that he "wasn't in control of his horse."
The controversial judge's decision set off a few people on social media, for example, Joseph Musser and Mike James who posted these comments on Merriman's wall:
"Hey Aaron, you drove great on Bad Medicine today and did nothing wrong. Just BS. Keep your head up"
"You got interfered with three times and you got DQ'ed!?! Makes sense"
It was a bitter pill for both Bad Medicine and favorite players to swallow. Was it the right call? Watch the video replay above. You be the judge.