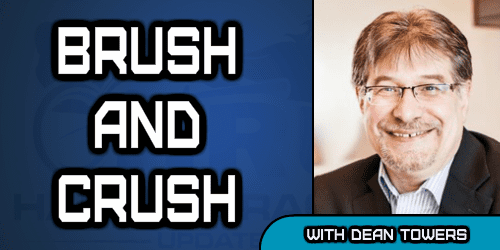 I remember and love the past, but I don't take the present for granted
The anticipation of a Sun Stakes night is great, but seeing it with the click of a mouse is probably better.
by Dean Towers
I remember — long ago now, but it doesn't feel that long ago — rushing to the convenience store down the street before school to get the program.
With restless anticipation I'd flip open the past performances and feast my eyes on the stars. Jate Lobell was coming to my home track and I'd read about him, but I had not seen him race. I was finally able to see his racelines for the first time and wow, he is good! John Campbell was driving tonight, too, along with quite a few other guys from the Meadowlands – that place where they seemed to race miles in quarters.
I could not wait until post time.
After finishing the day's classes I'd hop on the streetcar at about 5:30 and it wasn't busy because it was too early to be busy. The throngs who would be going to the races would get there 15 minutes before post time. I, on the other hand, wanted to be there for warm-ups.
Entering the track I'd see a few friends. They were there for warm-ups too, clad with binoculars I'd often borrow. We'd hit our spot, chat about the card and clock the last three-eighths of a mile of the bays and browns zooming by; second trip of course.
Then we'd see Jate Lobell, or Call For Rain, or On the Road Again, or Ralph Hanover – whoever we'd be there to see. "Look at him – he looks fast. The hype is right! What a beautiful horse."
When it was post time for the stakes race, or yes, even the elimination, there was a buzz. Was this horse worth the 3-5 pari-mutuel promise? We saw the race lines, we saw him warm-up, we've read about him in the trade magazines, but will he deliver? We'd find out in less than two minutes.
This was pure, unadulterated harness racing joy.
Fast forwarding 30 or so years, yesterday it was a whole lot different for me.
I downloaded the Sun Stakes elimination card from my ADW over the Internet. To tell you the truth I don't even think I had to. I'd seen these horses race many times. I've watched their replays, have a decent idea about their quirks, and know their tendencies. I saw trainer comments in the virtual trades regarding why the murphy blind was added on the seven in the sixth, so there was no mystery there. If I wanted to know what driver Corey Callahan thought about Brazuca's chances in the third, I'd ask him on twitter. Corey takes time out to chat, and seems like a good egg. He'd probably answer.
Playing the card is not quite like I remember, either.
Last night I had the Meadowlands in high definition on my big screen. I was using a device the size of a dollar coin that 'casts' my phone to the television. Don't ask me how it works, it just does.
On my laptop I had Pocono and Mohawk streaming side by side, in a box on my screen.
If I wanted information on warm-ups or know what others thought about the cards I now had a virtual seat. I could see Ken Middleton talking Mohawk horses on twitter. There were others to share the races, and ideas with.
Last evening I wagered on the horses by clicking a mouse, not standing in line. When I wanted something to eat, I went to the fridge. When the phone rang I answered it. Phones aren't banned in my house like they were at the track.
I realize this sounds a lot like "I used to walk to school in five feet of snow" to the younger generation; the generation who never waited in line for a program; who never had the Christmas morning anticipation to see one of this sport's stars race for the very first time. But there is something to the way I (and many of you) used to consume this sport that's absolutely poetic. It was simply electric.
What we have now, though, I would not change for the world. Being able to do what I and many of you did last night as a harness racing fan, owner or bettor, is mind-bogglingly amazing. We're able to stay engaged with a sport we love. We don't have to get on a crowded streetcar, fight traffic, pay for parking, or even worse – hop on a $500 plane flight. We just open up the laptop and enjoy.
I will fondly remember the past and I feel fortunate I was able to experience it. But I will never take the present for granted. Stakes season is here and it's a fantastic time to be a harness racing fan.