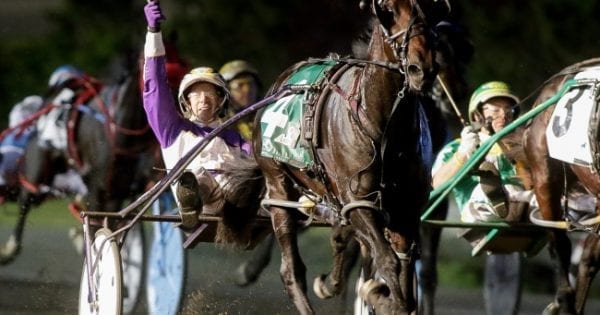 Dragon roars to victory in $1 million Pepsi North America Cup
Thanks to a jaw-dropping :52.1 half by stablemate Downbytheseaside, Brian Brown's other entry, Fear The Dragon, produced an all-Ohio victory in the 34th edition of the continent's richest pacing race.
story by Dave Briggs | quotes by Sandra Snyder and Lauren Lee
It took driver David Miller 22 years to win his first Pepsi North America Cup and just one year to win his second.
Miller, who won the 2016 edition of the $1 million race at Mohawk Racetrack with Betting Line, scored a repeat in North America's richest pacing race Saturday when he and second choice Fear The Dragon won a stretch slugfest with favorite Huntsville and Tim Tetrick to triumph by three-quarters-of-a-length in a career best 1:48.4.
The victory came after Fear The Dragon's stablemate Downbytheseaside and Brian Sears led the field to a Mohawk record :52.1 half that drew surprise from track announcer Ken Middleton, Jr. and gasps from the crowd lining the tarmac.
"My horse was having a hard time keeping up," Miller said. "He was gapping and I was chasing him. He didn't really get into contention there until right at the head of the stretch. He dug, he fought Huntsville. He kept fighting Huntsville and it was a battle right to the wire."
Asked what he thought of the fractions, Huntsville's trainer, Ray Schnittker, said, "They were kind of insane. If I would've done that as a driver they would have been telling me I was a moron."
Tetrick said Huntsville, who went off at 4-5, "kind of got up on the left line. We've been having trouble with him steering and it cost him winning there. If he didn't get up on the left line, I think he wins easy, but the horse still raced a great race and, you know, second is not bad for a million."
Trainer Brian Brown of Delaware, OH conditions both Fear The Dragon and Downbytheseaside and said he was incredibly proud of both horses, especially since Downbytheseaside hung on to finish third, just three lengths back of Huntsville.
"It was incredible fractions and for that horse to still finish third and hang in there, I was very proud of him. Fear The Dragon, what can you say? He's tough, he just never gives up and David Miller is just always in the right place," Brown said.
Turns out Miller also picked the right horse. Despite winning NA Cup elims on June 10 with both horses — Huntsville won the other elim — Miller, an Ohio native, opted to drive Fear The Dragon in the final.
"He's the one that picked the horse, picked the post position. He knew what he was doing," Brown said. "He told me last year in (Fear The Dragon's) first start that he liked this one better. I liked (Downbytheseaside) better, but Dragon has come back unbelievable. They both have and I'm so happy with both."
Brown said winning his first million-dollar race was "unexplainable… I don't know what to say. It's incredible that we're even here with two horses. To come away with the win is just something unexplainable."
Fear The Dragon, a son of Dragon Again out of Armbro Cinnamon, is a homebred owned by Bruce Trogdon's Emerald Highlands Farm of Mount Vernon, OH. Trogdon, now retired, spent 42 years as a newspaper publisher.
"I was so excited watching Dragon, I can't wait to watch the replays because I can't remember what was happening, the fractions were really fast. I just kept saying, 'He can follow, he'll follow,'" said Trogdon, who explained Fear The Dragon is the first foal he had out of Armbro Cinnamon, a mare he purchased in foal to Dragon Again for $15,000 at the 2013 Perretti Farms dispersal sale in Harrisburg.
"I liked the look of (Fear The Dragon) right away," Trogdon said. "He was just a good looking horse, not the biggest I've ever had, medium size, but he stands really well and very correct. There was just something about him. He just had a presence about him. I can remember all the days I tried to get my hands on them out in the field and he always stood out, like, 'Hey, look who I am.' Just that cocky attitude."
Sports Column and driver Chris Christoforou were quickest off the gate from post five and grabbed the front on the rail. Classic Pro and driver Trevor Henry was close on his heels from post six, making a rush for the lead from the outside. Classic Pro was able to take command at the quarter pole posting a flashy :25.2 opening panel.
The speed revved up in the backstretch. Filibuster Hanover and driver Louis Philippe Roy came first-over from third to clear to the front but a stalking Downbytheseaside caught second-over cover and was quick to steal the lead at the midway point.
Huntsville was on the move first-up from fifth before the half. Fear Of The Dragon followed Huntsville. Downbytheseaside remained in command past the three-quarters in 1:19.3 and into the lane.
All three Cup elimination winners — Downbytheseaside on rail, Huntsville in the middle and Fear The Dragon on the outside — battled into the stretch, with it ending up as a two-horse duel.
Fear The Dragon remains unbeaten as a three-year-old with six victories. He notched his 11th lifetime victory in 17 starts and not sports earnings of $819,094.
He paid $4.90, 2.60 and $2.10, combining with Huntsville ($2.40, $2.10) for a $8.60 (4-3) exactor. A 4-3-2 (Downbytheseaside, $2.80) triactor was worth $19.90, while a $1 superfecta [4-3-2-6 (Classic Pro)] returned $59.55.
The victory complete, Brown said he was going to celebrate by finding the closest McDonald's.
"This probably won't sink in until I get the horses dropped off at the farm and then I'll head to McDonald's, because it'll be the only thing open. I haven't eaten since lunch. I'll be ready to eat by then," Brown said.
As for what's next, Brown said Trogdon has indicated he might consider supplementing Fear The Dragon to the Meadowlands Pace if he won the NA Cup. The owner/breeder said Fear The Dragon was under the radar in 2016 by choice.
"We like to bring them along slowly, because I'm the breeder. I just love my animals and am almost afraid to race them in case they get hurt," Trogdon said. "People weren't talking about him (last year) because he wasn't staked to the Breeders Crown or Governor's Cup. I seldom stake a two-year-old to the late races. It's a long season and I like to get them out to the farm and eating grass. He hurt his eye and wasn't himself at Lexington. He didn't end on the best note and had a double flat tire in the Pennsylvania championship that no one knows about. People didn't realize, but we always knew."
Given his astute picking, it's clear David Miller knew the talent Fear The Dragon had, as well.
—with files from WEG