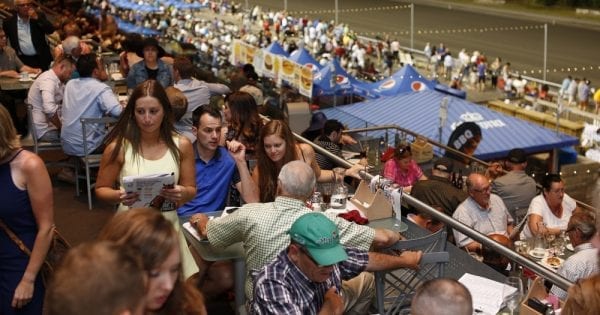 Tonight, Woodbine will be charge $10 for admission to watch and wager on the North America Cup. I think it's the correct strategy.
by Dean Towers
There are a great many opinions in harness racing. Whether a discussion is about uniform rules, passing lanes, drivers sitting back in the bike, takeout rates (or a hundred other things), you're going to hear vociferous feedback.
Charging admission at slot tracks is no exception. When such a charge is suggested — for what formerly was a free event — people can get very testy.
"Why are they charging for entry, when these people would be using the $10 to bet?"
"Why are we turning people away?"
"Why are we making racing less accessible, rather than more accessible."
On the surface those arguments resonate, and I don't think they are without merit. However, there is evidence that what Woodbine is trying this evening is the right thing to do.
Products are often priced with something called "value based pricing". This is a pricing strategy "which sets prices according to the perceived value of the product to the consumer, rather than according to product cost, or historical prices." When successful, it improves profitability.
The value to the consumer — in the context of a big night, like the North America Cup – is, in my view, pretty clear.
There are free hats, giveaways, and concerts from two Canadian country music stars who have top ten hits.
There's entertainment on the racetrack, in the form of a $1 million horse race, which is nationally televised on The Sports Network.
There's a trackside party atmosphere, and those who choose to attend the event are sharing their space with like-minded people in a unique and comfortable setting.
Can you find $10 of value in the above? I sure can. In fact, it feels more like $20 or $30 of value; especially in a big city like Toronto, where people pay $20 to get into a club for the privilege of consuming a $12 bottle of beer, or a $20 glass of wine.
There's another reason why value-based pricing can, and does, work. When a business or event charges for something, it is immediately assigned value in the minds of the consumer.
Maybe you've been to a baseball game where seat cushions are given away for free. After the first poor on-field call, these cushions can litter the field in a torrential rectangular foam meteor shower. If fans paid even $2 for the cushions, this simply wouldn't happen in any grand scale. Not too many people throw away something they just paid two bucks for.
Along the same lines, when an event has an admission fee it encourages customers to stay longer than they may have, and in turn, bet. How many free events have you walked into, only to immediately turn around and walk out of? Conversely, if you pay $10 to get into a similar event, I bet dollars to donuts you at least try and get your monies worth. Harness racing needs people staying until the feature event, not leaving early and hitting the slot machines.
When the sport doesn't charge even a dollar for a big day, it is signalling to the consumer that harness racing isn't worth their time, or their money. That's not the right message to send.
For another built in edge, charging admission on a day like this allows for customer loyalty options.
If there's a value assigned to a day, something can be given back to regulars. The casino industry long ago figured out it is a great customer service and consumer retention tactic.
Perhaps you — as an everyday customer — will receive free passes to the card. Perhaps you are a heavy hitter and will get coupons and a seat in the great restaurant at. Perhaps you are a horse owner, or participant in the races; you'll get in free as well. This goes a long way to making regulars feel appreciated, whether the customer mucks a stall or bets $3,000 a night.
As I am sure many of you know by now, I am unabashedly pro-customer, and pro-racing. I think horse owners and horseplayers being nickeled and dimed at every turn (especially with slots money flowing like Niagara Falls), is abhorrent; high takeout rates, charging for forms or data that regular customers need to bet – myriad things – do the sport no good at all. But regarding charging admission on racing's big days, I am wholeheartedly with the program.
Tonight, maybe only 3,000 fans show up at Mohawk, and maybe that top-line number will frighten the industry. But I believe 3,000 fans paying $10 a pop, enjoying watching and wagering on harness racing is a good thing. In my mind it trumps 8,000 fans who stay for five minutes, not giving the sport a chance, because they believe if you think your sport isn't worth anything, why should they think it is.