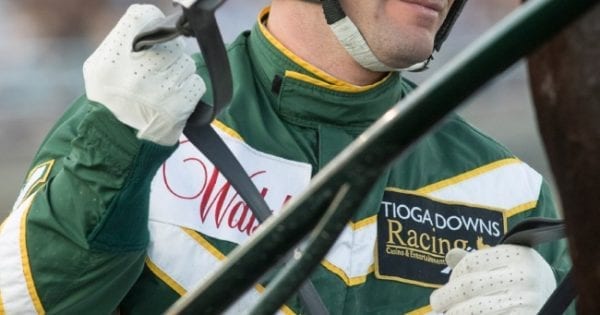 No holds barred with Yannick Gingras
The driver talks slot money, marketing and where the sport has gone wrong.
by Dave Little
He's one of harness racing's most in-demand drivers. Horses he's driven have earned $9.25 million or more every year since 2007. That number jumps to $11 million for each of the last seven years. He's intelligent and articulate. And his concern about the future of the game is both passionate and thought-provoking.
I caught up with Yannick Gingras on Monday afternoon (June 5) as he waited for his children to come home from school. He was enjoying a day off. The night before, he was back in his home province of Quebec at Hippodrome 3R at a drivers' tournament.
Big green was not on the line. The biggest purse on the card was $8,000. The next highest was $4,400. Reported total handle was $113,113. Other names in the program included Stephane Bouchard, Jody Jamieson, Louis Phillippe Roy, Daniel Dube, Scott Zeron, Sylvain Filion and David Miller.
"It was nice to be home for half a day," said Gingras. "I grew up about an hour away from there. All of my buddies were there. My mom, my grandmother and my dad, too."
Gingras is big on trying to keep the sport's fans happy.
"Sometimes, it's just the right thing to do," said Gingras of the road trip. "Most of the time we do try to show up for the fans. We don't have enough of those."
The 37-year-old's opinions on the state of the game and what he thinks should be done are ones worth noting.
Gingras drives top horses for the top barns. He follows the money. Pennsylvania, New York, and when the Grand Circuit stops there, New Jersey. He experiences plenty of success, yet doesn't necessarily like much of what he sees.
"The (slot machine) money will be taken away from us," said Gingras. "You see Pennsylvania right now taking money away. It's reality. The purses are down 25-30 per cent from two or three years ago. People are blinded. People think we own this, that the slot machine revenue is ours, and the money is ours forever. People need to wake up. What happened in Ontario will happen to us. But I hope I'm wrong. I really do."
"The Green Hornet", as he is known, explained that racing still might be plentiful in Ontario, but that it's a bit of a smoke screen. "Mohawk is racing six nights a week, yes, but (Ontario racing) is not strong," said Gingras. "They used to race for $300-$400 million a year. Now they are racing for $100 million. People think racing in Ontario is as good as ever. Ontario used to be the place to go. You had 'B' tracks going for 'A' track money. It's not there anymore. You had tracks like Hanover racing for $150,000 in purses a night and betting $50,000 a night in handle. That can't last. It was just a matter of time before the Ontario government came in and said, 'We are going to take some money out', and it happened."
My contention regarding harness racing itself is that it's too boring for people 25 and under to embrace, especially when compared to the action of thoroughbred racing. But Gingras disagreed.
"The racing itself is not boring," said Gingras. "I bring people to the track all the time and they love it, but we can't get people to come back. The time between races is a problem. There's even more time between races at the thoroughbreds but they entertain you while you are there. With us, between races, there is nothing. My kids went to the track two weeks ago, and they went to get ice cream. The ice cream stand was closed after the sixth race. On a Saturday night! I mean, come on! But that's the kind of thing we do. And we wonder why people don't come back."
So what's the solution?
"It's about marketing," said Gingras. "But I don't know what the answers are. The track operators, they are not geniuses when it comes to marketing, either. That's why a percentage of money should be taken out of purses, let's say one per cent, and give this money to a marketing firm that knows what they are doing. We are horsemen. They are marketing experts. Let them do what they do.
"Don't give them a 20-year contract, give them a two- or three-year contract. Or split it between two or three companies. And then if it doesn't work, move on to somebody else. I don't know. And I can't tell you what to do. That's not my job. But I do know we suck at how we are doing it now."
Even though the quality of horses has slipped, the Meadowlands continues to out handle all North American harness tracks by a wide margin. Why is it tracks with big purses and top drivers lag so far behind?
"People don't want to bet small tracks," said Gingras. "They don't like a lineup. When you go to Yonkers, it's as boring as it gets. Do I like to race at Yonkers? Of course. But racing-wise, if I was a bettor, I wouldn't bet there. The gate opens, you know what's going to happen. It happens every night, every race. They have the best horses and drivers, but the racing is not interesting for bettors. Yonkers has to find a way to make it interesting for bettors.
"At the Meadowlands, you have options as a bettor. That's what's keeping the Meadowlands alive, the fact that it's a mile track. People also don't bet much in Pennsylvania. The front end in Pennsylvania, it isn't quite like Yonkers, but it's close."
So how do we get young people to the track?
"A lot of ways have been tried," said Gingras. "We have to spend money. If we try to rely on camel races and food trucks and word of mouth, yes, they come out for the night, but they don't come back. You need people who come back all the time, not just come two times a year.
"You don't get the 25-year-old to come back. They can't afford it. They can't come and have four or five beers and gamble. A round of beer is 50 bucks. Are we in the food and beverage business or in the gambling business? And the Meadowlands is not the only one. The other racetracks are the same.
"These people who are not betting very much, those are the people 20 years from now, they are going to have money. These are the people that we need to bring back. We need to cater to them."
According to the United States Trotting Association, $423 million in purses were distributed during 2016. Should a piece be set aside to market the sport?
"The track operators and horsemen's leaders don't believe in taking some money out for marketing," said Gingras. "I think somewhere around two or three per cent would be good. I don't think any horseman will mind. We have to start looking at ourselves. We have to worry about the game down the road. With the purse structures we have now, there is no reason we can't spend that money. Let's have everyone who has a USTA license vote on it."
I asked Gingras about the smaller tracks and the possible resistance to such a tariff on their purse accounts, given the shortage of marquee races they have.
"That's the problem, they are so worried about themselves," said Gingras. "We have to stop being short-sighted. If the sport in general is doing better, the smaller tracks will do better, but it's not that easy to sell. You take one per cent out of a $4,000 purse at Monticello. That's $40. Will that kill anybody? Are you telling me that's going to make a difference? You have to look at the big picture. But that's the problem. They all want to worry about themselves and they don't want to worry about the industry. That's why we are in the situation we are in now."
For Gingras, the bottom line is be money wise.
"There is money being spent, but it's not being spent the right way," said Gingras. "Let's hire a good company. Vote on what marketing firm you want. You don't want harness racing people doing the marketing. I don't want (the Meadowlands') Jeff (Gural) to do it, (New York horsemen's) Joe (Faraldo) to do it or (Pennsylvania horsemen's) Sam (Beegle) to do it. I'm not knocking them. I just want a firm that does THAT. Let's get the best firm that we can afford. But you can't spend on 30 and under and expect immediate results. It takes time to grow. Time is running out. We won't have the slot money forever."
On his best horses right now…
Any time Yannick Gingras is the interviewee, the question of horses he's driving must be asked. Here's his thoughts on some of the better ones he's driving right now:
"Lady Shadow couldn't be any stronger right now," said Gingras of the mare who won Harrah's Philadelphia's Betsy Ross on May 28 in 1:49. "She's come back great this year. The sky's the limit."
Crazy Wow won the Maxie Lee in 1:52 on the same card. "He has been surprisingly good," said Gingras. "The kind of horse who last year lost races he should have won. He's a little stronger this year."
Dayson was incredibly game racing uncovered to take the Graduate at Mohawk in 1:52.3 on June 3. "I did not want to race him like that," said Gingras. "After he added Lasix (two starts earlier), I did not want to race him that hard. I honestly thought he was beat (he won by a nose). I thought he raced great."
Hambletonian hopeful Rubio is getting ready to make his seasonal debut. "He qualified Saturday (June 3) and was very, very good. He could not have qualified any better. When I asked him in the stretch, he had plenty."
And last, but certainly not least, a 3-year-old trotting filly who could be a Horse of the Year candidate. "Ariana G. She's special. A great filly," said Gingras. "The other day (when she won on June 2 at the Meadowlands in 1:51.1), I was just slowing her down for the last three-eighths. I was going as slow as I could without getting beat. You don't want to be walking across the wire but you don't want to overextend her. The NJSS Final is not the goal for the year. You just hope she has a couple of miles left in her like that. They only have so many in them."
Could Ariana G go with the boys in the Hambletonian? "She's as good as all of the top colts. Obviously, it's (trainer) Jimmy's (Takter) decision. A filly going two heats on the same day, it's a big concern. But she's very easy on herself."