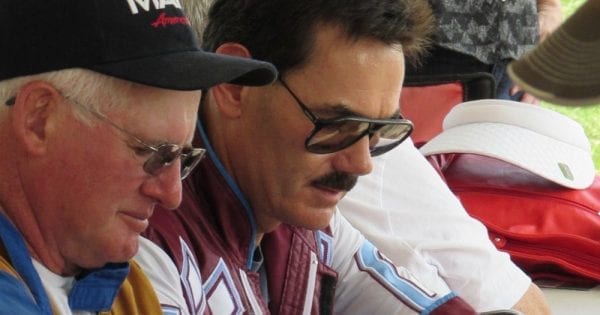 Catching up with Ron Waples
The 72-year-old Hall of Famer is working for trainer Gregg McNair these days, but will soon be on the road seeking adventure in his motor home.
by Dave Briggs
The Wisteria tree near Ron Waples' "office" by the pool is blooming for the first time since he and his wife, Liz, moved to the Guelph, ON farm.
"We've been here 20 years and that tree has never bloomed," the 72-year-old U.S. and Canadian Hall of Famer said Tuesday, staring out wistfully from his sun room. "There's 3,000 blooms on this tree this year and the most it ever had before maybe was 20."
Call it floral fireworks as something of a goodbye present. The popular couple recently sold their farm. The deal closes at the end of October, around the time they normally hit the road in their motor home headed for warmer climes for the winter. Ron admits he's a little melancholy about selling the farm.
"I love the place," he said.
Recently, Ron said he was "complaining that I'm homeless" to his 93-year-old cousin and fellow Hall of Famer Keith Waples, the elder statesman in one of racing's greatest families. Just like he used to do on the track, Keith dished out some perspective.
"Keith said, 'What the hell are you talking about? Your house is on wheels. You just get in the house and go.' We still have the motor home and we'll go to Florida. I'd like to travel for a couple years — go out west, go down east. I don't know what else. Whatever else life brings me as long as Liz and I are healthy and we have enough money to put gas in the tank, what more do you want, really?"
Over his storied 50-year career, Ron has been known for his crafty steers on the track in big stakes. He has won virtually all of the sport's premier events at least once, including the Hambletonian, Little Brown Jug, Meadowlands Pace, North America Cup, Breeders Crown, Canadian Pacing Derby, Maple Leaf Trot, Kentucky Futurity, Woodrow Wilson, Hambletonian Oaks, Prix d'Ete, Cane Pace, Messenger and Jugette.
He was the co-owner of Ralph Hanover, a horse he drove to the 1983 Pacing Triple Crown and earnings of $1.7 million that was, at that time, a single-season record. He was also the pilot of No Sex Please, a gelding owned and trained by his son, Ron Waples, Jr., that won the Maple Leaf Trot three times, the Breeders Crown twice and set two world records. Another son, Randy Waples, has long been a top driver on the Woodbine Entertainment Group (WEG) circuit and sports $115 million in career earnings.
The long list of champions Ron has driven includes: Presidential Ball, Dream Maker, Village Jiffy, Armbro Dallas, Sugarcane Hanover, Park Avenue Joe, Fake Left, Sportsmaster, Oaklea Count, Delphi's Lobell and JM Vangogh.
These days, Ron is working for trainer for Gregg McNair. Ron no longer trains his own and hasn't driven since the Hall of Fame race at Goshen, NY on July 3, 2016.
"At Gregg's I don't know how much help I am, but he took me in off the street and gave me something to do," Ron said, laughing.
Ron may drive at Goshen again this summer and he's scheduled to be at Legends Day on July 30 at Clinton Raceway. It's the ninth edition of Legends Day and Ron has never missed the biennial event which will raise money for the Clinton Public Hospital Foundation while celebrating the last official drive of John Campbell's career. The sport's richest driver with nearly $300 million in earnings, Campbell is retiring to become the president and CEO of the Hambletonian Society.
Ron said he is honored to be part of Campbell's final career drive. Like the Waples clan, the Campbells are one of the sport's greatest families. The patriarch, the late Dunc Campbell, is a Canadian Horse Racing Hall of Fame inductee.
"It goes without saying that (Campbell's) been a class act all his life," Ron said. "His grandpa, Dunc, was always good to me. His father, Jack, and mom, Florence, were always good to me and John's always been good to me. It's sad, but I'm happy that he's probably going to go out without getting hurt again. I always worry about that."
Ron said his favourite John Campbell drive came off the track. Many years ago, when both were racing at Garden City Raceway in St. Catharines, Waples was walking along the busy QEW highway between his hotel and the track when Campbell pulled up alongside.
"This is going to sound like I'm taking a bit of the halo off his head here, but John was never noted to get up in the morning. He always told me he made his money at night, not in the morning, which I understood. But I had to get up in the morning and go to work," Ron said. "Something happened — and I can't remember what happened to my car — but I was walking on the side of the road at 7:30 in the morning on the QEW and lo and behold, who pulls up but John Campbell. He looks at me and just starts to grin. I said, 'You've never been up this early in your life. What the hell are you doing up this early?' He said, 'I stopped by to pick you up.' I always tell everybody that his claim to fame is he picked me up on the QEW on the way to Garden City."
Though he said he is a little surprised fans keep turning out every two years, en masse, for Legends Day, Ron credits the success of the event to its founder, Clinton Raceway general manager Ian Fleming, who always adds a new twist to each edition. For example, this year David Miller is making his first Legends Day appearance.
"I think the crowd will like that… Dave will be a big asset. He's very good with the crowd and he's very accessible," Ron said.
Ron will be one of eight of the world's greatest harness drivers contesting the $15,000 Legends Day Trot on the card. Ron (6,923 career wins and some $75 million in lifetime earnings), Campbell (11,049, $299 million) and Miller (12,100 wins, $215 million) will face off against Mike Lachance (10,421, $190 million), Steve Condren (6,845, $114 million), Bill O'Donnell (5,743, $99 million), Doug Brown (8,427, $89 million) and Dave Wall (7,200, $60 million).
Combined, the eight legends have earned over $1.15 billion and won nearly 69,000 races.
Fellow legends Bud Fritz and Keith Waples — both of whom are retired from driving — will also be on hand for the autograph session.
"People love to reminisce," Ron said. "Sometimes I feel bad because they'll say, 'Remember that day you drove that horse?' I say, 'I think I do.' I learned that from Buddy Gilmour, you just have to say, 'I think I do.'"
Ron said Legends Day is popular because of a collegial group of legends that have a blast and the fact Clinton Raceway is a beloved Ontario B-track that always draws true grassroots harness racing fans.
"I hope everybody that's there enjoys it as much as (the legends) enjoy being there," Ron said.