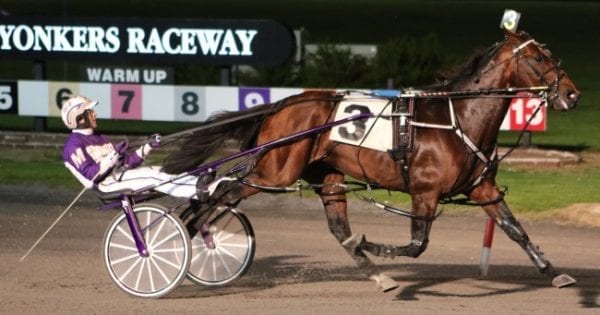 Downbytheseaside wins Rooney; eases owner's concern
A week after popping a gravel in his right foot in a winning effort, Downbytheseaside rebounded with a dominant victory in Saturday's $340,000 final of the Art Rooney at Yonkers.
by Tom Pedulla
Owner Joe Sbrocco experienced mixed emotions when Downbytheseaside returned to the winner's circle on May 20 at Yonkers Raceway.
Although his colt had taken the lone elimination for the Art Rooney pace, Sbrocco, in his fifth decade in the business, could not help but notice that something appeared to be amiss with his prized pacer. Excitement about the win gave way to concern.
Downbytheseaside was found to have popped a gravel in his right front foot but, after a week of tender loving care, he again returned to the Yonkers winner's circle, this time having demolished seven opponents in Saturday's $340,000 Rooney final.
And now there was nothing to dim Sbrocco's enthusiasm.
"This is the highest of highs," said the 76-year-old owner.
Trainer Brian Brown was equally elated after Downbytheseaside stayed perfect through three starts on the young season and displayed a maturity he lacked as a stellar, but rambunctious, 2-year-old.
"I can float back," said Brown in refusing a van ride back to the barn area.
His bay Somebeachsomewhere—Sprig Hanover colt is sound again thanks to the handiwork of a blacksmith who trimmed out the injured area and re-shod the horse, and to patient handling by driver David Miller, who jogged him daily to make sure he was right for the Rooney final.
"It was really an honor to have David come out and jog him every day," said Sbrocco. "He has a lot of faith in this horse, as well."
Miller has been an integral part of the team all along. He suggested to Brown late last season that he open the bridle in an attempt to make the youngster more manageable.
"He was a little bully. He didn't want to sit," Miller said. "He was just hot."
The equipment change helped Downbytheseaside topple arch-rival Huntsville in the Governor's Cup to cap a 2-year-old season in which he won eight of 13 starts with three runner-up finishes and two third-place showings for earnings of $577,106.
Downbytheseaside proved to be as handy as Miller needed him to be in the Rooney final after Miso Fast, leaving just inside the prohibitive 1-9 favorite, gunned to the front for driver Matt Kakely from post two. He was parked outside for much of the opening half-mile before assuming a lead he would not relinquish.
"I used him a little more the second quarter than I thought I would," said Miller, who again reminded everyone of why he was honored as the Driver of the Year in 2016 and 2015.
When the race was halfway over, Sbrocco was pretty sure it was over.
"It's the sign of a true champion going the first half the way he did. He was parked outside for almost a half," said Sbrocco, who owns the pacer in partnership with Richard Lombardo, Country Club Acres and Diamond Creek Racing.
There was little suspense once Downbytheseaside wrested the lead from Miso Fast. Summer Side came on to be a distant second, followed by Funknwaffles and Henry the Dragon.
"Nothing came close," said Sbrocco. "It was pretty exciting for all of us." Downbytheseaside paced the mile in 1:52 after snagging the elimination in 1:52.2, an improvement credited to a better handling of the turns on the half-mile oval.
The performance reflected a winter's worth of effort on the part of Brown.
"Brian worked with him all winter and got him to settle down and he's been racing like a charm," said Miller. "I can't be happier with him."
In fact, Downbytheseaside was so calm in his latest race that Miller suggested to Brown that he might want to adjust the bridle in the other direction in preparation for the next start, an elimination for the North American Cup.
"What we worked on mostly was his manners and he's really good mannered now," Miller said. "We'll take it a little bit at a time and I'm sure if we want to stir him up, we'll have no problem doing that."
Downbytheseaside was a runner-up to Huntsville for the Dan Patch Award as the best 2-year-old male pacer. Sbrocco looks forward to renewing that rivalry.
"Huntsville is a great horse. We are going to be meeting him," he said. "That should be fun."
Sbrocco is confident that Downbytheseaside is more prepared for that challenge, whenever it comes, than before.
"This horse was good at 2 and, yes, he's better," he said. "He has more energy than he ever did."
Sbrocco's excitement stems, in part, from Downbytheseaside's versatility. He is highly competitive on a half-mile, five-eighths or mile track. Experience, though, including recent experience, reminds him to temper his enthusiasm.
"We always cross our fingers and pray," he said. "Because I've been through a lot of downs in this business."
The race, which was contested for the 27th time, honors Art Rooney, a legendary horseplayer and the founder of the Pittsburgh Steelers. The Rooney family purchased Yonkers Raceway in 1972 and has been operated by Art's son, Tim, ever since.
Tequila Monday takes Lismore
Tequila Monday came up big when it counted.
After placing second by a length and a half to Agent Q in the Lismore elimination, she turned the tables on her rival with a convincing victory in the $140,770 final on Saturday night.
"She's a really talented filly with a big turn of foot," said winning driver Brian Sears.
That was evident when she unleashed a tremendous burst to take command entering the final turn. Agent Q, with David Miller at the controls, had no answer in the stretch, finishing four-and-a-half lengths behind. Caviart Ally took third.
"She's very willing, sometimes too eager," Sears said. "But we had her flattened out as far as her gait."
Tequila Monday paid $10.80, $2.80 and $2.40 in easily dispatching seven rivals. She paced the mile in 1:52.2.
"She doesn't get tired. She just keeps going," Sears said. "Once we got around the final turn, I felt pretty confident."
Miller was disappointed by the outcome. "I thought my mare would be better," he said. "But the horse that won the race, Tequila Monday, she ran unbelievable."
Tequila Monday won for the fifth time in eight starts. She has been second in her other races, including her previous two starts this season.