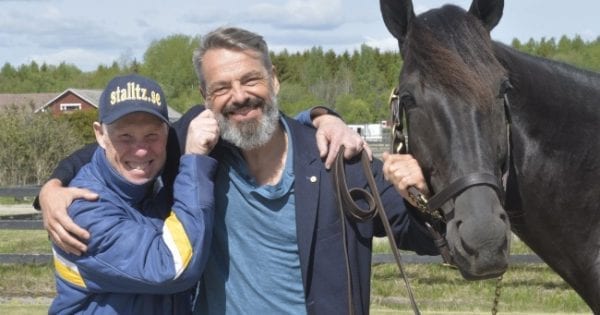 Elitlopp delivers a weekend full of expectations
French Triple Crown champion Bold Eagle faces a tough field in Sunday's Elitlopp.
by Thomas Hedlund
For hard-core harness racing fans, the last weekend in May is really something special. Horses, trainers and drivers from all over the world gather in Stockholm, Sweden and the enthusiasts can't wait to see the horses hit the track.
From early in the morning, spectators pack Solvalla Racetrack for Elitloppet Weekend creating an atmosphere unmatched in the trotting world. The big races start on the Saturday with the Sweden Cup and Harper Hanovers lopp (a race over three 5/8ths of a mile) as the most spectacular ones.
Sunday is D-day and this year the organization that works on the Elitloppet has assembled many of the most interesting trotters in the world. French Triple crown winner Bold Eagle will be the horse to beat. On Wednesday night Bold Eagle's owner Pierre Pilarski visited Solvalla, where he got the chance to know how it feels to sit behind one of Bold Eagle's opponents, Delicious.
Pilarski also made the trip to Stefan Melander's farm Thursday morning. A meeting with the star Nuncio was on the program and in different ways, Pilarski has now made contact with two of Bold Eagle's biggest antagonists in Sunday's big race.
Solvalla 360
The Swedish harness racing media has created a movie in 360° where driver Örjan Kihlström has a camera on his helmet and the film is to be seen on Youtube, but also in a special version at Solvalla. With VR glasses, the spectator can look around in the race and follow the Cantab Hall mare's way to victory in the last race before the Elitlopp.
Resolve has landed
Resolve has arrived in Sweden by plane from the United States and he's one of the horses that people are having some expectations about. Resolve will defend America's colors, while John Campbell drives the Swedish rookie Tjacko Zaz in the first heat.
Redén's trio is ready
Trainer Daniel Redén and owner Stall Zet will have a three-horse entry in this year's Elitlopp, which is unusual. Redén's trio is Cantab Hall mare, and world record holder, Delicious, Muscle Hill son Propulsion and Revenue son In Vain Sund.
Redén, 37, was third in the final of 2014 Elitloppet with Delicious, and now the eight-year-old mare will try again, probably for the last time.
"She has her problems with the stomach and we have to work hard to make her feel good every day. She's a sensitive horse and she has a special place in my heart. I have named my daughter after her, so I suppose people understand that Delicious means something extra in my life," Redén said.
Redén found Delicious in Harrisburg in 2012 when she was three years old. In 2015, she set three world records in three different distances. An victory in the Elitlopp would likely leave Redén at a loss for words.
"It would be like a dream, but I'm also aware of how tough the race is this year and just to participate is big for us."
Propulsion was bought by Stall Zet for the sale-topping price of $210,000 (U.S.) at the 2015 Tattersalls Summer Mixed Sale at The Meadowlands and started for the first time in Sweden in October the same year. The son of Muscle Hill has then climbed quickly through the classes and had a successful year on the track 2016.
"Propulsion is a very tough horse that has the strength that's required in hard races like this. He was not at his best in Finland the last time he started and I was not satisfied in training when he came home," Redén said. "But in the last weeks, the horse has been much better and I'm confident. Regarding In Vain Sund… he's a little bit of an outsider in the Elitlopp this year. He was in France during the winter and did great among strong, tough French horses in his category. He showed in the last race, in Denmark, that he is ready to compete against the best horses (In Vain Sund finished first in the Copenhagen Cup, but was disqualified, elevating Cruzado dela Noche to the victory) and if he gets his trip, he can upset."
Propulsion immortalized in song
On Monday, Swedish indie/pop band Eskobar released a new song devoted to Propulsion. Hear the song here:
French trotters favored
According to Swedish media, the favourites in the two heats come from France. Bold Eagle (heat 1) and former Prix d'Amérique winner Up And Quick (heat 2) are favourites two days before the battle.
Sunday afternoon (Swedish time) we will know who will be the 2017 Elitlopp champion.
Elitlopp Draw
Heat 1
Horse – Driver – (Trainer) – Country
1. Spring Erom – Christoffer Eriksson (Dan Widegren) – Sweden
2. D.D.'s Hitman – Ulf Ohlsson (Petri Puro) – Finland
3. Delicious U.S. – Örjan Kihlström (Daniel Redén) – Sweden
4. Tjacko Zaz – John Campbell (Timo Nurmos) – Sweden
5. Bold Eagle – Franck Nivard (Sébastien Guarato) – France
6. Cruzado Dela Noche – Björn Goop (Stefan Melander) – Sweden
7. Takethem – Steen Juul (Steen Juul) – Denmark
8. Resolve – Åke Svanstedt (Åke Svanstedt) – USA
Heat 2
Horse – Driver – (Trainer) – Country
1. Up and Quick – Franck Nivard (Franck Leblanc) – France
2. Twister Bi – Christoffer Eriksson (Jerry Riordan) – Italy
3. Propulsion – Johan Untersteiner (Daniel Redén) – Sweden
4. Nuncio – Örjan Kihlström (Stefan Melander) – Sweden
5. In Vain Sund – Erik Adielsson (Daniel Redén) – Sweden
6. Timoko – Björn Goop (Richard Westerink) – France
7. Dante Boko – Adrian Kolgjini (Lutfi Kolgjini) – Sweden
8. Elian Web – Janne Soronen (Katja Melkko) – Finland