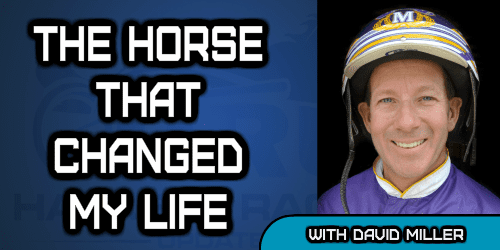 The Horse That Changed My Life: David Miller
by Dave Briggs
Even drivers loaded with talent sometimes need to have a magic horse on their side.
Fittingly, the horse that changed David Miller's life was Magician, who came into the Ohio native's life in 1999 when the driver moved from his home state to New Jersey to drive at the Meadowlands.
"I always said that he was my stepping-stone," Miller said of the gelded son of Royal Prestige out of Incredible Charm who earned $3.58 million lifetime. "He was a great horse for me, a very solid horse for three or four years. He's the one that got me rolling. I had a lot of fond memories with him and he won a lot of big races for me. I was fortunate enough to get him the first year that I was (at the Meadowlands)."
Magician was four when Miller started driving the trotter, who went on to post some significant stakes victories against some significant competition.
"He was tough. He raced against Moni Maker. That was his biggest rival when I first started driving him and he beat her. He beat her in the Breeders Crown and Maple Leaf Trot," Miller said of Magician who won the $1 million Crown open trot in 2000 and the $582,500 Maple Leaf Trot the same year. "He was a great horse. He was solid for a good three or four years. That's a lot of great memories and the people associated with him were great, Earl Cruise and the groom. He was such a fun horse to drive and a great horse."
Magician also provided a welcome springboard for Miller, who wound up being enshrined in the Harness Racing Hall of Fame 15 years later.