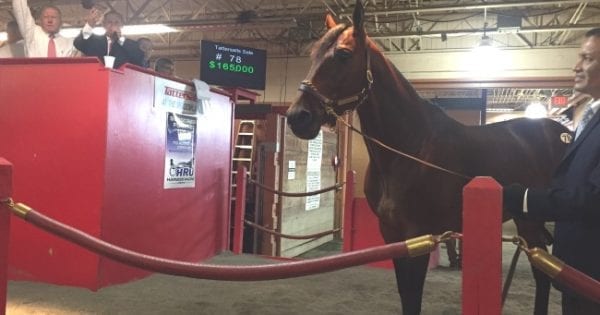 Spring Mixed Sale average and gross up sharply
Royally-bred racehorse Rock N Roll World topped the sale with a bid of $165,000 by Thomas Pollack of Venetia, PA.
by Dave Briggs
Both the average and gross were up sharply at the Tattersalls Spring Mixed Sale held Sunday in the paddock at the Meadowlands Racetrack in East Rutherford, NJ.
The average of $23,739 for 83 horses sold was up 24.4 per cent over the $19,072 fetched at the 2016 Spring Mixed Sale and was the highest average in the four-year history of the sale. This year's gross of $1,970,300 was up 21.5 per cent and $349,200 over the $1,621,100 reached in 2016, despite two fewer horses selling this year.
"We had a smaller offering for the public, but we had very few outs, which was very gratifying," said sale manager David Reid. "There was only seven outs compared to 30 last year. The number of head sold was within two horses of last year, yet our average was up significantly. That is probably a reflection of the quality of the horses.
"Only having seven outs may reflect the late closing date of the sale. We tried it as an experiment… A lot of people were asking for a tighter deadline and maybe there's something to be said for it."
Rock N Roll World topped the sale when Thomas Pollack of Venetia, PA paid $165,000 to take home the royally-bred five-year-old son of Rocknroll Hanover out of multiple-Dan Patch Award winner Worldly Beauty. Rock N Roll World has won 15 of 63 lifetime races and earned $572,660. He came into the sale off three consecutive victories, including one Saturday night at the Meadowlands.
"I flew out here from Pennsylvania, so I had to do something," Pollack told the USTA's Ken Weingartner. "I'm just trying to buy good horses, and it's been my M.O. not to be afraid to buy higher end conditioned horses. This is a little more than the normal spend, but he has some chances to make good money.
"He's staked to a lot of stuff and he seems like a solid horse. Hopefully he can get some chunks in the stakes and he's also a well-bred horse so he should have additional value down the road."
Pollack said Rock N' Roll World is staked to a number of events for older male pacers, including the Breeders Crown, Ben Franklin, Canadian Pacing Derby, William Haughton Memorial, and Jim Ewart Memorial. He will send the horse to trainer Jeff Cullipher in Indiana.
Rock N' Roll World was one of 15 horses in the sale from the stable of trainer Ron Burke. Pollack has enjoyed recent success buying Burke pupils. In 2016 he purchased female pacer Medusa for $65,000 at the Tattersalls January Select Mixed Sale from the Burke Brigade. Since then, Medusa has earned $361,954. She finished second in the Blue Chip Matchmaker Series final last month and races today in the $100,000 Noble Memorial at Miami Valley Raceway.
Reid's Preferred Equine consigned Rock N Roll World.
"When we went to press I thought he'd be our best horse," Reid said. "He came into the sale racing well. He is a good looking horse. He's not a gelding. He won last night and he won the week before. He's just been a solid racehorse and has stakes eligibility this year to race for and he's a five-year-old. There's opportunities for that. He's a really good looking horse, a clean horse. It was well done on all fronts, but a very nice horse."
Preferred, the sale's leading consignor with 56 horses sold, a gross of $1,442,600 and an average of $25,761, also sold the second highest-priced horse— gelded pacer Blaise MM Hanover (Bettor's Delight—BJ's Squall) for $80,000 to Allard Racing Inc. — and 10 of the top 11 horses that went through the ring.
Bob Boni's Northwood Bloodstock consigned the third highest horse sold, five-year-old Muscle Mass—Prenup trotting horse Macho Mass for $62,000 to Jeff Gregory of East Windsor, NJ.
"I thought that was a very good price," Boni said. "You have to give them something that they're comfortable will go on. A horse has to show that he can go a little bit. You've got to show some ability somewhere."
Macho Mass has won six of 39 career races and earned $74,791. He was bred and owned by David Goodrow Stable.
Northwood sold 25 horses, grossing $501,700 for an average of $20,068.
"I thought the prices were good," Boni said. "There was good interest. At a sale like this, the market has an opportunity to be kind of picky. If those last couple of lines aren't good or they find something else to object to, they're going to show you in the price. But if everything fits and the horse is racing reasonably well and looks reasonably good, I thought it held up very well."
Reid said the strength of the sale was in the middle, with the top end holding up well.
"We had Canadian representation. We had people from Delaware, Ohio and Pennsylvania. We had a pretty diverse crowd of buyers. I'm very satisfied," Reid said. "I wish we had more horses, but I know the reality is that there's fewer horses around and we have to make do with what we have to offer. Tattersalls is happy to represent people and Preferred is happy to represent people and create commerce. I think commerce is good for the industry and I think the industry needs it."
Beyond moving the sale up about a month from last year and having a late closing date, Reid said the sale added a second camera angle to its video production this year.
"We hope people took an interest in that for the people that couldn't be here. We always encourage people to come if they can, but we know in today's day and age everyone can't get to where they have to be. Overall, the sale was good. I'm satisfied and I'm looking forward to our July Sale when we can add two-year-olds into the mix. I'm excited about that.
"The Tattersalls Sales Company really appreciates everyone's effort to come to the sale and we just hope that the tradition continues and people have acquired horses that go on to their jurisdictions and do well for them. I appreciate everyone's cooperation and their bidding."
This year's average is up 0.8 per cent from 2015's average of $23,556 and up 13.5 per cent from the inaugural Tattersalls Spring Mixed Sale average of $20,921 reached in 2014.
— with files from Ken Weingartner / Harness Racing Communications / USTA