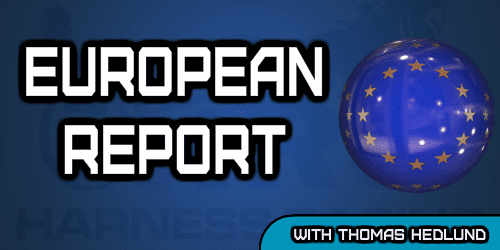 Lionel posts emotional victory in Olympiatravet
After heavy favorite Nuncio made a break, Norwegian trotter Lionel posted at stirring victory to help his owner and driver, Göran Antonsen, ease the pain of losing his life-long friend and co-owner in the horse.
by Thomas Hedlund
Nuncio was the big favorite in the 2017 edition of the Olympiatravet (3,000,000 Swedish crowns, about $340,000 U.S.) Saturday at Åby, Gothenburg, Sweden, but an early break behind the gate ended the Andover Hall son's wild streak of finishing on the board in 54 consecutive starts (39-13-2).
With Nuncio out of the game, the Olympiatravet became an open race with relatively fresh Nadal Broline in front. Nadal Broline was one of the more impressive Olympiatravet elimination winners, but as the race was turning for home, the son of Yankee Glide had a little bit too tough trip with French horse Black d'Avril on the outside. The fractions were fast and the first five-eighths of a mile was an approximate mile time of 1:52.4. The winner was seen fourth on the outside and the Norwegian trotter Lionel posted a fairytale victory with the happiest of endings to earn approximately $170,000 U.S. Lionel is well known for his strength and has shown his best abilities in long-distance events in France.
Lionel, a son of Look de Star, was bred in Norway, owned by Göran Antonsen, trained in Sweden by Daniel Redén and, this time, driven by his owner. Just a few weeks ago, Göran Antonsen lost his life-long friend, Lionel's co-owner Kjell Arne Ness, and a start in Olympiatravet was not the first thing that was on Antonsen's mind at that time as he struggled with grief. The horse was invited to Olympiatravet some time before Antonsen's friend died and the decision fell at last on starting Lionel at Åby.
Lionel left Paris — where he had a great meeting in Paris, finishing third in the Prix d'Amérique — in the middle of April, landed on Daniel Redén's farm in Sweden on April 19 and was, according to insiders, not one of the first choices for the win in Saturday's final in Gothenburg.
"For me, this is by far the biggest race I've won and today we did it for Kjell Arne. The horse was in splendid shape and I'd like to thank Daniel (Redén) and his staff for letting me experience this," Göran Antonsen said after the race.
Olympiatravet was one the big targets for seven-year-old Lionel in Scandinavia this year. The next one is in Antonsen's homeland of Norway, where the Oslo Grand Prix goes off in the middle of June.
The approximate Olympiatravet mile time over 2 5/8ths was 1:55. The distance is the same in Oslo.
Title defender Your Highness was surprisingly second, and steady money machine Oasis Bi was third in the race.
Olympiatravet 2017
1. Lionel, Göran Antonsen (Daniel Redén)
2. Your Higness, Björn Goop
3. Oasis Bi, Erik Adielsson (Stefan P Pettersson)
4. Kadett C.D., Robert Bergh
5. Nadal Broline, Ulf Ohlsson (Reijo Liljendahl)
6. Spring Erom, Christoffer Eriksson (Dan Widegren)
Wild Honey over 13 million Swedish crowns
Cantab Hall—U Wanna Lindy daughter Wild Honey was bought by Brixton Medical AB and trainer Daniel Redén from Jimmy Takter's stable in the fall of 2015, after a very successful season in America. As a four-year-old, Wild Honey needed to adapt to Swedish conditions and after a winter in Paris, where she participated in Prix d'Amérique, she seems to have developed a lot.
Saturday, Wild Honey easily won the Lovely Godiva Stakes at Åby, Gothenburg when Örjan Kihlström drove her to victory with an approximate mile time of 1:55.4 over 2 5/8ths. The victory made Wild Honey a 13-time millionaire in Swedish crowns ($1,472,000 U.S.).
In Argentina, France, the former Prix d'Amérique winner Up And Quick impressed over a mile for driver Franck Nivard. The son of Buvetier d'Aunou was quick from the start and after high speed throughout the race put the opponents without chance to challenge in the home stretch.
Up And Quick came home in an impressive 1:51.3 and put $49,000 to his bank account.
No problems for Bold Eagle
French Triple Crown winner Bold Eagle made his first appearance on the track last Saturday (April 22) since his victory in Prix de Paris in February
On Paris track Enghien, the six-year-old Ready Cash son easily sprinted home the winner and in the Prix de l'Atlantique and earned some $96,500 over 2 5/8ths. After the race, the horse's entourage received the ticket to Elitloppet from Solvalla's racing secretary Markus Myron.
The approximate mile time for Bold Eagle was 1:56.1 and as usual, French top driver Franck Nivard was in the bike.
"Bold Eagle will not have any problems in winning when he goes to Solvalla in May and I wasn't worried at all today. From post number one the horse is like a dragster and now we'll try to keep him in this shape until the end of May," said his trainer Sébastien Guarato.