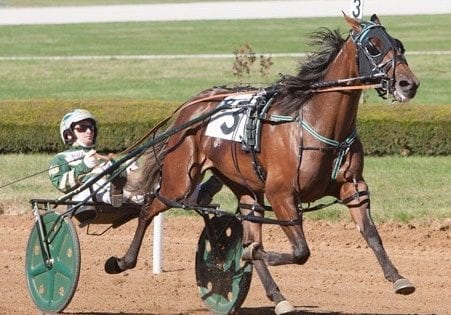 Pacing fillies Fab Four ready to battle
Jimmy Takter's Idyllic Beach and new addition Someomensomewhere will tackle Agent Q, Roaring To Go and others this summer on the sophomore pacing fillies' circuit.
by Dave Little
Like a deck of cards, there are four aces in the three-year-old pacing filly division for the upcoming season and trainer Jimmy Takter holds the strongest hand.
Takter has 2016 Dan Patch and O'Brien Award-winner Idyllic Beach, and then, for good measure, added Someomensomewhere to his arsenal in mid-January.
Idyllic Beach (Somebeachsomewhere—Idyllic—American Ideal) won eight of 14 starts a year ago, good for earnings of $647,678. She swept to the top of the freshmen filly pacing division by taking the Shes A Great Lady and Kentuckiana during a 21-day stretch in September.
She finished the year at the head of her class despite being beaten in the Pennsylvania Sire Stakes Championship (finishing second), Breeders Crown (third) and Three Diamonds (second).
Referring to her loss in the Three Diamonds, Takter said he wasn't surprised. "You pay for (racing hard all season) at the end of the year, that's the way the game goes," said Takter. "Maybe it wasn't ideal for her to cut the mile that day."
But the trainer thinks his filly is poised for a big 2017. "She's been having an extremely good winter," said Takter. "I'm very pleased with how she's coming back. She had a great season last year. She was close to winning everything."
Takter does not have a specific schedule in mind for Idyllic Beach — although she is "staked to everything" — other than training her a fast mile tomorrow (Saturday) at the Meadowlands, and, if she's good, a qualifier a week or two after to prepare for a Pennsylvania Sire Stakes event in the first or second week of May.
The pickings are slimmer for the fillies as compared to their male counterparts, so horsemen seeking big green will want to be ready for the June 17 Fan Hanover ($400,000), July 1 James Lynch ($300,000), Sept. 20 Jugette ($350,000) and Oct. 27 Breeders Crown ($500,000), as well as their respective sire stakes finals.
"You know pacing fillies," said Takter. "They don't have that much versus pacing colts. Talk about discrimination. It's the same with trotting fillies. It's a huge difference."
The rich got a tad richer about three months ago. Diamond Creek Farm purchased Someomensomewhere (Somebeachsomewhere—Omen Hanover—Western Hanover) at the conclusion of last season and asked Takter to campaign the Breeders Crown champion, who earned just short of $500,000.
"Today, it's tough," said Takter. "There's always some horse that pops up that you didn't see as a two-year-old. It's never easy. You need all the weapons you can get."
The plan for Someomensomewhere is to follow a similar path to that of her stablemate. Takter also sees some things that he'd like to tweak. "She looks like a horse who might be better on a big track," said Takter. "They (the Erv Miller stable) had her rigging very strong to help her on the smaller tracks. She's a nice filly, training with Idyllic Beach, but right now Idyllic is a little better. After watching all of her races from last year, you can see that she was not as smooth racing on smaller tracks, but we are working on that."
Takter said he would seek help, if needed. "If I run into issues, no question. Erv Miller is a top trainer, and there is no guarantee that I'm going to step up this filly. I'm one of the fortunate guys to get the good horses. But we deliver. That's why we get good horses."
Another big-time player in the division is the Aaron Lambert-trained Agent Q (Western Terror—Teenage Paige—Real Desire). She finished first or second in all 10 of her 2016 starts and earned $438,704. She defeated Idyllic Beach in the Pennsylvania Sire Stakes Championship and missed a head to that foe in the She's A Great Lady.
But Lambert thinks her best effort of the year came when she missed a nose in the Breeders Crown to Someomensomewhere. "Just a phenomenal race," recalled Lambert. "She was parked every step of the mile from the 10 hole, was behind dead cover and had to tip three wide.
"I was not surprised at how well she did (last year). Training down, I always knew she was going to be good. The best thing about her is she tries and loves to do what she does, and she has come back better than ever.
"I'm going to qualify her (today) at Freehold," said Lambert, explaining what lies ahead. "Just to give her a spin around the half, since we are heading to the Lady Maud at Yonkers. Her first start will be the May 11 Sire Stakes at Philadelphia.
"We're pointing toward the Fan Hanover. The sire stakes again, that would be nice. Then the Breeders Crown. It's a long year, so we'll take it race to race. I'll qualify her three times before we race her and we should be there for every major dance. She won't be 100 per cent for the May 11 race, but come the Fan Hanover, that's when I'll have her at 100 per cent. I'd rather have her ready for the big ones. We are staked to everything. If we go in all of them, great. If we don't, we don't."
In last year's Breeders Crown, the top three finishers were Someomensomewhere, Agent Q and Idyllic Beach. No surprise there. What most might not recall is that fourth-place finisher Roaring To Go was the 1-2 favorite.
So how does the Kevin Lare trainee stack up against her three rivals this year?
"I think that when we go behind the gate, they have Roaring To Go to beat," said Lare, who did experience some bad luck with his filly during 2016.
"She was super in the (Breeders Crown) elimination. She deserved to be the favorite in the final, although I admit I'm biased. She caught a bug just after the elim and I was advised not to race her. She could not have been any more sharp at the time, but she had a bad lung infection. I had the advantage and they still beat me. We had to take our whipping and go home."
Roaring To Go (Art Major—Lionness Hanover—Western Ideal), who won half of her 14 starts and earned a little less than $300,000 last year, may have the most gas left in the tank when the Breeders Crown rolls around. She will race on the New York Sire Stakes circuit this year while the other three will knock heads in Pennsylvania.
"She's not great on a half-mile track. I tried changing this and changing that but couldn't find anything," said Lare, knowing his filly will have to race around four turns on the New York Sires Stakes (NYSS) circuit. "And, of course, the sire stakes final is at Yonkers. But she raced at Yonkers three times and won all three, but got taken down in the (NYSS) final for going inside a pylon. We'll just have to deal with it (when she races on a half)."
Lare's filly is another staked to all of the major events and is slated to start 21 times this year. He'd love to win the Jugette, Fan Hanover and Breeders Crown.
But in this talent-laden division, that will not be easy.