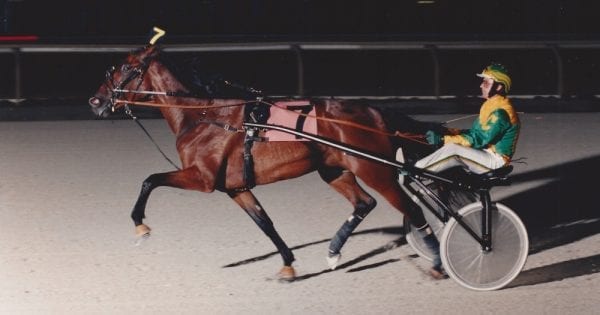 Elegantimage was a game-changer for Rutherford and Millard
Now, the trotting filly trained by Brad Maxwell is part of the 2017 class of Canadian Horse Racing Hall of Fame inductees.
by Keith McCalmont
Elegantimage, a winner in 20 of her 41 career starts, added another first to her impressive resume by becoming the first horse inducted to the Canadian Horse Racing Hall of Fame for both owner Doug Millard and co-breeder Harry Rutherford.
"It's very exciting," said Rutherford who has fond memories of a young Elegantimage. "She was a nice-sized filly, not huge, and she had a long rail on her. She was long through the legs."
The Balanced Image bay, out of Éclair Hanover, always managed to stand out from the crowd.
"She wasn't a bossy filly in the paddock, but she didn't take any crap off the other ones. She had that same attitude on the track, she hated to have a horse go by her," recalled Rutherford.
Her Hall of Fame credentials are plentiful. She posted a race record of 20-7-3 and lifetime earnings of $955,368 in 41 races for owners Hyatt Holdings, Doug Millard, Jerry Van Boekel and Steve Condren Stable.
Millard eventually bought out his co-owners and enjoyed continued success with Elegantimage as a broodmare.
A $53,000 yearling purchase at the Canadian Classic Sale in 1995, Elegantimage was an overnight success winning three Ontario Sires Stakes events in five starts along with the Oakville Trot, Robert Stewart Memorial Final, two Trillium Series events and the Canadian Breeders Championship.
Trained throughout her career by Brad Maxwell and driven mainly by Condren, Elegantimage was named Canada's Two-Year-Old Trotting Filly of the Year for her efforts.
"She was a class filly right from the word go," said Millard. "By the spring of her two-year-old year you could tell she was going to be a nice racehorse. Brad told me right up front that she was going to be a good mare and he doesn't say much."
She went to post as the prohibitive favourite in 20 starts and rarely let her backers down.
"This horse wanted to win and had a chance to win every time she raced. She was a top filly for sure but you weren't going to make a lot of money betting her," said Millard, laughing.
One of Millard's favourite moments of that initial campaign came from a call courtesy of the dulcet tones of track announcer Frank Salive.
"She must have been 10 lengths ahead and Frank said, 'Ladies and gentlemen, you're looking at the making of a world champion trotting filly!' That was a quite a call," Millard said.
Elegantimage continued to dominate as a sophomore winning eight of 10 OSS starts setting a lifetime mark of 1:55.4, and winning the 1997 Canadian Breeders Championship final en route to receiving the O'Brien Award in the three-year-old trotting filly division.
She was retired following a brief four-year-old campaign and quickly became a successful broodmare with progeny earnings of $986,223 and an average earnings per starter of $140,889.
"She produced a pair of pretty good racehorses in Body Balance, who we lost in the fire, and Elegant Serenity who we just retired," said Millard.
Elegant Serenity, a winner of over $500,000 with a mark of 1:53.2, is the top earner of her offspring while Body Balance, who perished tragically in the fire at Classy Lane, banked just shy of $200,000 in a hard-knocking career.
At the age of 23, Elegantimage is now retired, for the most part, and enjoying life at Spring Haven Farm in Ohio.
"The last couple yearlings out of her were the best she had. Elegant Serenity is now retired and in foal to Muscle Hill," said Millard who will enjoy seeing the family line continue.
For Rutherford, he'll always look back fondly to Elegantimage as the start of a production line for their small breeding outfit that would go on to make such stars as Pure Ivory ($1,442,888) and Casual Breeze ($1,347,330).
"We were small breeders at the time and to come out with a winner like her it was a great thing. Elegantimage made just under a million, but it was a different era. She was the best horse we had bred at that time, that's for sure," said Rutherford.
The making of Elegantimage required some savvy negotiating on the part of Rutherford when trying to purchase her dam, Éclair Hanover, from Bill Wellwood.
"Bill had two mares at the time and the other one, as far as we were concerned, wasn't worth a nickel," said Rutherford. "We negotiated for hours and ended up offering him a pretty good price and Bill said, 'Okay, you can take her then. In fact, you can take the both of them!' The other mare didn't turn out, but Éclair Hanover became quite a mare."
The proud breeder found a poignant way to convey just how dominant a racehorse Elegantimage was in her sophomore season.
"I remember her winning the Simcoe in a field of six," said Rutherford. "There were two Grand Circuit races at the time about a week apart and the good horses came up from the States but they didn't stick around for the Simcoe because they knew they couldn't beat her.
"Quite often they'd go in two heats for the Simcoe. But, with so few horses around, they didn't have to and she got the whole purse. At the time it was the highest Simcoe purse ($160,000)."
Both Millard and Rutherford remain in awe of the accomplishments of their great trotting filly.
"Any time they name a race after your horse you know she's something special," said Millard of the Elegantimage Stakes.
A race made extra special by the fact that it was the Rutherford-bred Casual Breeze who took the inaugural running in 2000.
"That was a nice feeling to have one of your own horses win a race like that. It was quite a thing," said Rutherford. "We've been very fortunate to have some good broodmares, and some good winners from them, and when you get a good one like Elegantimage you want to go see all of their races. She was a great competitor and she had a lot of heart."