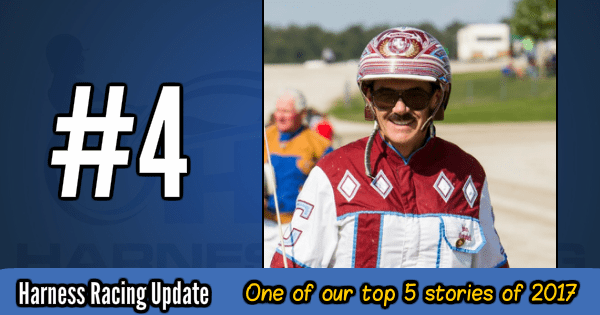 Campbell's last drive promises to be legendary
The last official drive of John Campbell's Hall of Fame career will come on Legends Day at Clinton Raceway in his native Ontario.
by Dave Briggs
The legend's last drive will be on Legends Day.
John Campbell confirmed Saturday that the last official drive of his career will come at Clinton Raceway in Ontario on July 30 during the track's biennial Legends Day card.
"I'm going to end up where I started. Ontario has been big part of my life," said Campbell, who is a native of Nairn, ON, northwest of the city of London and about 40 miles south of Clinton. "Although I've spent most of my life in New Jersey, I still consider Ontario home for a huge part of my life. It's coming full-circle and I'm very comfortable with that."
On Thursday, it was announced (full story here) that Campbell will become president and chief executive officer of The Hambletonian Society as of July 1. That means Campbell's last active day as a driver will be June 30, with two exceptions — Hall of Fame Day at Goshen Historic Track on July 2 and Legends Day, which was created by Clinton Raceway general manager Ian Fleming and is an event Campbell has never missed since it began in 2001.
"I had talked to Ian about the date earlier in the winter and I had a commitment to go to Clinton and I didn't want to change that. Contractually, (the Hambletonian Society) wanted me to stop driving the first of July, obviously, and that's been reported, but I also told Mr. Ebby Gerry, who is very involved with the harness museum up in Goshen, that I'd like to drive on the Hall of Fame Day there and then I also had a commitment to race at Clinton. So, (the Society) talked to their insurance company and those are my two last dates (as a driver)."
Fleming said he is deeply honored Campbell's last drive will come at Clinton Raceway.
"It's great," Fleming said. "Legends Day has always been our biggest day since we started it. So, it was a big day for us to start with and now with it being the last drive for John, it makes it even more exciting. We're honored he's decided to make Clinton his last stop."
Legends Day features a bevy of Hall of Fame horsemen signing autographs, racing against each other in the Legends Day Trot and then joining in on a popular banquet that in 2015 fed more than 1,000 people in a trackside tent.
All eight previous editions of Legends Day have been held on the Labor Day weekend, but a conflict this year with the Pennsylvania Sires Stakes championships caused Fleming to move the event to July 30 in hopes of drawing the greatest number of Hall of Fame horsemen.
"Also, a lot of fans can't come on the long weekend. So, we think it's going to be a good idea to try it at the end of July."
The event is a fundraiser for charities in Clinton. In 2015, Legends Day raised $30,000 for the Clinton Public Hospital Foundation, which will be the charity again this year.
"It's an event that seems to be picking up speed. So, we're going to hope for even better things this year," Fleming said.
"I'm such a huge fan of Legends Day and the whole concept Ian (Fleming) came up with and how he puts it on," Campbell said. "The crowd there each and every time has just been remarkable. I feel very honored and lucky to have my last go-around in front of those people."
Legends Day was also a favorite of Campbell's late father, Jack. "(My wife) Paula said, 'Give your dad one more day and I know what day he would pick,'" Campbell said, adding that if his last driving appearance does draw more people, all the better to help the hospital.
"If the crowd is bigger and there's more benefit to the community from this, that's just an added bonus and, obviously, makes me feel very good. That's just great if that's the case," he said.
Campbell said he's received a "tremendously positive" reaction to Thursday's news that he was quitting driving on his terms and taking over the helm of the Hambletonian Society. He will replace Tom Charters who is reducing his work schedule as he edges toward retirement.
"Everybody has been wishing me well and been very happy for me and very supportive of my decision," Campbell said. "I will say there was a lot of people kind of surprised and some people that are shocked that I'm retiring (from driving). That surprised me a bit, but it's been overwhelmingly positive.
"As I said to some people, 'You can't drive horses forever.'"
Campbell, who will turn 62 on April 8, said he likely would have retired before now if he hadn't been able to still compete at the highest level of the sport.
"I'm proud of the fact that even in 2016 I got opportunities in the big races all year long," Campbell said. "That's one thing I'm really proud of and that's why I really kept going like I did. I was still getting opportunities in big races. There's lots of guys out there that are very, very good drivers and they're looking to get in those and I was still in them."
He said he would love one more shot in a major stakes race and the most notable one on the schedule is the $1 million Pepsi North America Cup on June 17 at Mohawk Racetrack. Campbell is the NA Cup's all-time leading driver with six victories.
"I would love to have one more kick at the can in the North America Cup for sure," he said. "I really didn't have a top two-year-old pacing colt last year, but you never know what's going to come out and you never know how things work out. I've gotten drives in every conceivable way imaginable over the years. It would be great just to have one more run at the North America Cup."
Lifetime, Campbell has won just about every major stakes races in the game multiple times, visited the winner's circle on 10,636 occasions and collected purses of more than $299 million, $85 million more than the next closest man — retired driver Ron Pierce — and more than every jockey in the thoroughbred game except John Velazquez.
Fleming said more details about Legends Day will be released in the weeks ahead, but, above all, Campbell's retirement is an opportunity for one of the greatest drivers to ever sit in a sulky to close out his career in a manner befitting his incredible credentials.
"He'll be driving against a bunch of other Hall of Famers for his last drive," Fleming said. "It's a great day for us, anyway, but I think we can make it even bigger. We're certainly excited about the chance to do this."