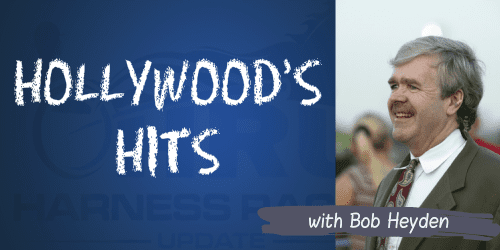 Hollywood's Hits: Celebrating our Oscars and looking back on the best of 2016
by Bob Heyden
Just because the Academy Awards lands on the same night as tonight's Dan Patch gala, doesn't mean our numbers of note get lost in the translation. Just the opposite, actually, as the 2016 season produced more than its share of memories and promise going forward. Here's a look/recap/tally of some of the most notable items of interest from a record-breaking season:
Always B Miki
Always B Miki is the third straight homebred to win Horse of the Year and the second straight that is Indiana-sired.
He is the fastest horse in two countries and the first five-year-old pacer in 55 years to be named HOY since Adios Butler last did it in 1961.
He is the first 21st Century HOY for Jimmy Takter (1997-Malabar Man; 1998-1999 Moni Maker).
Takter has set the world all-age trotting record before (Tom Ridge-1:50.2) and now he owns the all-age pacing record with Always B Miki at 1:46.
For the first time, two Swedish trainers have the concurrent world standards for both trotters and pacers. Ake Svanstedt's 1:49 with Sebastian K still holds.
Both Always B Miki's driver (David Miller) and trainer (Takter) are already in the Hall Of Fame.
Who was the last race-record holder to make his final start at the Meadowlands and be named Horse Of The Year? Somebeachsomewhere in 2008.
Muscle Hill
We all know he completely dominated the stakes scene. He stole the show on Hambletonian Day and became the first Horse Of The Year to sire a Triple Crown winner (Marion Marauder). But he also became the only trotter ever to win a million-dollar race with two different horses in one season — a feat that only Niatross had done prior on the pacing end.
Muscle Hill had Marion Marauder win the Hambletonian and Resolve win the Yonkers International. In 1985, Niatross had son Barberry Spur win the $1.5 million Governor's Cup and son Nihilator win the $1 million Meadowlands Pace.
Scott Zeron
Scott Zeron is the only driver in history to win a Meadowlands driving title and capture the Trotting Triple Crown, and he did so 10 years younger than any other driver to win any Triple Crown.
David Miller
David Miller has had a couple of years for the ages. Turning 50 certainly has agreed with him since he twice nailed down the Driver Of The Year award since he turned the Big 5-0.
Miller is the driver of the fastest male (Always B Miki 1:46) and female (Shebestingin 1:47) of all time and is history's only driver to have won a Breeders Crown and a Triple Crown in the same year (2003 No Pan Intended).
He's also the driver to the Horse Of The Year in the U.S. (Always B Miki) and Canada (Betting Line) and also drove the fastest miles in history of either country (adding Miki's 1:47 mile in Canada).
He also drove the fastest sophomore and older horse in consecutive seasons:
2015 — Dealt A Winner (1:47.3) and State Treasurer (1:47).
2016 — Betting Line (1:47.2) and Always B Miki (1:46).
Miller is also on the heels of Ron Pierce in the career earnings department and is about to move into the number two slot sometime in late spring.
Campbell approaching $300 million
John Campbell is closing in on $300 million in his career. He is the first to reach $100 million and $200 million, respectively, and likely will hit the $300 million milestone around the end of April or so.
Campbell has 16 national earnings titles. The following six drivers have 10, combined! (Brian Sears-1; Ron Pierce-2; David Miller-1; Yannick Gingras-3; Mike Lachance-2 and Luc Ouellette-1).
No awards night is complete without the presence of Campbell, who is in line — possibly in 2017 — to tie a couple of legends for the longevity mark in some major stakes.
Consider:
Campbell's first Jug in 1981 was with Armbro Wolf, 36 years ago. His first Meadowlands Pace was in 1981 with Slapstick, 36 years ago.
Billy Haughton's gap from his first Hambletonian to his last was 35 years (1949 Crossbow DNF to 1984 Gallant Pro off the board).
Willie Shoemaker's Kentucky Derby run spanned 36 years (1952 Count Flame 9-1 was fifth and in 1988 Lively One 18-1 was 12th).
Del Miller's driving gap in the Hambletonian was 36 years (1946 Don Scott fourth 1982 to Nimitz and Arndon sixth and eighth, respectively).
Stanley Dancer holds the driving longevity record in a major event with a 39-year span between Newport Champ finishing 18th in the 1953 Hambletonian and then, in 1992, making his final appearance as a driver. It should be noted that Stanley Dancer did not make a dime in the Hambletonian in his first seven tries — and that includes Noble Victory in 1965, history's first $1 million syndicated trotter. Billy Haughton missed a check in five of his first six attempts, but he and Dancer more than made up for this later on.