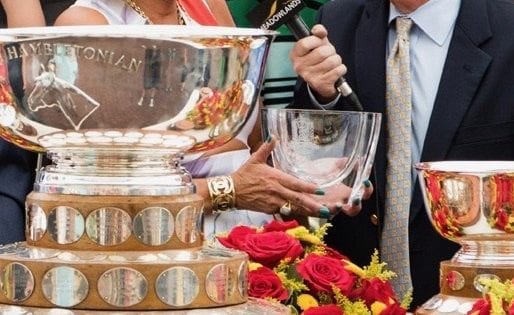 McKee on the mend after surgery
Hall of Fame race caller Sam McKee, 54, is recovering from surgery in a New Jersey hospital after suffering a major stroke on Thursday (Feb. 2).
McKee's sister, Sally, reported via email that Sam's family and friends have gathered to support him. Sam is currently stable and the immense outpouring from the industry has been deeply appreciated by those close to Sam.
McKee, the director of television and a long-time race caller at the Meadowlands Racetrack, is expected to have a long road to recovery.
"There will be a challenging road ahead for his emotional and physical recovery," said a Meadowlands press release issued Friday. "Sam will most likely require months of physical rehabilitation.
"The McKee Family would like to invite everyone to continue sharing their thoughts and prayers with Sam. A GoFund Me account has been established to help his family during the long road to recovery. The medical fund can be accessed via GoFundMe (click here for link)."
As of 10 p.m. Saturday, the GoFundMe account had already exceeded its goal of $100,000 and had over 400 donations totaling more than $106,000.
Meadowlands CEO and GM Jason Settlemoir visited McKee in hospital Saturday afternoon.
"Sam has had a major surgery and he is early in his recovery," Settlemoir reported by text after the visit. "Sam is responding to stimulation. Nothing is unusual at this time for what he has been through. Please continue to pray for Sam and his family as his long road to recovery has begun."
McKee has worked at the Meadowlands since 1998 and was inducted into the Communicators Hall of Fame in 2012.
"His knowledge, devotion and love for harness racing is simply unmatched," said the Meadowlands press release. "Anytime he walks into a room, his energy and excitement is infectious. Sam is a tireless worker and gives all of himself to promote his beloved sport. There is no fan, horsemen, or even bettor that has not felt goose bumps while listening to one of Sam's signature 'charging hard' calls as the horses come storming down the Meadowlands stretch.
"While Sam has touched and influenced countless people in the industry, his character and reputation stand above all else. He is the most kind, genuine person you could meet and is tremendously generous to all that know him.
While the family continues to appreciate the outpouring of support from so many people, they ask that their privacy be respected during these challenging times. More updates will be provided as necessary."