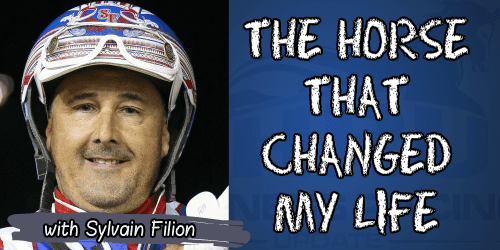 The Horse That Changed My Life: Sylvain Filion
by Dave Briggs, courtesy Ontario Racing
(Editor's Note: This item originally appeared on the Ontario Racing website recently under a section called For The Love Of Racing which still adds new stories weekly. Harness Racing Update will periodically republish some stories from the archives and plans to add original ones here featuring the stories of participants from across the harness racing world)
It's a safe bet recently-crowned Canadian Driver of the Year Sylvain Filion is the only person that earned his driver's license by baby racing a future North America Cup winner. It's one of many reasons the four-time winner of Canada's top driver award lists Runnymede Lobell as the horse that changed his life.
Filion was 18 in the summer of 1987 when he and the son of Nero out of Racy Heart learned their first racing lessons together in Montreal. Filion said he didn't know at the time that the colt was something special.
"I didn't really realize then, but I knew he was very easy to drive, so that made it easy for me. You could feel he had a lot of power," Filion said.
Runnymede Lobell, owned by Filion's father, Yves, of Saint-Andre-D'Argenteuil, QC and Norm Mondoux of Laval, QC, went on to win 31 of 48 career races, over $1.6 million and the 1988 North America Cup with Yves in the sulky and Sylvain as the trainer. It was the first NA Cup victory for a horse owned and trained by Quebecers.
"It was just a great night," Sylvain said of the '88 NA Cup. "It was at Greenwood back then. We were all there, the family. It was just a great, great time."
Another great thing happened last August when Yves Filion was officially inducted into the Canadian Horse Racing Hall of Fame.
Runnymede Lobell not only got Sylvain's driving career started and earned the family an NA Cup, Sylvain likes to remind his father of one other important fact.
"I told him I was the only one that didn't get beat with him. I won the qualifier," Sylvain said, laughing.
Sylvain, who turns 48 on Feb. 7, has driven in more than 46,000 races, winning nearly 8,400 and in excess of $91 million in purses.
Though Runnymede Lobell was the first, he said other horses have had a tremendous impact on his life — most notably Supreme Jade, who gave him his first win in 1987 at Rideau Carleton; millionaire pacing mare Tricky Tooshie and his father's $1.5 million-winning pacer Goliath Bayama, who was second to The Panderosa in the 1998 NA Cup. Yet, the driver said he is still looking for another great horse to come along.
"I hope the horse that will really change my life is the next one," he said. "I'm still looking for it."