by Brett Sturman
There's a scene in the film Rounders where an ultra-gifted poker player played by Matt Damon amazes his lesser talented colleagues by successfully playing a poker hand with seeing only half of the cards dealt. He later says, "Put a guy like me in a game like that, the cards don't even matter."
At the risk of over simplifying handicapping in harness racing today, that's almost how you can look at the relationship between a trainer and everything else that appears in the past performances.
There's a dynamic at tracks today where many of the races are won by a select group of trainers. In 2016, horses sent out by the controversial stables of Rene Allard or Tom Milici at Yonkers always warranted a look regardless of how they may look on paper and similar can be said for horses from the Chris Oakes barn at Pocono Downs. On the larger circuits, horses from the Ron Burke stable at the Meadowlands always deserve respect as do pupils from Richard Moreau at Woodbine and Mohawk. There are countless other trainers at these and other tracks that may not put up the sheer volume of starters that these barns produce but that are crafty in their own right just the same.
In my own handicapping, all things begin and largely end with the horse's trainer. Trainer data is the single most important piece of information contained in a racing program, yet not all past performances show this information the same.
The standard across all past performances for Canadian tracks is that the trainer is listed for every race line on view in the same manner that the driver is. This is not so in the U.S., where standard past performances issued by the Trackmaster company only show the trainer for today's race, without any indication if the trainer of the horse today is the same as the trainer from last week, or last month. Only in upgraded versions of the Trackmaster program is this data available, including the noting of when a barn change took occurred. This is extremely necessary in cases of sale or private transfer where there is nothing in a race line (such as a claim) that would indicate a trainer change.
The reason why this information is so important is that in my opinion there is no greater chance for form change (improvement or regression) from one week to the next than when a change in barns occurs. For the most part, horses in the same stable are fairly easy to predict from one week to the next, but all bets are off when a horse changes environments. Whether it be due to equipment changes, routine, program, call it what you want — it's not uncommon to see dramatic reversals of form shortly after these types of changes occur. I'd even go as far as to say that in some cases, a horses past performances prior to a trainer change are meaningless once you see how a horse performs in its first start for a new barn.
To illustrate with a recent example, the 6-year-old mare Pretty Hot was claimed by Richard Moreau in the middle of December at Woodbine for a bottom-level tag of $10,000 where she was race timed in 1:55:3 and the week prior was timed in 1:56:3 when racing for a slightly higher claiming tag of $12,000. In her first start for Moreau just one week later at Woodbine, she won a conditioned event in a new lifetime best mark of 1:53:2. In this case it wasn't only the obvious improvement in time but also the manner in which it was accomplished. In the race, Pretty Hot went a long first over and appeared flat in the stretch before she was somehow able to find more. It was to the point where track announcer Ken Middleton called a horse he almost forgot about and stated incredulously, "How about Pretty Hot"! Pretty Hot paid 8-1 on the move first off the claim to the top barn.
In another example, there's a horse that we've become familiar with in the weekly picks section over the last couple weeks, JJs Delivery. This horse was claimed at Woodbine on Dec. 19 by a trainer I'm not as familiar with, but one that I should be. Trained off the claim by Rob McMillan, he shows a training record of 76 18-16-7 as of the last Woodbine program of 2016; those are some pretty gaudy numbers. JJs Delivery scored first start off the claim in Flamboro in a time of 1:52:1 and you don't have to follow that track daily to know how rare of a time that is and to know that this horse is clearly thriving in the new barn. When JJs Delivery came back to Woodbine he ended up in a race that went nearly as quick as the Preferred that night and didn't fire his best, but his very next start out he dropped and paid $9.90 as an easy winner. While not nearly as profitable, he stepped back up to the N/W $14,000 level last week and jogged at 3-5.
If you don't follow a track religiously most track programs document trainer statistics over given recent time periods and it's easy to see who the producing stables are. And if you do follow a track closely, it's critical to note trainers who seemingly win out of nowhere or who were previously unheard of. Such is often the case with beard trainers — a trainer on paper, but perhaps a suspended trainer or other individual remains behind the operation.
Just as horses have their form cycles, trainers have theirs as well. I recall last winter at the Meadowlands (2015-16) when Saratoga-based trainer Kyle Spagnola took the Meadowlands by storm and started the meet by winning with 10 of his first 23 starters. This meet at the Meadowlands, barns other than Burke such as Richard Johnson, Jack Franklin and Mike Russo have all had success as top winter barns. In fact, Russo has the best first-off-the-claim numbers as anyone, going six out of 19 dating back to the fall meet of 2014 at a track where claims have become sparse.
There can be many intricacies in handicapping a harness race, but sometimes the trainer will tell the story and that's all that matters. You can play it blind from there.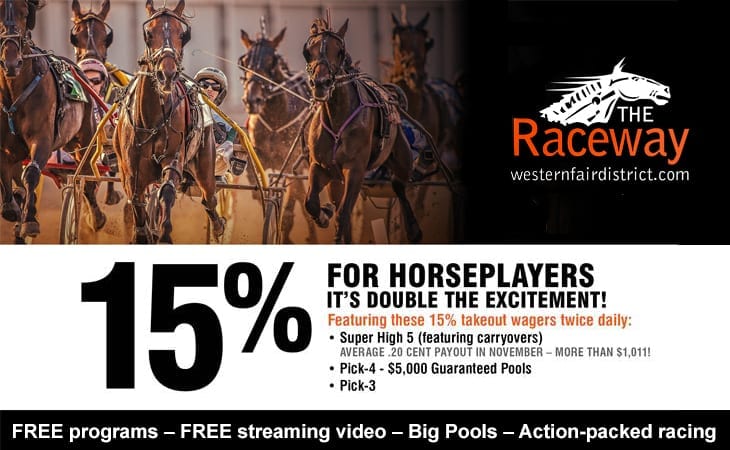 Picks of the Week
Last Week's Bankroll: $920

Total Wagers: $93
Total Return: $77

This Week's Bankroll: $904
Meadowlands – Saturday, Jan. 28
Race 7: After a couple weeks of picks in Canada, we'll go south of the border this week and look at the late Pick 4 at the Meadowlands on Saturday which boasts a $50,000 guaranteed pool. To kick off the sequence, HILLBILLY HANOVER has shot right up the ladder and he's obviously been this good before. He did well to close last week against a horse that already had the jump on him; should offer a better price this time around too. ONTARIO SUCCESS got Yannick back last week and pounced to a score from the pocket; an obvious short priced contender. DOCTOR BUTCH jogged against weaker here in December; Yonkers form is suspect. SOMESIZESOMESTYLE closes in :26 and change every week and will be moving forward late; PARNU HANOVER seems to figure early on.
$10 Win 2
Race 8: PREPARTY suffered a tough DQ here on New Years Eve for a pylon violation when he would have otherwise upset at 24-1. That field looked better than this one and I hate the likely short price but recognize he's one that should be included. SPEED AGAIN goes from Bongiorno to Gingras and I'd be shocked if he doesn't end up as the favorite in here when all is said and done; almost guaranteed to be put on the front. Has there been a bigger money burner than BLATANTLY BEST? He should have been better against that field last week and I'd have a hard time playing now at the usual short price. TITUS SEELSTER folded last out, but was a decent second two back to Hillbilly Hanover; that should count for something.
$2 Exacta Box 6/1,2,8
Race 9: JACKSON BRADY hasn't put forth a bad effort in his four recent starts here and had good pace to offer on both ends of his mile last week. He has the post edge on all main rivals and I'd easily be inclined to play. SO TAKE THAT picks up YG for trainer Watson and that could be a dangerous combination. CITY PIE closed from the clouds last out and gets Callahan back again for Russo. DR C'S Z TAM swept last week but can he do it two weeks straight with Marcus?
$2 Exacta Box 5,8,9
Race 10: PERSEVERANT looks like an astute claim from last week and goes from Taft to Russo in the process; bound to attract attention. LEGION OF BOOM faded a couple weeks ago when racing in less than perfect conditions and now promptly drops back to the level of his win two back; we'll see. DANCINGWITHDELIGHT was claimed away from Burke last out but retains Gingras for Bier; hasn't had any real excuse in last pair. UNIX HANOVER is fastest on paper but is compromised by the post; Brett Miller is going to take an early shot.
$0.50 Pick 4: 2,7,8 / 1,2,6,8 / 5,6,8,9 / 7,10 $48