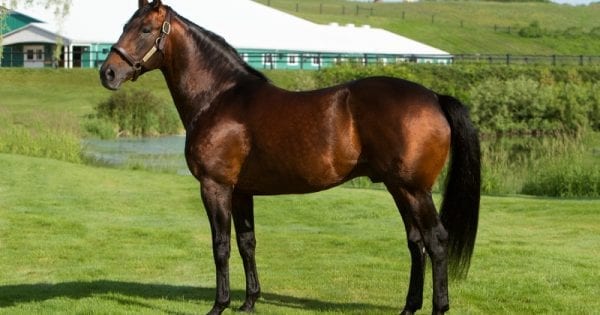 Heffering on Mach Three's untimely death: "I figured I had mine already"
Owner of Tara Hills Stud reacts to news that the sire of Somebeachsomewhere — and total progeny worth some $100 million — has been euthanized in New Zealand.
by Dave Briggs
David Heffering said he always believed pacing stallion Mach Three would end up dying of natural causes at a very old age to be laid to rest in a lush field in New Zealand.
"I figured I'd had mine already. I lost Astreos when he was Down Under. I lost Strong Yankee here at the farm. Now we've lost Mach Three," a devastated Heffering said Friday, shortly after word reached him that Mach Three was euthanized that morning (Jan. 20) at Alabar Farms in Waiau Pa, New Zealand following a paddock accident. Mach Three just turned 18.
"I always figured the rest of my stallions would just die of old age. They would stick around… Mach Three didn't deserve to die this way," said Heffering, the owner of Tara Hills Stud in Port Perry, ON where Mach Three has stood for 14 straight years during the northern hemisphere breeding season.
Mach Three — the sire of the legendary Hall of Fame racehorse and stallion Somebeachsomewhere ($3.2 million, 1:46.4 world record) — suffered a broken leg in his paddock and had to be put down.
"The stallion handler went out to Mach Three's paddock at Alabar Farms in New Zealand and found him lying there not able to get up. After an examination from the vet, they found Mach Three he had a fractured tibia. There was nothing they could do and had to put the horse down," Heffering said.
Astreos, who won the 2000 Little Brown Jug and later stood at Tara Hills during the northern hemisphere breeding season, was found dead in his paddock at Alabar Farms in New Zealand in October of 2006 after an apparent heart attack. He was nine. Just two months later, Strong Yankee was only four when he had to be euthanized at the University of Guelph after suffering a severe shoulder injury in a paddock accident at Tara Hills. Strong Yankee had not, yet, bred any mares.
Though both of those deaths came more than 10 years ago, it didn't make Mach Three's death any easier on Heffering and his staff.
"Mach Three was a good horse to work with, a kind horse to be around," Heffering said.
To add to the tragedy, Mach Three's death came the same day Tara Hills announced his 2017 book was full and closed at 140 mares. Mach Three was due to get on a plane back to Ontario on Thursday (Jan. 26).
"My staff is torn apart and wrecked by this. He was part of the family… This is family that has died," Heffering said. "We're in the livestock business and we're used to it, but no matter how many years that you're in the business you never really get used to it."
The fact that Mach Three cheated death twice before also gave Heffering hope the stallion — who is owned by the Muscara Racing Trust of Ivyland, PA — would live a long life.
Heffering said Mach Three developed colic before he first came to Tara Hills at the end of his 2002 season.
"I forget how many feet of intestine they cut out of the horse, but when he came to us he was just a rack of bones. He looked awful. We brought him back from the dead, basically, and he continued on and flourished. He's been great and he was a very photogenic horse for us. Lots of great pictures."
Heffering said a year ago Mach Three contracted pneumonia and nearly died.
"Still, clients stayed with us and we still bred 111 mares to him last year with good fertility," he said, adding that the Muscara family offered discounts to clients for the inconvenience. Now that Mach Three has died, Heffering said those impacted by his death would be offered discounts to breed to another of the Muscara-owned stallions. Other stallion owners with studs at Tara Hills have stepped up to also offer discounts, Heffering said. He said those affected should call Tara Hills for more information ((905) 985-7770).
Mach Three, a son of Matts Scooter out of All Included, has produced 1,297 offspring to date, with total progeny earnings of nearly $103 million by Standardbred Canada accounting and $97.5 million by USTA records. Standardbred Canada has Mach Three's progeny's average earnings per starter at $112,034 ($103,126 by USTA records). The stallion produced 298 horses that earned $100,000 or more and 105 that made more than $250,000, by SC records. He produced 437 horses than had a 1:55 mile, 274 that had a 1:53 mark and 30 that had a sub-1:50 mile.
"He's been a big part of the Canadian breeding scene and the North American breeding scene," Heffering said. "He made racehorses. That's what everybody tells us. You can breed to him and you'll get a racehorse."
Mach Three's six richest offspring are: Somebeachsomewhere ($3.2 million), Monkey On My Wheel ($1.7 million), Mach It So ($1.68 million), Solar Sister ($1 million) and Camaes Fellow ($985,000) and Down Under wonder Auckland Reactor N ($966,000).
The late Joe Muscara, Sr. of Huntingdon Valley, PA purchased Mach Three in May of the pacer's sophomore season from Linda Magid of Cambridge, ON, the widow of the pacer's breeder, Karl Magid. Karl was known for founding the famed Lulu's Roadhouse in Kitchener, ON in 1984. Lulu's, which Karl owned until 1987, was a mammoth nightclub that occupied the site of a former K-Mart and once was home to the world's longest bar. It was also a frequent stop for some of the world's most successful popular music acts.
Mach Three posted a record of 7-2-0 in nine starts at two in 2001 and won the $1.1 million Metro Pace at Woodbine in 1:51.4 while under the tutelage of Brett, Shawn and Bill Robinson, along with Monte Gelrod. The Metro victory came seven months after Karl Magid died of cancer.
The following year, Mach Three won the $1 million Meadowlands Pace in a career best 1:49. At three, Mach Three had a record of 11-2-2 in 18 starts to give him a career record of 18-4-2 in 27 starts and earnings of $2,376,700. Mach Three was predominantly driven by Randy Waples at two and John Campbell at three.
Mach Three stood his entire career at Tara Hills Stud in the northern hemisphere and Alabar in the southern hemisphere. His first foals hit the ground in 2004.
"The Muscaras have been friends forever," Heffering said. "They're taking it very hard. All of us know this can happen in the livestock business, but their father passed away a few years ago and this is part of their dad's legacy to carry on. Young Joe has gone down to New Zealand to visit the horse. They are very close to their horses."
The impact of Mach Three's death on Tara Hills is immense, Heffering said.
"He's been a cornerstone stallion here for the farm and a marquee stallion for the farm… He's been a big part of the Canadian and North American breeding scene."
Heffering said Mach Three would be buried in New Zealand.
"We knew that someday he probably wouldn't be coming back here. We talked about him retiring one day and staying in New Zealand… where most of the time the weather is pretty nice and there's nice green, lush pastures," Heffering said.