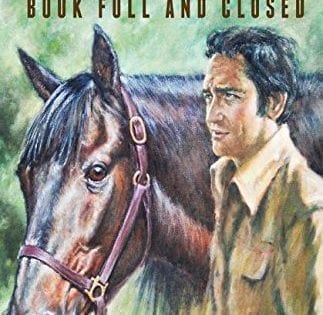 A rollicking ride through harness racing history
Reviewing Victoria Howard and Bob Marks' book about the life of HRU's resident Curmudgeon.
by Joe FitzGerald
Murray Brown: Book Full and Closed by Victoria M. Howard and Bob Marks gives us a glimpse into the personal and professional life of the self-proclaimed "curmudgeon" who has been public relations director at Hanover Shoe Farms for more than a half century and was sales manager for the Standardbred Horse Sale for 41 years.
Brown's story is told in the first person, the content having been generated in conversation with long-time friend and fellow pedigree maven Bob Marks (Bobbo) and co-author Victoria Howard. As one might expect, strong opinions are plentiful. The book is heroin to a pedigree and breeding junky: the plethora of insights into and anecdotes about the horses and people who have dominated the sport — in both a good and bad way — for the 50 years are unmatched.
Murray, a native of Montreal, lost his dad at age two and his mother at 14. This obviously had a profound impact on his life, but he seemed to adapt to whatever came his way and, buoyed by his love of sports and related statistics, he seemed to emerge from childhood none the worse for whatever hardships he endured. This ability to accept and make the best of unexpected roadblocks played out repeatedly later in life during his long stint managing the Harrisburg sale: customers who didn't pay, horses that couldn't be found, consignors who made unreasonable demands — all were dealt with in some form or fashion.
He lived in close proximity to Blue Bonnets and was not averse to making the convoluted public transit sojourn to Richelieu so he became hooked on harness racing as a teen, often waiting for the admission price to be waived near the close of the program, or simply sneaking in via the backstretch.
Herve Filion was his favorite driver and Brown recounts a harrowing 130 MPH ride home in Herve's 1957 Ford Thunderbird convertible, with the dauntless reinsman standing up to adjust the antenna as they flew down the road.
Devouring the latest issue of The Harness Horse and reading the USTA Sires and Dams book from cover to cover led to a job doing pedigree work for the Miron Brothers when he was in his early twenties. They owned a 200-acre farm north of Montreal and bred horses with the "Mir" farm name. The brothers also owned the outstanding trotter Tie Silk, who was the 1962 Horse of the Year in Canada.
An encounter with Alan Leavitt while Brown was employed by the Miron Brothers led to a short-lived job at Lana Lobell in Pennsylvania when Brown was 26, and not long after that he was hired by Lawrence Sheppard and began his long career at Hanover. A couple of years later, Mr. Sheppard passed and John Simpson took charge.
The book begins and ends in the present, but delves into the past through a series of sub headings. We get "The Wonderful and not so wonderful People" which starts out with a series of tributes to 15 of the people he worked for and with at Hanover, including Russell Williams, Kenny Hamm and Dr. Bridgette Jablonsky.
In the "Legends" section that follows, Murray describes Mike Lachance as maybe the smartest trainer/driver he has ever known, as well as a great businessman. Bill O'Donnell is ranked the greatest driver he has seen at a point in time — a window of 3-5 years. Fifteen figures from North America, plus Brett Pelling, are covered here, as well as several Europeans such as Jean Pierre Dubois and Ulf Thoresen.
In the "Still Active" section Murray marvels at the success enjoyed by Blair Burgess, "considering his frugal spending tendencies on yearlings" and expresses surprise at Steve Elliott not being in the Hall of Fame.
Jimmy Takter, Ron Burke, Casie Coleman and Tony Alagna are explored in the "Soon-to-be-Legends" area, while friend and horse partner John Ferguson, Keith Waples and others fall into the "From North of the Border" section. He describes Bill Wellwood, who he respected as a horseman and designer of lucrative training centers, as the biggest curmudgeon he's ever known.
There are 24 "Customers and Characters" profiles, including George Segal, "Wild Bill" Perretti, Lou Guida, the Antonacci Family and Bob Boni. His late brother-in-law Geoff Stein is also covered here.
David Brooks, who Brown said threatened to have him killed on three separate occasions, heads the "Rogues Gallery." Bob Waxman, Jim Wheeler, Lee Tevis and, once again, "Wild Bill" Perretti also make this list. For some reason Alan Leavitt, who pops up several times in the book, always in an unflattering light, is not included. While exiting The Red Mile, after watching Albatross pace the fastest race mile ever in the Tattersalls Pace, Murray and John Simpson were incensed at the prospect that Leavitt would stand Super Bird instead of Hanover.
The Panderosa is tabbed as the most beautiful yearling Brown has ever seen, while Wendymae Hanover is the most impressive yearling pacing filly he has encountered. She, of course, is the dam of Hanover's jewel Western Hanover, who Murray says is the most influential sire of the last quarter century. He takes great pleasure in seeing the wise guy labels "Little Ralph" for Western and "Simpson's Folly" for Big Towner be proven laughable.
We're told that the failed stallions Florida Pro and Prakas dealt such a blow to the Hanover broodmare band that the farm is still reeling from it.
Large Harrisburg dispersals for Allwood — in which all of the horses sold had strangles at sale time—Boardwalk, Walnut Hall, Lou Guida, Heffering-Brightstone, Harvey Gold, Yankeeland, Armstrong Brothers and Perretti are covered in depth.
The last chapter and an epilogue bring the reader up to date on Brown's personal life.
I can't recall reading another book on this sport that covered such a wide swath of nuts and bolts breeding, selling and racing topics as well as this one does. This is a can't miss for the genuine harness racing fan.
You can purchase Murray Brown: Book Full and Closed through Amazon in the U.S. (click here for link) and Canada
 (click here for link). At press time, the U.S. Amazon store listed the book as being out of stock.