by Brett Sturman
Last Week's Bankroll: $1,000

Total Wagers: $64 | Total Return: $51
This Week's Bankroll: $987
---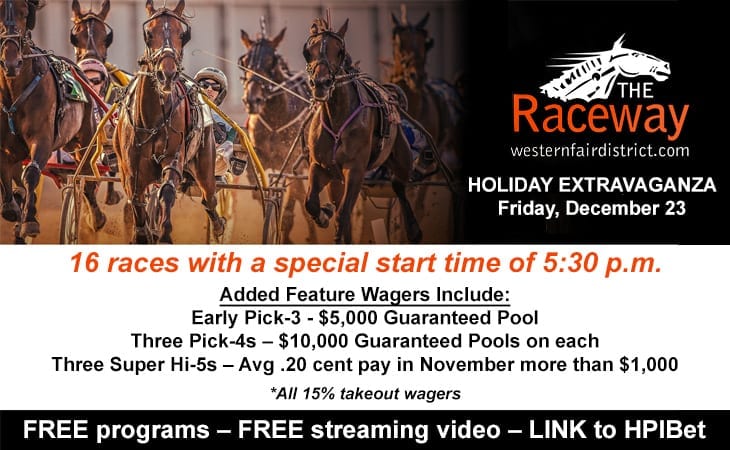 ---
Friday, Dec. 16 – Western Fair
Race 4: IONIA hasn't lost in the new barn since returning to the races earlier this month following a limited number of Ontario Sires Stakes (OSS) starts during the summer. The two-year-old Majestic Son filly faces predominantly elders in here but simply may have more talent than most; Steward back aboard and may only need to get away well from the second tier; continues to go faster. BIPARTISAN HANOVER lands 9-5 morning line favoritism despite the outside post and has not raced since October; what are we supposed to make of that? The three-year-old Kadabra gelding jogged when last seen but it's tough to predict what we'll get now; clearly should appreciate the smaller track, but might let him beat me if he can. PERFECT LOVER figures a chance on paper but chased the top choice in vain last out from the pocket; seeks to turn the tables for Lyle. It's a big drop off after these top three; LILYSGONECHEATING can land a slot in the super with a flat mile.
$10 Win 8
Race 8: WINDSUN CHEYENNE has won his last pair convincingly and looks sharp enough to handle the step up to the $8,500 claiming level. This one was actually entered most recently at Flamboro for $12,500 before that card was cancelled due to poor weather conditions so that's encouraging; recent win times rate well. GOLIATH REIGNS was top driver Bob McClure's pick over the top choice and exits a win at this level last out as a comfortable tripped out winner. He tired on the front in his race prior, but his try from three back would likely be good enough; expect a short price. HP SHADOW drops but is compromised by the post; has had no luck at the draw since the claim three back. LIGHTNING LEGS goes first start for the new barn but seems up against it with these from out here. LITTLE QUICK can tow along on the move back to the inside.
$10 Win 4
Race 9: In an opening leg of the Alliance Series for $7,500 claimers, PACIFIC WAVE K gets the upset nod. This one goes third start off the claim and had no shot last out from the outside post in the Western Fair Preferred-3; absolutely crushed similar claiming foes two back. JIMORIS TIGERESS looms a typical short priced contender from the rail as many at this oval do. This one goes for trainer Bossence whose barn has won a remarkable six of their last seven races including two in a row with this one; tough to go against. TINAS WAR took a run at the likely favorite last out but had to settle for second; it wasn't a bad try and she'll be stalking once again. MOST WANTED LINDY drops but recent form is suspect; turnaround tough to predict for a six per cent barn. RIDDLE ME MISS has flown from impossible spots in her last three; coming from last once again.
$10 Win 3
$2 Exacta Box: 1-3
---
Friday, Dec. 16 – Meadowlands
Race 7: The featured pace of the night is wide open and a case could be made for nearly anyone in here. ASHLEYS HUSBAND is likely to get bet down off his 8-1 morning line, but the price should still be square enough to warrant taking a shot with. This one couldn't track down the leaders in his last two but was impressive three back when he closed in :26:2 to win easy; makes his fifth start back from the layoff and is no stranger to the winners circle here. CITY HALL has rocketed up the class ladder in recent weeks and that was a sub :26 final quarter this one stormed home with last out; he's been this good before. MATRIX OF LUCK jogged two weeks ago but that was with Yannick; it's back to Joe B here for the lone sophomore in the field. BULLET BOB posted another front-end score last out and that's now two out of three for him; continues to go relatively overlooked each race and no question about the strategy with Callahan back. MR HASANI N has suddenly found his best form again at the near age of nine; scored three weeks ago off a sweet trip. I feel EL BLOOMBITO has somewhat underachieved this year; exits a win at Philly though and does throw in a good win here from time to time.
$10 Win 4
$1 Exacta Box: 1-2-4-8 $12
Race 8: ELWELL took deserved tote action last week and raced accordingly in a really good-looking score; he's bound to attract attention once again in this spot from the rail. The step up in condition doesn't appear all that big when looking at others in the field; any repeat of his last gives him a big chance to repeat. GHOST PINE is a player while landing his best starting slot in some time for trainer Coyne; picks up Andy and seems bound to land a share. SOMESIZESOMESTYLE was nailed last week by a powerful winner so no disgrace there; early speed likely coming. MORE DRAGON came up empty last week as the 3-2 favorite with no apparent excuse and his try prior at Pocono wasn't stellar either; morning line fave is in need of a turnaround for Burke. TOTALLY DREAMY wasn't bad last out on the step up; Russo barn was hot here last winter.
$10 Win 1
$1 Exacta Box: 1-3-7
Race 9: TINK AND TIGER makes his second start at this level and had some sneaky late pace to offer last out. The winner of that recent race is superior to anyone in here Marcus will have this one in play tonight; figures. CLASSIC AMERICAN didn't have the easiest go of it last out and this field doesn't seem as tough; one-run type can reach with a well-timed move for barn that's been going well of late. FITZ'S Z TAM came on with a late surge last Saturday in a race that had a couple older foes with class; the post hurts but this one isn't without a chance if Callahan can find a way into it. ROCK STAR was involved in a fast mile last out and beat lesser two back; picks up Ginsburg and wouldn't be a total shock. ASTOR would have once crushed these many moons ago; exits a confidence-building win at Freehold. GAMBLER'S TALE can beat me if he can.
$20 Win 4
$1 Exacta Box: 2-3-4-10
---
Saturday, Dec. 17 – Woodbine
Race 9: The Woodbine Preferred features the return of MODERN LEGEND who makes his first start since May 2015. Just $30K shy of the $1 million lifetime earnings mark, the shocking winner of the 2014 Canadian Pacing Derby has returned with two good looking qualifiers for the local connections following lengthy time off that first began with a sickness. He'll most likely be using tonight to re-acclimate; I'd be surprised if he even wants to go sub-1:50 in just his first start back. NICKEL BAG zipped right down the road in the Preferred two weeks ago despite being used past a :25:4 opening quarter; this after he finally got a night off from rival Andreios Kardia. A repeat seems likely provided driver Henry is inclined to put him back on the engine tonight. TRACEUR HANOVER was surprisingly favored at this level last out but that was now three weeks ago; Moreau will need to have him A-1 ready. ALEXAS JACKPOT has been knocking on the doorstep of late; crafty barn.
$15 Win 6