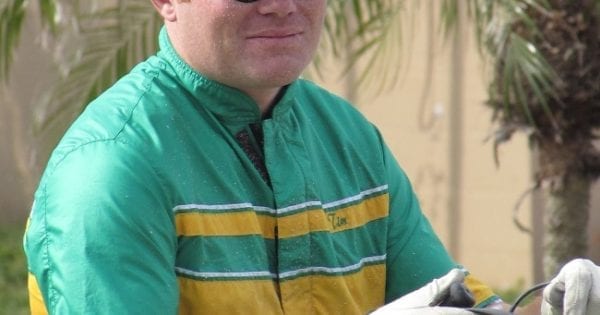 Meadowlands drivers to scatter for winter
by Bill Finley
Some familiar names will be missing from the Meadowlands drivers' colony this winter.
David Miller, Scott Zeron and Tim Tetrick are among the top drivers who have told HRU they won't be spending much, if any time, in East Rutherford this winter, and Yannick Gingras said his plans depend on how much his main client, Ron Burke, needs him there.
The Meadowlands will race on Thursday, Friday and Saturday nights for much of the winter, until stakes season resumes in the spring, but the purses will be small.
Tetrick, 35, is regarded as one of the hardest working drivers in the sport, but says he's ready for a vacation. After Christmas, he will leave for Pinehurst, NC and spend much of his time at the training center there.
"I'll be in Pinehurst for at least January and February," Tetrick said. "I'll play it by ear from there. Linda Toscano has her stable down there and I'm going to take a couple of the racehorses that I own, some babies, and mess around with them for a couple of months."
Tetrick said he is looking forward to what will be something new for him, a working vacation.
"I've never done this before and I've always wanted to try it," Tetrick said. "Next year, my daughter goes to school, so that will be it for many years while she's in school. It will be nice to have a little time with my family since I'm usually on the road all the time.
"I'll play it by ear when I come back. I know I'll be doing some Yonkers with the Levy and the Matchmaker and when I get back I will do Dover full time and see how it goes."
Miller took last winter off and plans to do so again. He will spend a few months relaxing in Florida.
"I'm going to do the same thing. I'm going to head down there the first of the year," he said. "My daughter goes to school down there, so I will take a couple months off from racing and hang with her. It works out well."
Miller said he returned last year after his break with renewed energy.
"It definitely freshened me up," he said. "By this time of year I'm pretty burnt. I know people don't want to believe it, but we do an awful lot of running around and an awful lot of work. You get worn out. I'll be back the first of April."
Zeron, 27, will be hard at work, only at Yonkers. He had been driving there during the days the Meadowlands is closed, but said that this winter he will chose Yonkers over the Meadowlands on Friday and Saturday nights when the two tracks go head to head.
"For the wintertime, I'll do Yonkers five days a week and when they take off in late December and early January I'm going to take three weeks of vacation. I've never had anywhere near that length of time off since I first started driving. Later in the year, I'll judge it based on what I have coming up for the Levy and Matchmaker. If I don't have anything strong for that I'll make the move back to the Meadowlands when a bunch of the guys make the move to Yonkers for those two series. If I do have good drives for the Levy and Matchmaker I'll stick it out at Yonkers. It will be nice to stick to one place, which is something I've never been able to do since I moved down here."
Gingras said he has plans to take a family vacation in April. As far as how much he drives this winter at the Meadowlands he said that will depend on what his clients need from him.
"It will all depend on what's in and what Ronnie (Burke) has in the box," Gingras said. "Takter doesn't race in the winter, so Burke will be the one I'll get most of my business from."