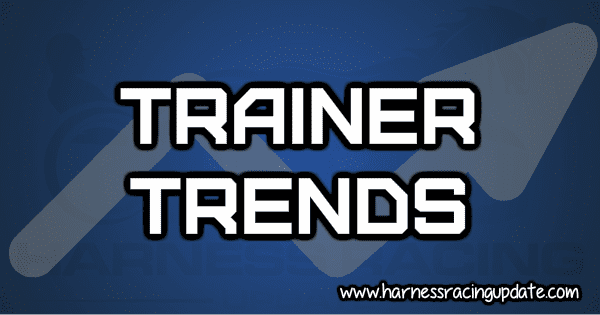 As the year winds down, here's how the top money-winning trainers are trending compared with 2015.
by Joe FitzGerald
This is a look at how the top 20 trainers are faring through Nov. 14 as compared with their stats through that date in 2015.
Trending Up
Rene Allard, who unlike Ron Burke and Jimmy Takter grinds out most of his money on the overnight circuit, is back at number three. He has 11 fewer wins than at this point a year ago but his earnings are up by nine per cent — more than $439,000. Allard is number one at Yonkers and number two at Pocono Downs.
Tony Alagna is fourth again. Last year he made the jump from seven to four and has held on to that spot. Tony has 11 fewer wins but his money is up by more than $439,000 — nine per cent. His colt Racing Hill is number two on the all-horse earnings list. His starts were down eight per cent between 2014 and 2015 and are down nine per cent since a year ago: less is more.
Ake Svanstedt, who was at nine in mid-November of 2015, is at five. His wins are up by 20 per cent and his money is 28 per cent better — $1.2 million. His UTRS is off from 0.305 to 0.293. Ake moved up nine spots to number eight last year and continues to advance in NA. Resolve was his top performer. He is number eight at The Meadowlands, seven at Pocono and five in the NYSS.
Erv Miller, who dropped eight spots to number 11 last year, is up five to number six from mid-November of 2015. He only has one more win but his earnings are up by 23 per cent. Miller trains BC winner Someomensomewhere.
Linda Toscano, the trainer of world champion Walner, jumped nine spots to number seven. She shows 19 more wins and 32 per cent more money — a million dollars. Linda is second in the NYSS and fifth at The Meadowlands.
Trainer Chris Oakes stepped up seven spots to number eight. The trainer of Luck Be Withyou and Homicide Hunter has 73 more wins and is up a million dollars — 30 per cent. Oakes is the leading trainer at Pocono Downs, where he forms a dynamic duo with leading driver George Napolitano Jr. He's number six at Harrah's. His UTRS has risen from an impressive 0.414 to a dominant 0.441.
Richard Moreau, Canada's Trainer of the Year the last three years, jumped three spots to number 11. He has eight fewer wins but his earnings are up 11 per cent — more than $296,000. Moreau, who recently recorded his 5,000th win, is the leading trainer on the WEG circuit and was number four in the Ontario Sire Stakes this year.
Richard Banca moves up seven spots to number 13. He has 17 more wins and is ahead $504,000 —10 per cent. Banca grossed under a million dollars in seven of the eight years prior to 2015, when he blossomed at Yonkers Raceway.
Casie Coleman, who reduced her starts by 58 per cent between 2012 and 2015, moves up seven spots to number 15. The trainer of LBJ and Cup winner Betting Line only shows one more win, but her earnings increased by 21 per cent — $488,000. Her UDRS increased from 0.306 to 0.423. She was number four back in 2014.
Thomas Milici, 61, who never won more than 45 races or $305,000 prior to 2016, continues to dazzle us at Yonkers Raceway. He has accumulated eight times as many wins and eight times as much money as he did in all of last year.
John Butenschoen, who turned all his young stock into gold, leaped from 28 to 17. His wins are up 19 per cent while his earnings are 31 per cent ahead of one year ago. PASS champ Giveitgasandgo and NYSS champ Funknwaffles are a couple of his standouts.
Chris Beaver stepped up 14 spots to number 18. His wins are up 33 per cent and his earnings 30 per cent — more than $637,000. He has Moonshiner Hanover, Muscle Up The Goal and Il Sogno Dream, among others.
Number 19 Clyde Francis went from 25 wins at this point last year to 56 now. His earnings are up five per cent. Wiggle It Jiggleit accounts for half his wins and 80 per cent of his 2016 money. He had no earnings as a trainer in 2014.
Number 20 Jim Dailey wasn't in the top 50 last year. The Ohio trainer has nine more wins than he had in all of 2015 and he has earned more than $2 million this year — 45 per cent more than in all of last year. The resurgent Ohio Sire Stakes program has been a godsend for him. Dailey collaborated with Josh Sutton to win three of the $250,000 Ohio SS finals with Rose Run Spanky, Scotch McEwan and My Tweed Heart.
Trending Down
Ron Burke tops the earnings list, again, but he has 91 fewer wins — 10 per cent less — and is short more than $2.8 million—13 per cent. He made it past the $20 million mark for the fourth consecutive year on Monday (Nov 14). At the close of the 2015 season, his money was off by 12 per cent — $3.4 million. He finished 2015 almost $12 million ahead of Trainer of the Year Jimmy Takter and is $10 million up on him right now. Burke's number of starts dropped four per cent between 2014 and 2015 and that number is down three per cent since a year ago this time. Hannelore Hanover, Southwind Frank and Check Six have all been big time check cashers, but Frank didn't dominate his division as expected, and Mission Brief missed the season due to injury. Burke is the leading trainer at The Meadows, The Meadowlands, Hoosier Park and in the NYSS. He's number two at Harrah's, three at Pocono and five at Yonkers and Scioto Downs. Hall of Fame anybody?
Hall of Famer Jimmy Takter, who was also second at this point last year, is off by 18 wins and more than $2.5 million—20 per cent. His UTRS is up from 0.339 to 0.363. He trains the new world record holder, Always B Miki, as well as Ariana G, Pure Country and Bar Hopping. Last year, his six wins on Breeders Crown night, as well as the 11 other checks his starters presented him with, locked down his year-end honors. Perhaps Miki makes up for the lack of anything like that? Regardless, both Burke and Takter are off their recent highs and the Trainer of the Year award is up in the air.
Julie Miller is down two spots to number nine. She has a dozen more wins but is short $195,000 — six per cent. She finished in sixth in 2014 and seventh last year. The trainer of Sutton is fourth in the NYSS and seventh at both The Meadowlands and Harrah's.
Jeff Bamond, Jr. fell from five to 10. His earnings are down 30 per cent — $1.2 million. His crack group of older pacing mares is showing their age and mileage: he got more than $900,000 out of Venus Delight and Anndrovette last year, but the pair has accounted for only a fraction of that in 2016. The former was recently sold in Harrisburg. The toughest mare on the planet, Krispy Apple, and open mainstay Mach It So are still going strong.
Gilbert Garcia-Herrera, who was at six a year ago and finished 2015 there, has dropped six spots to 12. He has made 250 fewer starts this year. He has 120 fewer wins — down 40 per cent — and is short $1.4 million— 37 per cent. Gilbert is the leading trainer at Harrah's, fourth at Pocono and sixth at Yonkers.
Brian Brown dropped five spots to number 14. His win total is off by 20 per cent while his money is down 30 per cent — a million dollars. He's number four at Scioto Downs. Color's A Virgin and Lost For Words lost their way in 2016.